The Northern Manhattan Arts Alliance (NoMAA) and the New York Restoration Project (NYRP) are accepting submissions for the Ephemeral Arts Project, a series of temporary art installations to be on display during June 2013.
As part of NoMAA's 10th Anniversary Uptown Arts Stroll, NYRP will host installations along the bike path at Sherman Creek Park and within Swindler Cove Park in June 2013. The Ephemeral Arts Project, a public art program in Washington Heights and Inwood, was created by NoMAA in partnership with the NYC Restoration Project with the objective of affording local artists the opportunity to create temporary art in the uptown parks and community gardens within the framework of environmental respect and community engagement. This program is sponsored in part by ConEdison.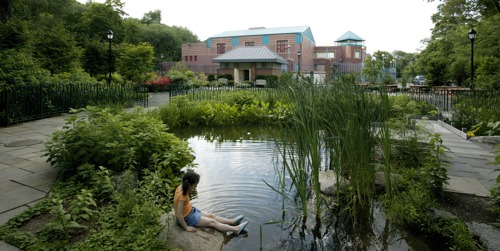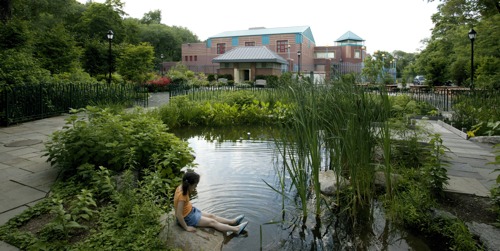 Interested artists must submit proposals electronically by 17 May 2013 under the following guidelines:
Guidelines
Preference will be given to site-specific work that incorporates the social or ecological landscape of Northern Manhattan.
All work must not damage the indigenous landscape.
There are no specific size parameters.
All work will be installed either along the bike path or within Swindler Cove Park.
NYRP will supervise the installation of all work and file any necessary permits.
Proposals should include:
Contact information.
Detailed description of the proposed work including specific dimensions, materials used, and the approximate time needed for set-up. Photos and/or sketches are preferred.
Description of precautions that will be taken to avoid damaging the landscape.
Artist(s) résumé and/or vision statement (limit one page).
Examples of previous work (limit 5 images).
Project implementation details:
17 May: Proposals due
24 May: Acceptance notification
1–7 June: Installation set-up
8 June: Exhibition opening
1–5 July: Installation break-down
Please submit proposals electronically by 17 May 2013, 5 p.m. EDT, to Joanna E. Castro at
More information:
Questions about Sherman Creek Park? Contact Jordan Dyniewski, Director of Public Programs, NYRP, at +1 212 333-2552
La Alianza de Artes del Norte de Manhattan (NoMAA) y New York Restoration Project (NYRP) está aceptando propuestas para el Proyecto de Arte Efímero, una serie temporal de instalaciones de arte en junio 2013.
Como parte del décimo aniversario del Paseo de las Artes del Alto Manhattan, NYRP auspiciará instalaciones a lo largo del camino para bicicletas en el Sherman Creek Park y en el interior del Swindler Cove Park durante el mes de junio 2013. El Proyecto de Arte Efímero es un programa de arte público en Washington Heights e Inwood, creado por NoMAA en colaboración con NYRP con el objetivo de ofrecer a artistas locales la oportunidad de crear arte temporal en los parques y jardines de la comunidad de nuestros alrededores dentro del marco de respeto al medio ambiente y compromiso con la comunidad.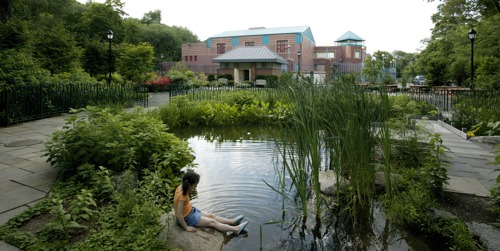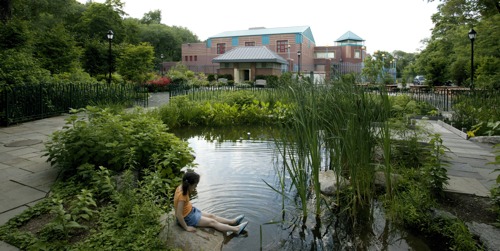 Los/las artistas interesados deben enviar sus propuestas por correo electrónico antes del 17 de mayo con las siguientes pautas:
Pautas
Se le dará preferencia a trabajos específicos de sitio que incorporen el área de Alto Manhattan.
Ninguna obra debe dañar el paisaje.
No habrá especificaciones de parámetros de tamaño.
Todas las obras se instalarán a lo largo del camino para bicicletas o dentro del Swindler Cove Park.
NYRP supervisará la instalación de todas las obras y solicitará todos los permisos necesarios.
Las propuestas deben incluir:
Información de contacto.
Una descripción detallada del proyecto incluyendo dimensiones específicas, materiales utilizados y tiempo aproximado de instalación de la obra.
Descripción de precauciones que se llevarán a cabo para no dañar el paisaje.
Su curriculum o declaración como artista (máximo de una página).
Ejemplos de obras hechas (máximo de 5 imágenes).
Detalles de implementación:
17 de mayo: entrega de su propuesta
24 de mayo: notificación
1–7 de junio: instalación
8 de junio: inauguración
1–5 de julio: desinstalación
Envíe su propuesta por correo electrónico antes del 17 de mayo, 5 p.m. EDT, a
Más information:
Si tiene preguntas sobre el Sherman Creek Park, póngase en contacto con Jordan Dyniewski, director de programas públicos, NYRP, al +1 212 333-2552