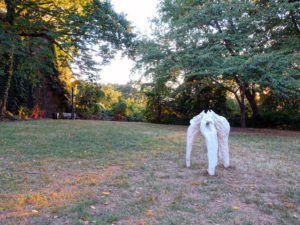 The New Bench is a series of public art projects that challenge our ideas around parks, communal places and how we co-exist within these spaces. Artists are invited to conceptualize a park bench; challenge how the bench encourages or discourages conversation and interaction; attempt to re-invent the bench to be more inclusive in respect to age, size, and abilities; investigate the very definition(s) of "bench" and how that plays a role in our perception and positioning of the bench within various cultures; and/or explore how a bench affects access or cross-generational exchanges.
The New Bench proposals can be an abstract idea, a conceptual project or a functional re-invention of a bench.
The New Bench is a Northern Manhattan Arts Alliance (NoMAA) public art initiative with support from the Partnership for Parks Inwood Parks Grant, made possible by Columbia University; NYC Parks; and curatorial support by Leanne Stella, Art In FLUX, Director.
The New Bench projects are designated for the Northeast portion of Inwood Hill Park near Spuyten Duyvil Creek. Site visits are encouraged but not required. See map below for general proposed areas. Site selection pending final parks department and curatorial approval.
Three artists will be selected from the submissions. The opportunity is open to all New York City artists. Northern Manhattan artists are strongly encouraged to apply.
Artist stipend: $700
Timeline
Submission deadline: 25 July
Awardees announced: 7 August
Artists production period: 7 August – 30 September
Installation period: 15 September –.10 October (dates TBC)
Opening tour: On or around 13 October
Deinstallation: TBD
Listing expiration: July 25, 2017.