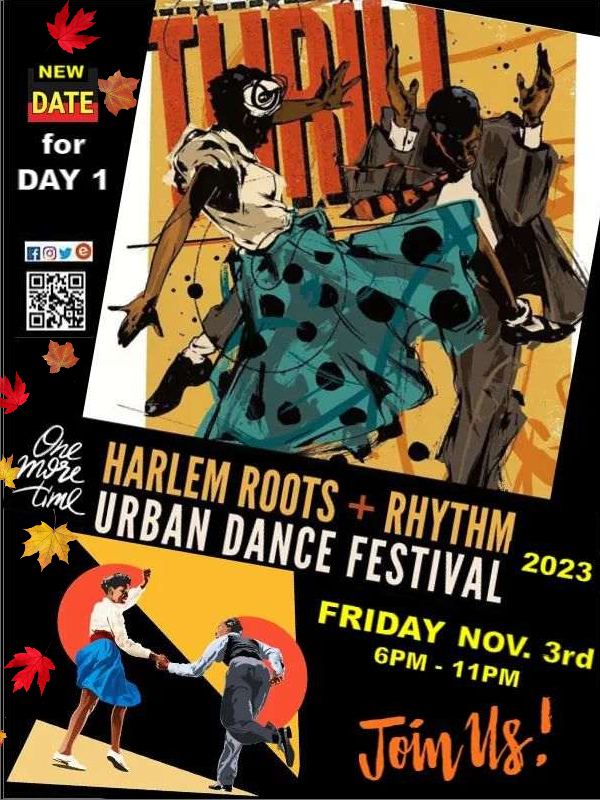 The Harlem Roots and Rhythm Urban Dance Fest 2023 – Day 1 Only!
Our new date of Nov. 3rd brings us back to offer YOU a rich buffet of Historic Harlem Arts and Culture!
Remember: Just Come early! 5:30pm doors open…. if you're a ticket holder you get priority BUT at 5:45pm whomever is on the waiting line gets in till venue is filled to capacity!
https://www.harlemswingdance.org/harlem-roots-rhythm-urban-dance-fes-1
PROGRAM
Theme – Celebrating and Keeping Harlem's Jazz and Lindy Hop Legacy Alive
6PM — Films: The Savoy King (also Vintage Harlem Lindy Hop clips!)
7PM — Panel Discussion: Keeping Harlem's Jazz and Lindy Hop Culture in its Harlem Home
Featured Panelists:
~ Mr. Voza Rivers — Mr. Arts & Culture of Harlem tells his experience with the Making of the Savoy King
~ Honoring Sonny Allen — Savoy Style Dancer & Historian: The Savoy Ballroom and The Harvest Moon Ball ('50s) – and beyond!
~Ralph Hopkins — Preservationist and Historian: The Savoy Manor, The Harvest Moon Ball (60's/70's), Mama Lu Parks and more!
8PM — FREE mini Lindy Hop Dance Lesson! Don't worry you'll stay on the ground …. :>)
8PM — Social Dance with Jazzy Classics and more of the Savoy Ballroom (1926 – 1958)
_________________________
This event is made possible by a generous grant form the West Harlem Development Corporation (WHDC) and The Harlem Swing Dance Society (THSDS). THSDS is leading the Lindy Hop Initiative in Harlem.