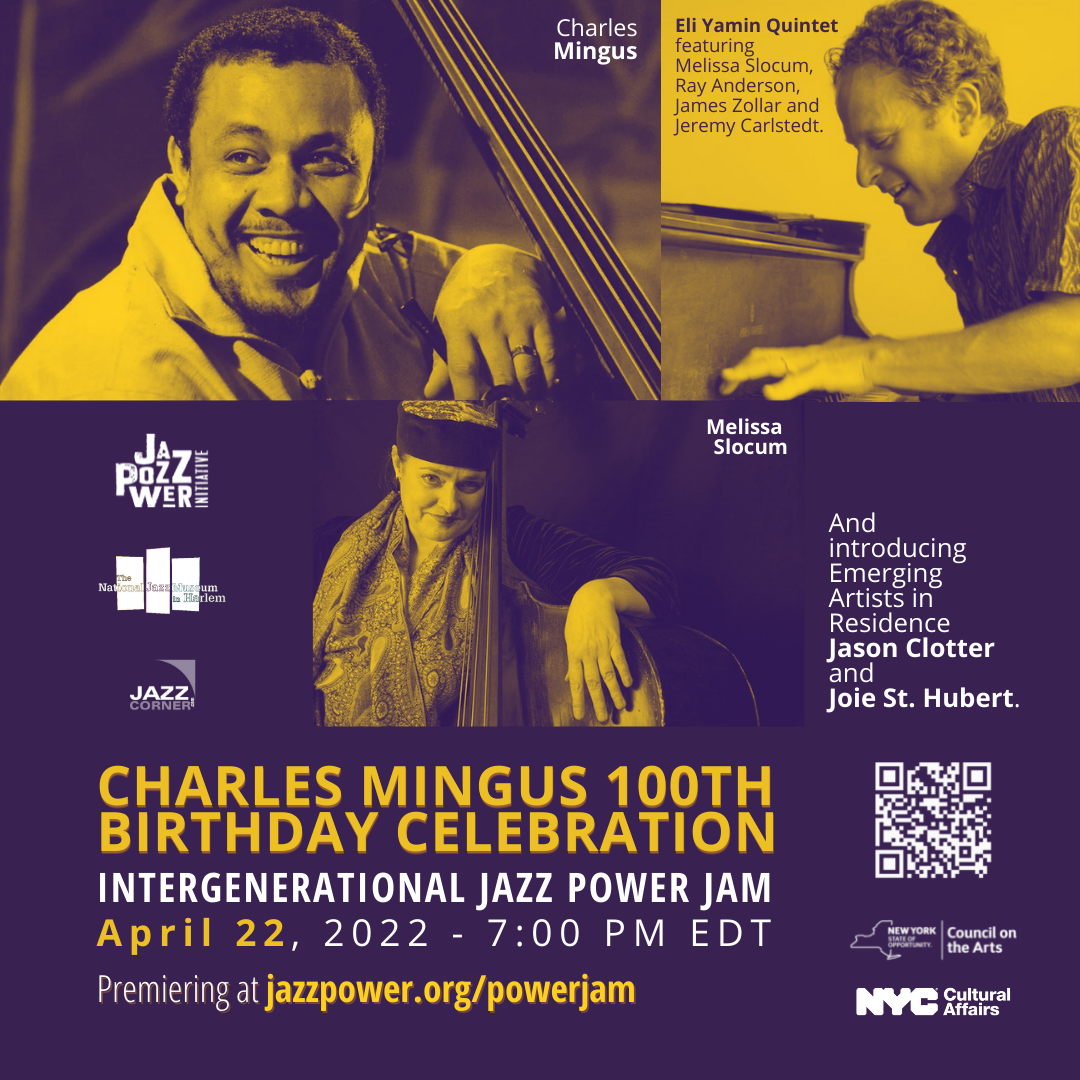 "Charles Mingus 100th Birthday Celebration" Intergenerational Jazz Power Jam
Jazz Power Initiative (JPI) celebrates jazz icon, composer, bassist and bandleader Charles Mingus, born 100 years ago on April 22, 1922. Presented at The National Jazz Museum in Harlem, our INTERGENERATIONAL JAZZ POWER JAM concert series continues online for virtual audiences on Friday, April 22, 2022 at 7 PM EDT. Tune in through Facebook and YouTube at: jazzpower.org/powerjam.
Celebrate with us during Jazz Appreciation Month as we honor the late Charles Mingus's 100th birthday with performances of his compositions, including his rarely performed extended work "Meditations on Integration," as well as intergenerational interpretations of his famed "Fables of Faubus" and "Goodbye Porkpie Hat." As an inventive composer, virtuosic bassist, and groundbreaking band leader, Charles Mingus continues to inspire generations of musicians.
Hosted by JPI's Managing and Artistic Director Eli Yamin, our April Intergenerational Jazz Power Jam features two quintets: the Eli Yamin Quintet, featuring Eli Yamin, piano, Melissa Slocum, bass, Ray Anderson, trombone, James Zollar, trumpet and Jeremy Carlstedt, drums; and our 2022 Jazz Power Initiative Emerging Artist In Residence bassist Jason Clotter, with Alex De Lazzari, tenor saxophone, Jordan Williams, piano, Hank Allen on drums and Melanie Giselle, voice.
"Bassist Charles Mingus stands as one of America's greatest 20th century composers and performing artists. He has few peers in confronting senseless violence and conjuring a healing space through his music. Our April Intergenerational Jazz Power Jam illuminates his enduring legacy, and we are honored to perform his work in the spirit of unity, strength and peace for the world in this tumultuous time." – Eli Yamin, host, pianist and bandleader.
"When I think about Charles Mingus Jr, I think about the entirety of jazz history and the creative freedom he built for this music. He was ahead of his time. He stood up for our people with politics and music. He also wrote music harmonically advanced. Those two topics equal freedom to my heart." – Jason Clotter, bassist and 2022 Jazz Power Initiative Emerging Artist in Residence