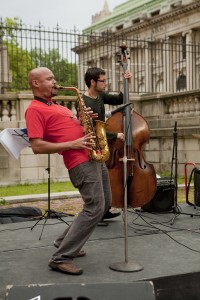 Northern Manhattan Arts Alliance (NoMAA) is pleased to announce the Uptown Arts Stroll 2012 — the most anticipated annual arts festival in Washington Heights and Inwood — taking place throughout the month of June. For the past 9 years, the Stroll has featured hundreds of artists and arts groups living and working north of 155th Street, and has attracted thousands of neighborhood residents and visitors from across New York City.
We ask that you join us to celebrate the arts in Northern Manhattan by sharing information about your events and exhibits to include in the widely distributed Uptown Arts Stroll Guide. The deadline for submitting information to include in the printed Uptown Arts Stroll Guide calendar is 25 April 2012. Information submitted after this date will be updated on the online calendar but will not appear in the printed calendar.
The Uptown Arts Stroll showcases the outstanding work of artists who are contributing to Northern Manhattan's cultural landscape. Activities have typically been held in local businesses, churches, parks and other public spaces. Stroll events include family programming, art exhibitions, open studios, literary events, performances, film screenings and more.
If you are looking for an opportunity to participate, to volunteer or to sponsor the Uptown Arts Stroll, please contact NoMAA or by phone at +1 212 568-4396.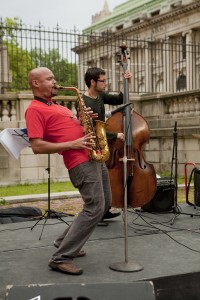 La Alianza de Artes del Norte de Manhattan (NoMAA) se complace en presentar el Paseo de las Artes 2012, el festival de artes comunitario más esperado de Washington Heights e Inwood, el cual se llevará a cabo durante el mes de junio. En los últimos nueve años, el Paseo ha mostrado las obras de cientos de artistas y grupos artísticos que viven y trabajan al norte de la Calle 155, y ha atraído a miles de residentes del barrio y a visitantes de toda la Ciudad de Nueva York.
Únase a nosotros para celebrar las artes en el norte de Manhattan. Le invitamos a que participe en los eventos que se realizarán durante el Paseo. Dé a conocer las actividades artísticas que está planeando realizar durante el Paseo para incluirle en el calendario impreso. La fecha límite para incorporar su evento al calendario es el 25 de abril de 2012. Cualquier información entregada posteriormente será incluida en el calendario electrónico en el sitio web del Paseo, pero no en el impreso.
El Paseo de las Artes presenta las obras de los artistas que están contribuyendo al paisaje cultural del Norte de Manhattan. Las actividades se han llevado a cabo por lo general en negocios locales, iglesias, parques y otros espacios públicos. Eventos incluyen programación para toda la familia, exposiciones de arte, estudios abiertos, eventos literarios, artes escénicas, proyecciones de películas y mucho más.
Si le interesa participar, ser voluntario, o auspiciar el Paseo de las Artes 2012, por favor póngase en contacto con NoMAA, o por teléfono al +1 212 568-4396.