Call to Artists: Uptown Arts Stroll 2012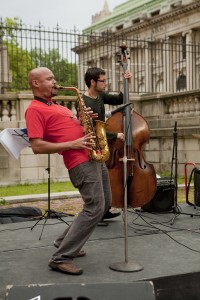 Northern Manhattan Arts Alliance (NoMAA) is pleased to announce the Uptown Arts Stroll 2012 — the most anticipated annual arts festival in Washington Heights and Inwood — taking place throughout the month of June. For the past 9 years, the Stroll has featured hundreds of artists and arts groups living and working north of 155th Street, and has attracted thousands of neighborhood residents and visitors from across New York City.
We ask that you join us to celebrate the arts in Northern Manhattan by sharing information about your events and exhibits to include in the widely distributed Uptown Arts Stroll Guide. The deadline for submitting information to include in the printed Uptown Arts Stroll Guide calendar is 25 April 2012. Information submitted after this date will be updated on the online calendar but will not appear in the printed calendar.
The Uptown Arts Stroll showcases the outstanding work of artists who are contributing to Northern Manhattan's cultural landscape. Activities have typically been held in local businesses, churches, parks and other public spaces. Stroll events include family programming, art exhibitions, open studios, literary events, performances, film screenings and more.
If you are looking for an opportunity to participate, to volunteer or to sponsor the Uptown Arts Stroll, please contact NoMAA or by phone at +1 212 568-4396.