Virtual Seminars with Artists | Hispanic Society Museum & Library
SEMINARS WITH ARTISTS
Here are the first four that will be presented virtually via YouTube Live:
Thursday, November 10 at 6:00pm ET


Blanka Amezkua will present her project, FLORAL CURE: Pre-Hispanic medicinal flowers, consisting of 20 papel picado objects from the 185 illustrations in the Cruz-Badiano codex in which a facsimile copy is in the collection of the Hispanic Society. Using the traditional papel picado (paper cutting) technique, its tools and tissue paper, she will also discuss her floral papel picado depiction and their medicinal properties taken directly from the codex. Blanka Amezkua was formally trained as a painter. Her creative practice is greatly influenced and informed by folk art and popular culture, from embroidery, papel picado to comic books. Collaboration, radical pedagogy, and community building are central to her art practice and projects. Her identity, experiences, and artistic decisions are shaped by the reality that she is an immigrant  Mexican born-American artist living in New York City. 
To join the Live Stream, please use this link.
---
Thursday, November 17 at 6:00pm ET

 

Cecile Chong has created a bilingual (English/Spanish) Stop Motion Animation video depicting the origin and production of Talavera Poblana, the tin-glazed ceramics produced in Puebla Mexico. She will focus on blue-and-white ware and its development and trajectory from China to the Middle East, Europe and Mexico. The title "Conversations in Blue-and-White" refers to the intercultural dialogues carried on through trade throughout history, and exchanges and influences among cultures throughout the world. Cecile Chong was born in Ecuador to Chinese parents and grew up in Quito and Macau. Chong is a multimedia artist working in painting, sculpture, installation and video layering materials, identities, histories and languages. Her work addresses ideas of cultural interaction and interpretation, as well as the commonalities humans share in our relationship to nature and to each other.
To join the Live Stream, please use this link. 
---
Thursday, December 8 at 6:00pm ET


Jessica Lagunas will discuss a new project "Feather Works" based on her research at the Hispanic Society, mainly in the textile collection. Her research on the collection's Featherwork Bishop's Miter and its PreHispanic technique has inspired her to retake, explore, and experiment with feathers, a material she briefly worked in the past. She also has been conducting research on the Mantones (shawls) de Manila.  She is presenting projects with feathers on paper and one on fabric—based on the HSM&L's (Peony) Mantón. Jessica Lagunas grew up in Guatemala. She presents works that deal with the condition of women in contemporary society. She works with unconventional materials—makeup, hair, perfume, thread—to approach projects that question our relationships with others and with ourselves, and confronting fears by working obsessively in an intricate and laborious way.
To join the Live Stream, please use this link.
 
---
Thursday, December 15 at 6:00pm ET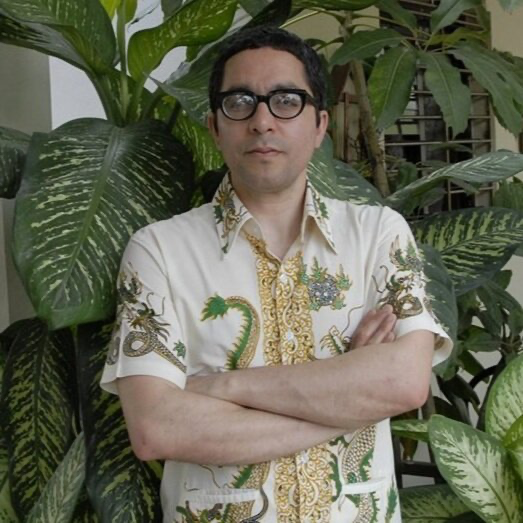 Nicolás Dumit Estévez Raful Espejo Ovalles's research on the Virgin of Altagracia's iconography, the spiritual protector of many in the Dominican Republic, as well as Haiti and the diaspora. Through Visioning the Brown Mother, an experiential excavation of HSM&L's collection of images of the Mother exported/imposed to the so-called new world, Visioning the Brown Mother seeks to decolonize this iconography in varied geo-political perspectives through one-on-one dialogues/reflections, and through spontaneous in-person exchanges in the streets of the City. Nicolás's one-person pilgrimage from his home in the South Bronx to Washington Heights (also home to the Hispanic Society), two enclaves of Dominican presence in New York City, takes into consideration a back and forth between these two loci informing one another culturally. Nicolás was born in the Dominican Republic. He threads an elusive path that manifests itself performatively or through experiences where the quotidian and art overlap. Many of his work is ephemeral as it is the experience of engaging with it. Nicolás's creative praxis often includes community involvement and/or religious/spiritual questioning.
To join the Live Stream, please use this link.

About the program
The asrtists' new works and presentations are supported in part by, the New York State Council on the Arts with the support of the Office of the Governor and the New York State. The Artist Research Fellowship Program is also supported, in part, by the Vilcek Foundation.

Images: Blanka Amezkua, Cecile Chong, Jessica Lagunas, Nicolás Dumit Estévez, Artist Research Fellows at the Hispanic Society.