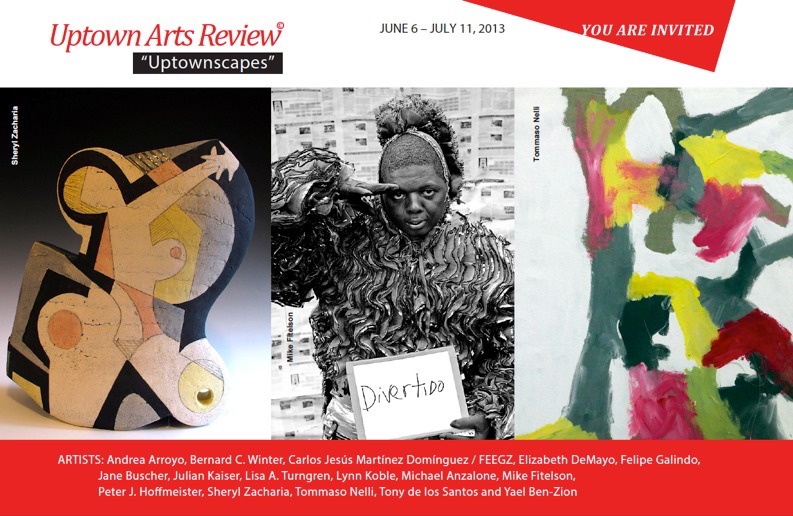 Uptown Arts Review – 'Uptownscapes'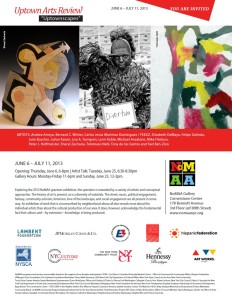 NoMAA is pleased to invite you to the Uptown Arts Review© – "Uptownscapes."
Dates: 6 June – 11 July 2013
Location: NoMAA Gallery, 178 Bennett Avenue, 3rd Floor, New York, NY 10040
Opening Reception: Thursday 6 June, 6–8 p.m.
Artist Talk: Tuesday 25 June, 6:30–8:30 p.m.
Gallery Hours: Monday–Friday 11 a.m. – 6 p.m.; Sunday 23 June, 12–3 p.m.
Exploring the 2013 NoMAA grantees exhibition, the spectator is rewarded by a variety of artistic and conceptual approaches. The history of art is present, as is a diversity of materials. The street, music, political engagement, fantasy, community activism, feminism, love of the landscape, and social engagement are all present in some way.
An exhibition of work that is circumscribed by neighborhood above all else reveals more about the individual artists than about the cultural production of our area. It does, however, acknowledge the fundamental fact that culture, and — by extension — knowledge, is being produced.
Artists: Andrea Arroyo, Bernard C. Winter, Carlos Jesús Martínez Domínguez/FEEGZ, Elizabeth DeMayo, Felipe Galindo, Jane Buscher, Julian Kaiser, Lisa A. Turngren, Lynn Koble, Michael Anzalone, Mike Fitelson, Peter J. Hoffmeister, Sheryl Zacharia, Tommaso Nelli, Tony de los Santos and Yael Ben-Zion