NoMAA Technical Assistance Institute, 20 October 2012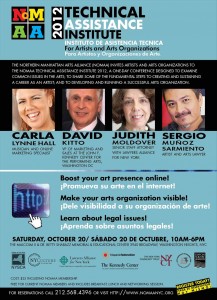 The Northern Manhattan Arts Alliance (NoMAA) invites artists and arts organizations to the NoMAA Technical Assistance Institute 2012, a one-day conference designed to examine common issues in the arts; to share some of the fundamental steps to creating and sustaining a career as an artist; and to developing and running a successful arts organization. This year's Institute will focus on marketing concepts and legal issues for both artists and arts organizations.
Date: Saturday 20 October 2012, 10 a.m.–6 p.m.
Location: The Malcolm X & Dr. Betty Shabazz Memorial and Educational Center. 3940 Broadway, New York, NY 10032
Cost: $25, including NoMAA membership. Current NoMAA members, RSVP by e-mail to or by phone at +1 212 568-4396. Non-members can join and register here.
Program
9:30–10am – Registration & Continental Breakfast
10–11am – Welcome & Opening Remarks
11am–1pm – AM Workshop for Individual Artists "The Artist Online"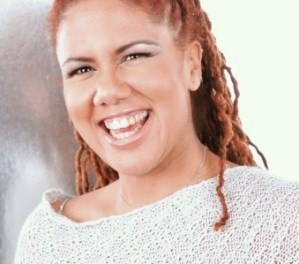 Presenter: Carla Lynne Hall, Musician & Online Marketing Specialist
Description: An artist's single strongest tool is a network of friends, collaborators, and organizations which create a community of support. As artists with limited time and budgets, we need smart strategies for building and nurturing community. The internet offers many social tools to create and nurture a supportive network, while also providing innovative ways to generate revenue. The goal for this workshop is for participants to learn at least one new tool or strategy that can be implemented immediately.
About the presenter: Carla Lynne Hall is a singer, songwriter, and online marketing specialist. Over the past 20 years, Carla has performed around the world, and released 4 CDs on her Moxie Entertainment label. She is the author of three books, including Twitter for Musicians, and The Musicians' Roadmap to Facebook and Twitter with online music publicist Ariel Hyatt. Carla is also a Course Leader for Creative Capital's "Internet for Artists" workshop , which was created to share tools and strategies for improved self-sufficiency for artists. Carla currently writes about the musician's life at her Rock Star Life Lessons blog.
11am–1pm – "Institutional Marketing" Master Class for Arts Organizations
Presenter: David Kitto, Vice President, Marketing and Sales at the John F. Kennedy Center for the Performing Arts, Washington DC.
About the presenter: David J. Kitto is Vice President, Marketing and Sales at the John F. Kennedy Center for the Performing Arts where he oversees the advertising, booking, sales services, marketing departments and retail operations. Mr. Kitto directs the development of marketing strategies and advertising campaigns for the Kennedy Center's diverse programming. Mr. Kitto collaborates with Kennedy Center President Michael M. Kaiser on Kennedy Center Board seminars as well as the Center's Capacity Building initiative. He also teaches an annual course for each season's DeVos Institute Fellowship Program. Prior to joining The Kennedy Center, Mr. Kitto served as Marketing Manager at Carnegie Hall in New York City from 1983 until 1991. Mr. Kitto has served on the faculty of Brooklyn College as an Adjunct Professor, teaching a course entitled "Marketing for the Performing Arts." In 1995, the college presented him with the college's Performance Management Award for his outstanding service as a teacher. Mr. Kitto is a graduate of the University of Michigan with a BA in music and an MA in arts administration. He has served as a marketing consultant to the Orpheus Chamber Orchestra, The Sante Fe Chamber Music Festival, The St. Louis Symphony Orchestra, the Regional Arts Center in Philadelphia, Pennsylvania and the National Arts Center Orchestra in Ottawa, Ontario.
1–2pm – Lunch
2–4pm – Afternoon Panel for Individual Artists "Ask the Art Lawyer: Legal Basics for Artists"
Presenter: Sergio Muñoz-Sarmiento
Description: How can deals be negotiated and proven? Can I appropriate content from the internet? Should I start an arts nonprofit? Can I photograph people and use the photos in my artwork? These are but a few questions that many artists frequently ask. The need to be informed of the legal issues that arise from one's artistic practice is increasingly rapidly with the growth of technology and digital media. During this 2-hour presentation, artist and lawyer Sergio Muñoz Sarmiento will introduce the basic legal areas of which artists should be aware. The presentation will allow participants to ask questions relevant to their practice. This Ask the Art Lawyer presentation is a collaboration between the Northern Manhattan Arts Alliance and The Law Office of Sergio Muñoz Sarmiento.
About the presenter: Sergio Muñoz Sarmiento's is an artist and arts lawyer with a primary focus on intellectual property, moral rights, free speech, deaccessioning, and nonprofit arts organizations. He received his BA in Art from the University of Texas-El Paso and an MFA in Art from the California Institute of the Arts. He was a Van Lier Fellow at the Whitney Museum of American Art's Independent Study Program in Studio Art in 1997, and received his J.D. from Cornell Law School in 2006. From 2006 to 2012 he was Director of Education and the Associate Director of Volunteer Lawyers for the Arts. Sarmiento teaches and practices via his law office, The Law Office of Sergio Muñoz Sarmiento, and currently teaches contemporary art and law at Fordham Law School. His art & law blog may be viewed at Clancco.com.
2–4pm – Afternoon Panel for Arts Organizations "Laying a Strong Legal Foundation for your Arts Organization"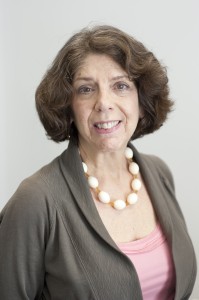 Presenter: Judith Moldover, Senior Staff Attorney with Lawyers Alliance for New York.
Description: This workshops will include a brief overview of the incorporation and tax exemption process; the role of the governing board and the fiduciary duties of board members; interactions between board and staff; and understanding contracts, including agreements with people (staff, artists, and independent contractors) and places (venues and leases).
About the Presenter: Judith Moldover leads Lawyers Alliance's Community Arts program area to provide legal assistance to nonprofit arts organizations serving low-income New Yorkers. Ms. Moldover is an experienced employment lawyer and regularly helps nonprofits in the areas of Nonprofit Accountability, including sound board governance, fiscal transparency, and proper personnel management. Prior to joining Lawyers Alliance in 2008, Ms. Moldover was Of Counsel at Ford & Harrison LLP, Vice President and Group Counsel at American Express Company, and Labor Counsel at CBS Corporation. She received her B.A. cum laude from Bryn Mawr College and her J.D. from Boston University School of Law. Professional and Community Activities: Vice President, New York Public Radio Community Advisory Board; past Program Chair of Greater New York Association of Corporate Counsel.
4–6pm – Networking Reception