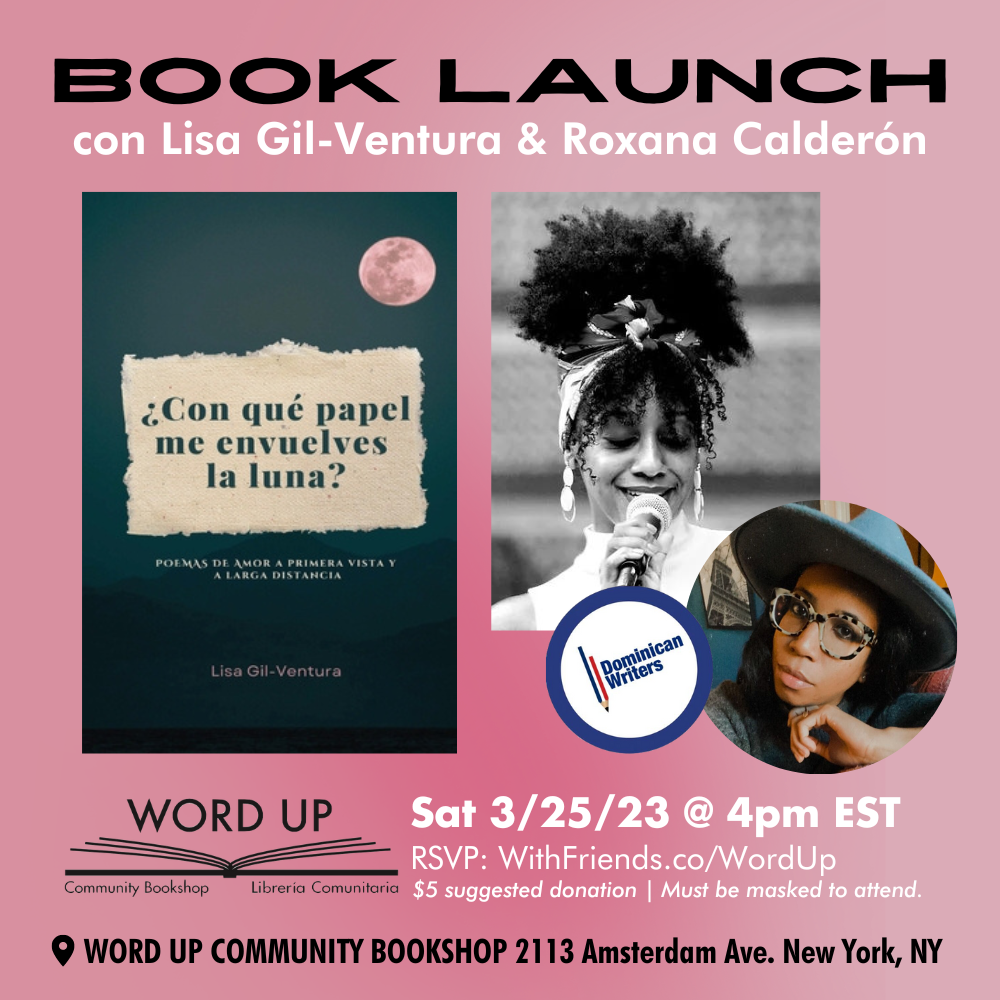 Book Launch: ¿Con qué Papel me Envuelves la Luna? by Lisa Gil-Ventura in conversation with Roxana Calderón
Join us for an evening of celebration for the launch of Lisa Gil-Ventura's ¿Con qué Papel me Envuelves la Luna? with poetry readings, signing, open mic and live music entertainment (guitar player). In conversation with Ventura will be Roxana Calderón, author of La Casa de las Maletas: Todos llevamos un equipaje por dentro. Some light refreshments are to be served.
This event is a $5 suggested donation ticket with 30 max attendees. Please register in advance.
In compliance with Word Up Community Safety guidelines, all attendees for this event must wear a mask inside.
Word Up Community Bookshop is located at 2113 Amsterdam Ave. (& 165th St.) in Washington Heights, NYC. You can take the 1 train to 168th St and the A/C train to 163rd or 168th  St.
This event is sponsored by Dominican Writers Association.
SOBRE EL LIBRO | ABOUT THE BOOK
Con qu papel me envuelves la luna? Es una alineacion de las estrellas. Una invitacion a los archivos de recuerdos y sentimientos grabados en un cuaderno por una joven estadounidense que se enamoró de un muchacho de campo de la República Dominicana. A través de cada una de sus líneas, Lisa Gil- Ventura, nos abre la puerta de su corazón y nos lleva al inicio de un amor que desafía las probabilidades. Un amor hecho en el cielo, que se manifesto en la Tierra.
Este poemario es un reflejo de la experiencia del autor, luego de a os atr's planear un viaje sorpresa de regalo para su familia, siendo ella quien saliese sorprendida y premiada al dejarse llevar del universo. Este libro es un regalo de aniversario en forma de poes as, donde se habla de fe, magia, nuevos comienzos, las relaciones a larga distancia, la pasi n de juventud, la paciencia, y la jornada de una chica que se enamor bajo circunstancias incomprensibles, pero que la curiosidad no la dejo rechazar ese amor desconocido, obviando las circunstancias.
Lisa con su ingenuidad de juventud y su fuerza de voluntad nos demuestra a trav's de sus poemas que cuando se da la batalla por lo que se quiere, todas las piezas caen en su lugar, hasta lograr el objetivo deseado.
ABOUT THE AUTHORS
Lisa "Rubi G." Ventura (she/her) is a Washington Heights bred Black Dominican poet, essayist, and author of "Con Qué Papel Me Envuelves La Luna?" Lisa has been published by Dominican Writers, Raising Mothers, Economic Hardship Reporting Program in conjunction with Slate, and Writing The Land. She was interviewed for The Nation's Going for Broke podcast and documentary series, as well, Refinery29's Somos. A VONA 2022 alumni and featured poet for the Morris-Jumel Mansion, Lisa's work has been showcased by Bronx Academy of Arts and Dance, The Billie Holiday Theatre, Bold Voice Collaborative, and IDEA Cultural.
Roxana Calderón is a writer and editor born in Brooklyn, New York, and raised in the Dominican Republic. After more than 10 years of supporting students in underserved areas of New York, Calderón chose to dive into uncharted waters and published her first book La Casa de las Maletas (2019, NYC, DWA Press). Calderon has been published in lagaleriamag.com (Un Verano en Nueba Yol' 2019), dominicanwriters.com (Las Hijas de Machepa 2019), spanglishvoces.com (El Componente & Confesión a un desconocido 2020). She has also participated in the anthologies of the Americas Poetry Festival in New York, Multilingual Anthology (Just Listen/Solo escucha 2019), and the Latin American anthology El vuelo más largo, published by Ángeles del Papel Editores in Peru. In April 2021, Calderón launches the second edition of her book La Casa de las Maletas, also published by DWA, in New York City. Roxana is a member of the editorial team of the digital literary magazine Spanglish Voces, facilitates literature workshops in Spanish, and collaborates with the Dominican Writers Organization. Her work has been featured in two of the most important newspapers in the Dominican Republic; Diario Libre and Listín Diario. In 2021, Roxana presented her first one-woman show, "Once We Loved", a monologue about the story behind her book. Roxana Calderon lives in New York City and is a senior program director at a non-profit organization in Washington Heights.
Word Up Community Safety Guidelines
MASKING POLICY: All attendees ages 2 and older must wear a mask at all times when indoors at the store at Word Up and Recirculation.
CANCELLATION POLICY: Word Up Community Bookshop reserves the right to cancel events for any reason, including but not limited to safety concerns.
CODE OF CONDUCT: Please note Word Up has a zero tolerance policy for harassment or intimidation of any kind during any event, virtual or in-person. Please read our Safe Space Policy for more information. Anyone violating these rules will be expelled from the event at the discretion of the organizers. Please report all harassment to events@wordupbooks.com immediately.
PHOTOS & RECORDING: Events may be recorded, and video and photos may be posted on our website, social media, and elsewhere. If you would prefer not to be visible, please let a Word Up team member know. 
PRIVACY: Registrants will be added to the Word Up mailing list. Your contact information will never be shared or sold. You may unsubscribe or update your subscription at any time.
PHYSICAL ACCESSIBILITY: Word Up Community Bookshop/Librería Comunitaria is a fully wheelchair-accessible space with one ADA-compliant ramp from the street level to the store. Some of our bookcases and tables are on wheels and can be moved to provide additional access. Our visitor bathroom is wheelchair accessible and gender neutral. Our events are mic'd for sound. Free ASL interpretation is available for most programs upon request; please email events@wordupbooks.com to request interpretation as early as possible. The space is not scent or chemical free but we do our best to minimize the use of chemicals and scents throughout the space and use nontoxic materials whenever possible. If you have specific questions about the space or how an event can be made more accessible to you, please do not hesitate to contact us at info@wordupbooks.com.