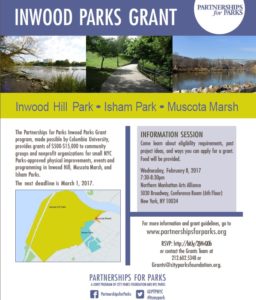 The Partnerships for Parks Inwood Parks Grant Program, made possible by Columbia University, provides grants of $500–$15,000 to community groups and nonprofit organizations for small NYC Parks-approved physical improvements, events and programming in Inwood Hill, Muscota Marsh, and Isham Parks. The next deadline is 1 March 2017.
Join the Partnerships for Parks Grants Team at an information session on Wednesday, 8 February 2017, 7:30–8:30pm, to learn more about eligibility requirements, past project ideas, and ways you can apply for a grant. Food will be provided.
What: Inwood Parks grant information session
When: Wednesday, 8 February 2017, 7:30–8:30pm
Where: Northern Manhattan Arts Alliance (NoMAA), 5030 Broadway, Conference Room (6th Floor)
RSVP: http://www.cityparksfoundation.org/inwood-parks-grant-information-session/
Please Share and Like this!