Story and photos by Sherry Mazzocchi. Reprinted with permission from The Manhattan Times.
Stained glass made of paper.
Match sticks with personality.
A man clutching his careworn face.
The work on display at the Northern Manhattan Art Alliance's (NoMAA) current show is vast in both scope and originality.
"Women in the Heights – Reflections on Creating" is the fifth annual show devoted solely to female artists.
It is arguably NoMAA's most ambitious offering to date. The show features the work of 25 female artists from a larger swath of Northern Manhattan. In addition to Washington Heights and Inwood artists, submissions were opened up to include women from Harlem and East Harlem.
"This has become a very popular show and people want to participate," explained Sandra García-Betancourt, NoMAA's Executive Director. "These artists are in tune with what's going on outside the gallery and throughout the world."
At the official opening this past Wed., Mar. 5th, dozens crammed into NoMAA's gallery, inspecting the work.
One standout work by Inwood-based artist Katrin Roos is a series of small intricate drawings that also feature a pair of costumed matchsticks with painted faces. They are participants in the theatrical settings.
Roos' inspiration came from hand puppets that artist Paul Klee made for his son. Her work plays with ideas of how size and different kinds of materials are valued. Art is often big and precious, she said, "but a little thing off of your clothing could have value if I put it in a piece of art to give it meaning."
The main exhibit space is dominated by several large pieces; including Ashli Sisk's Mister Baby. The rhinoceros painting is so large it can't be contained within a normal frame. Sisk built a custom frame for it—an illusion to the challenges of humans encroaching on the habitats of wild creatures.
The triptych of paper stained glass, Open Windows, by artist Samantha Holmes, is an intricate play of light, transparency and devotion.
"It represents devotion, both in religious terms, but also an artist devoting time to her craft," said Andrea Arroyo, the show's curator.
Another show-stopping work by Sandra Vergara hangs in the main gallery. The untitled work is a close-up of a deeply lined man's face held in his hand. The mottled skin, grimy nails and bloodshot eyes are a careful, stunning depiction of the darker side of the human psyche.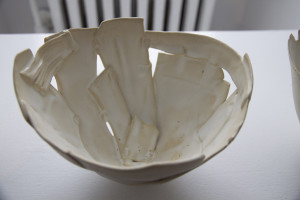 The finely executed Rice Dream Bowls series by Risa Hirsch Ehrlich was inspired a friend who didn't eat dairy products.
A found object sculpture by Renata Stein tells a story of place, belonging and identity. The stand adorned with a gold aleph has sprouted branches at the top while pomegranates and dirt are stowed in shelves below.
Arroyo said that shows devoted to female artists are still necessary. "Women aren't represented in museums and galleries—and society at large," she said. "We have an income gap for women in the United States, so that tells you how the world needs to invest in and support women."
NoMAA has sought to do its part. The organization has been providing space and community for uptown artists for the past half-dozen years. Its influence has grown, encompassing artists from larger parts of Manhattan. It is forming alliances with other cultural organizations and has even inspired the birth of places like Word Up.
"Most of those people met each other here," said García-Betancourt.
Part of NoMAA's mission is supporting and creating community of artist who work together. "We still have a ways to go. But this community really appreciates the artists," she said.
Now uptown residents can find art in even the most unexpected places—beauty salons, bars and drugstores.
"It's becoming part of our lives. That's the beauty of this," García-Betancourt said. "Hopefully we'll get to the point where we can't live without it."
Please Share and Like this!