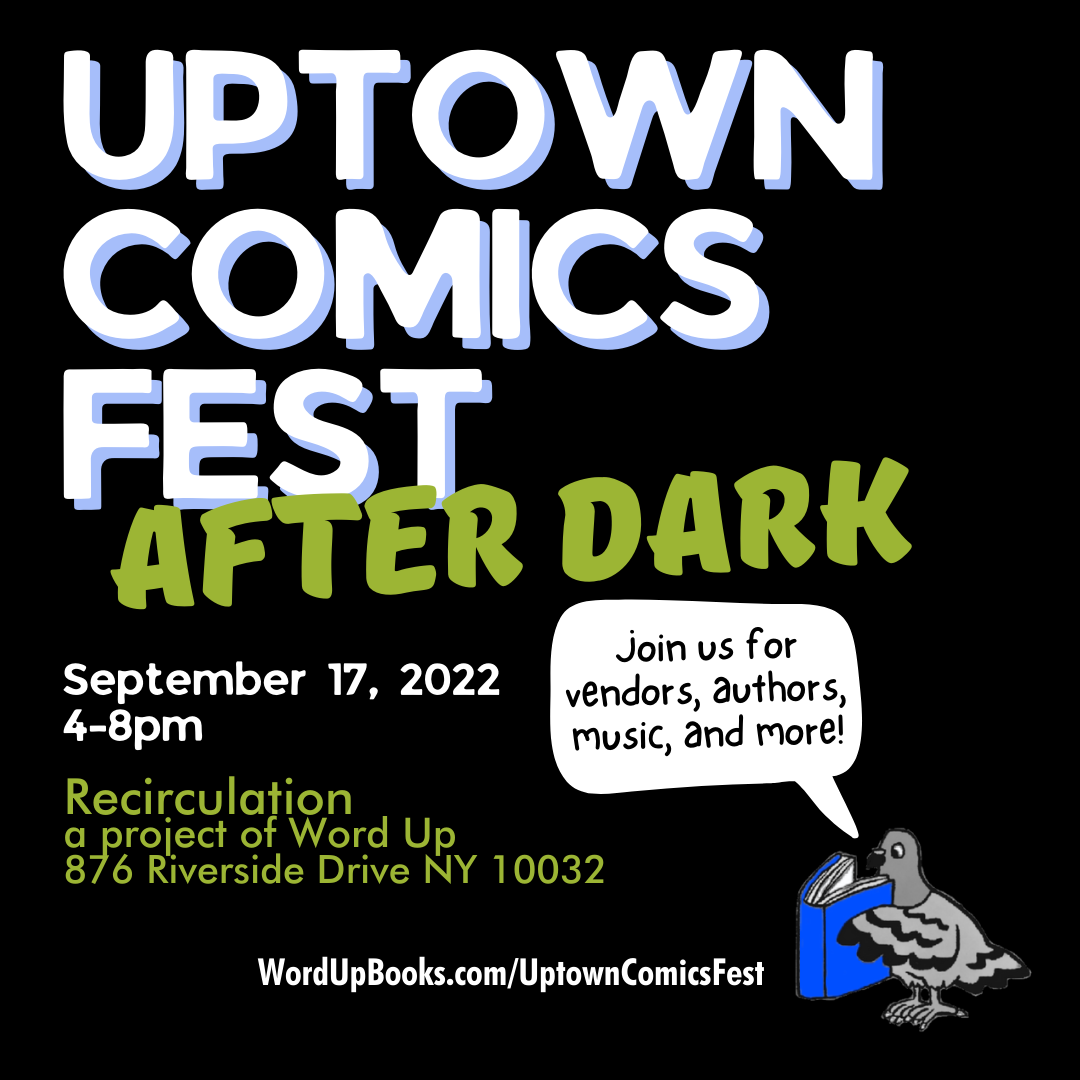 Uptown Comics Fest: After Dark – Vendors Fair
Welcome one and all to Word Up's Uptown Comics Fest 2022! Attend the weekend of September 17 & 18 for panels, workshops, and local vendors to celebrate comics and graphic literature in Uptown NYC.
WHERE: Recirculation
876 Riverside Dr, near 160th St, New York, NY 10032
WHEN: Saturday, September 17, 4-8pm
WHO: Independent Artists, including, but not limited to:
CRISTIAN ALUAS: Cristian S. Aluas is a Washington Heights-based Canadian artist and author. His two volume comic book creation, "Big Boss: Gun for Hire," was adapted into a short live-action film. A couple of years ago, he wrote "IT'S A LIVING: Surviving as a Freelancer in the 21st Century." And in September 2022, he published a new book on "CARTOONING TECHNIQUES for Drawing Comics and Manga." Besides teaching online courses at
www.MasterpieceArtSchool.com
, he loves hiking, travel, and cozying up with a good book. Instagram: @masterpieceartschool
Luciannys Camacho / Opal Lines: Stop by the Opal Lines table for original art prints and stickers. Posters, stickers, pins, and keychains inspired by comics and manga. Website: Opal-lines.carrd.co
RACHEL CHOLST: Rachel Cholst is a writer, educator, and longtime resident of Washington Heights. She is the co-creator of the indie fantasy series Artema and the editor of the queer country music zine Rainbow Rodeo. She is also a printmaker. Instagram: @artemthecomic Twitter: @adobeteardrops
EVAN DUNCAN: Evan Duncan is the author of new comic Milk Men. Stop by Evan's table to get the latest issue and meet the author! @eduncandesigns
ALITHA MARTINEZ: Alitha E. Martinez is a 22-year veteran of the mainstream comic book industry, currently working for both DC Comics and Marvel Entertainment. She also teaches at the School of VIsual Arts, in NYC. DC's Nubia is her current book.
ISAAC ROLLER, DREAMTOWN COMICS: Stop by Isaac's table for Transmissions from Dreamtown, vols. 1-4, "My Plague Year'" a collection of diary comics, and more!
Uptown Kid Lit 2022 is made possible in part with public funds from Creative Engagement, a regrant program supported by the New York State Council on the Arts with the support of the office of the Governor and the New York State Legislature and administered by LMCC.