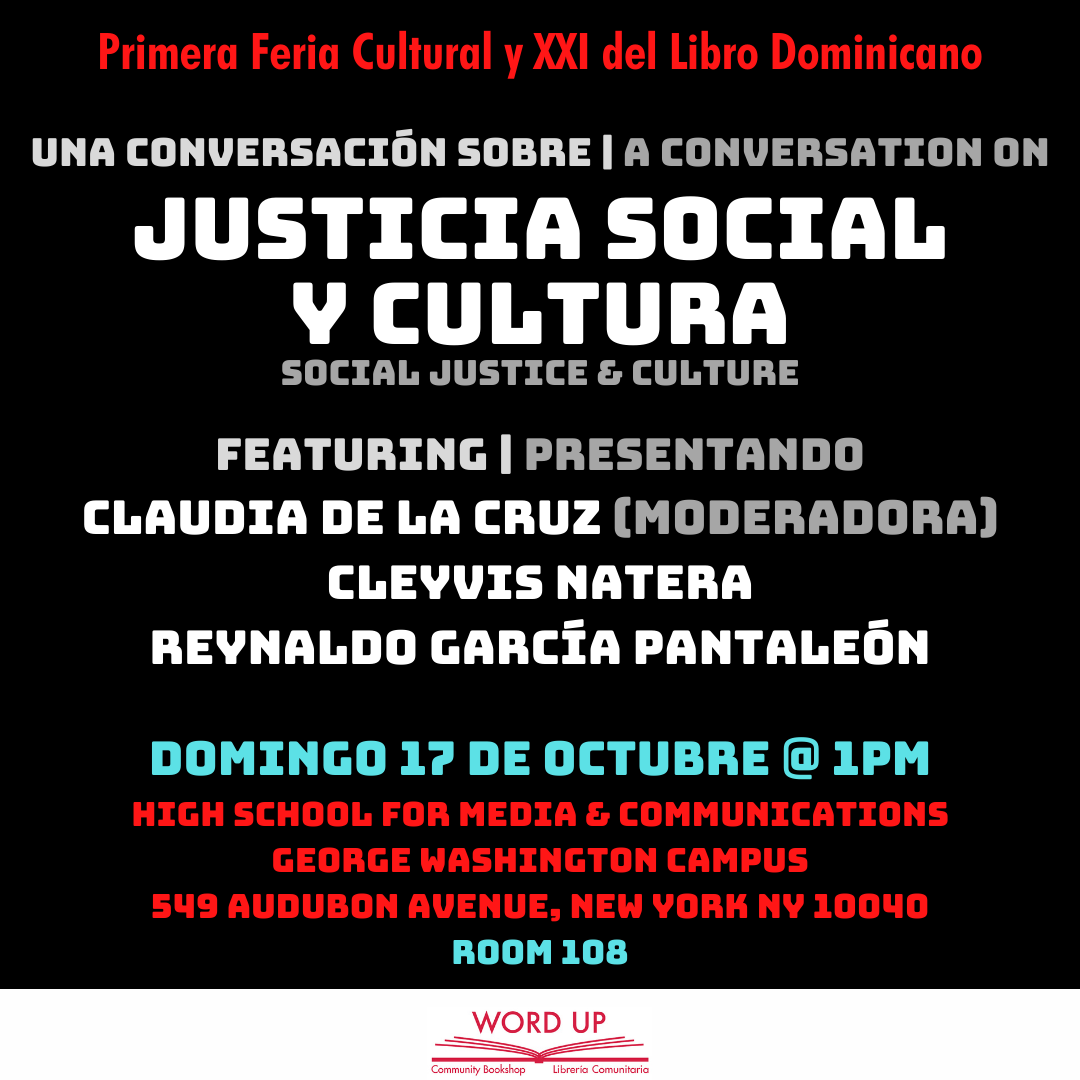 Una conversación sobre justicia social y cultura – Primera Feria Cultural y XXI del Libro Dominicano x Word Up
Primera Feria Cultural y XXI del Libro Dominicano y Word Up Librería Comunitaria presenta
JUSTICIA SOCIAL Y CULTURAL
presentando Claudia de la Cruz (moderadora), Cleyvis Natera, y Reynaldo García Pantaleón
Domingo 17 de octubre @ 1pm
A través de esta conversación, esperamos explorar cómo los escritores y los creadores de cultura pueden encarnar o incorporar cuestiones de justicia social en su trabajo y, de hecho, preguntarnos hasta qué punto son responsables de esto. ¿Cómo puede la cultura ayudar e impulsar los movimientos sociales? ¿Cómo afectan los movimientos sociales a la cultura? ¿Cuál es la responsabilidad del escritor y del artista de impulsar el mundo que queremos ver?
High School for Media & Communications
George Washington Campus
549 Audubon Avenue, New York NY 10040
CUARTO 108
---
SOCIAL JUSTICE & CULTURE
featuring Claudia de la Cruz (moderator), Cleyvis Natera, and Reynaldo García Pantaleón
Sunday, October 17 @ 1pm
Through this conversation, we hope to explore how writers and culture makers can embody or incorporate issues of social justice into their work—and indeed ask how much they are responsible to/for this. How can culture aid and push social movements? How do social movements affect culture? What is the responsibility of the writer and artist to push for the world we want to see?
High School for Media & Communications
George Washington Campus
549 Audubon Avenue, New York NY 10040
ROOM 108
---
Claudia de la Cruz was born in the South Bronx to immigrant parents from the Dominican Republic.For over 20 years, she has been committed to movement building, actively participating in collective grassroots spaces, particularly in the communities of Washington Heights and The South Bronx. Claudia was pastor of her home-church, Iglesia San Romero de Las Americas-UCC- a community church rooted in the traditions of Latin American Liberation Theology and grassroots organizing. She cofounded Da Urban Butterflies Youth Leadership Development Project (D.U.B), and she developed the cultural and political education programming at The Rebel Diaz Arts Collective (RDAC-BX) for almost 5 years. She is currently co–executive director at The People's Forum, and is coeditor of Viviremos: Venezuela vs. Hybrid War.
Cleyvis Natera was born in the Dominican Republic and grew up in Harlem. Her debut novel, Neruda on the Park, is forthcoming from Penguin Random House May 2022. In 2019-2020, she was a PEN America Writing For Justice Fellow.
Reynaldo García Pantaleón was born in the Dominican Republic and has been a New Yorker since 1995. He studied Arts at the Universidad Autonoma de Santo Domingo and The Art Students League of New York. His works have been part of numerous group shows both in the Dominican Republic and abroad. His artworks are part of private collections throughout the world and important public collections, among them: Smithsonian American Art Museum, Washington DC, El Museo Del Barrio, NY and El Museo Latino, Omaha, Nebraska. He also works with The Hispanic Society of America, Alianza Cultural Center, The Gregorio Luperon HS and IS 52 as an After School and Special Sessions Teaching Artist and Mural Instructor. He currently serves as the Elizabeth Catlett Art Space and Printmaking Studio manager at The People's Forum.