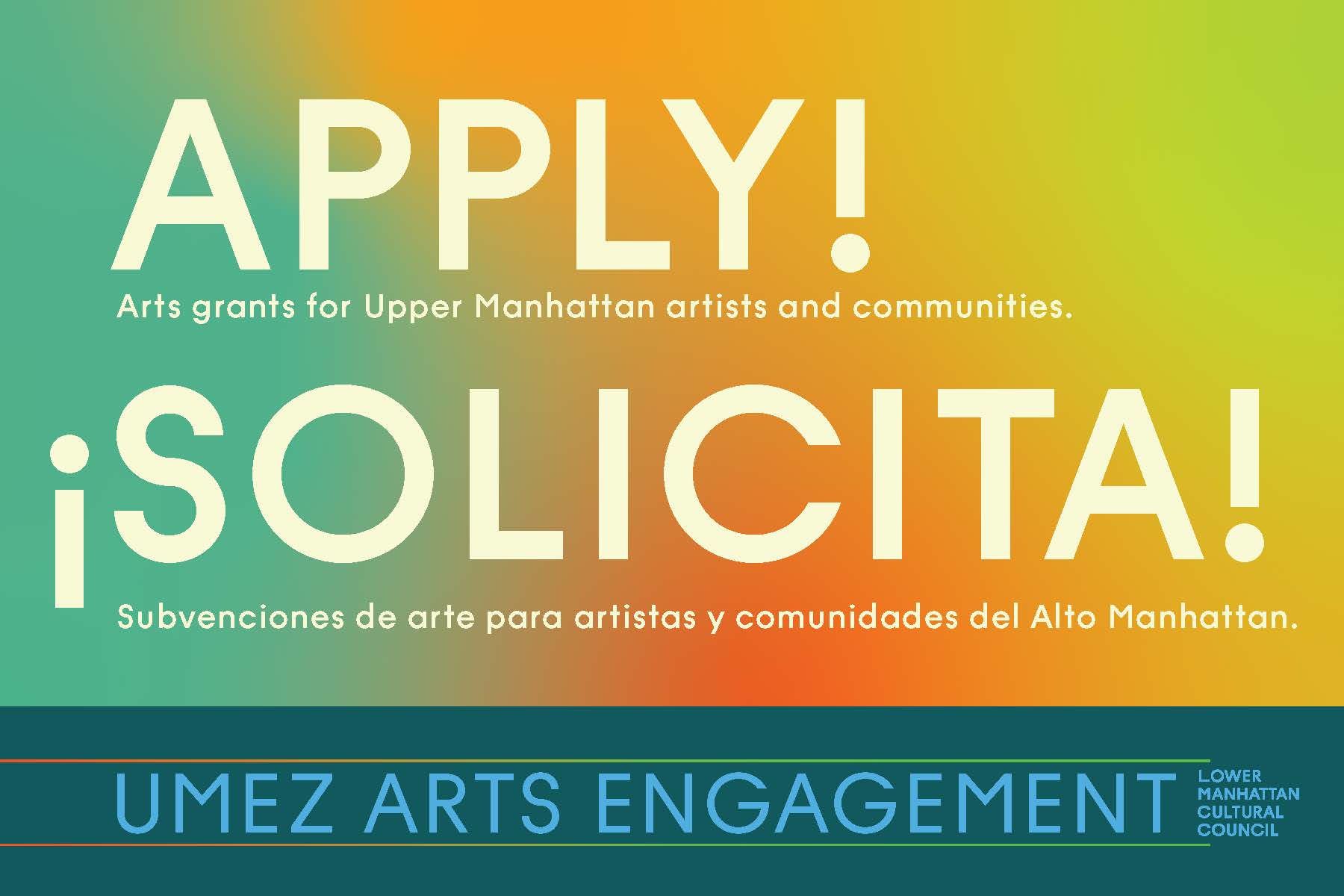 UMEZ Arts Engagement & Creative Engagement Information Session
LMCC ANNOUNCES FUNDING OPPORTUNITIES FOR ARTISTS AND COMMUNITIES!
If you have exciting plans for a project for Manhattan audiences and communities in 2023, attend an interactive information session webinar to meet program staff, ask questions, and learn how to build a strong application.
Information session webinars are intended for Manhattan-based artists, groups, and non-profit organizations interested in applying to LMCC's grant programs. Each session will include a review of the Program Guidelines and useful information to help you put your best foot forward. There will be time for questions and answers throughout the meeting.
This session will cover Creative Engagement and UMEZ Arts Engagement. This session will be presented in English and Spanish. Live captions will be provided.
If you have any difficulties registering, please contact Lina Alfonso at UMAE@lmcc.net or call 212-219-0536.
Hosted in partnership with Northern Manhattan Arts Alliance (NoMAA).
—
LMCC ANUNCIA OPORTUNIDADES DE FINANCIACION PARA ARTISTAS Y COMUNIDADES
Si tienes ideas de proyectos de carácter público para el 2023, asiste a una sesión de información virtual para conocer al personal de LMCC, recibir una descripción general de los requisitos de los programas y aprender a preparar una propuesta sólida.
Las sesiones de información en línea para las Subvenciones de Arte de Manhattan (Manhattan Art Grants por su nombre en inglés) están diseñadas para les artistas, grupos y organizaciones sin fines de lucro con interés en postularse a los programas de subvenciones de LMCC. Cada sesión incluirá una revisión de las pautas de los programas e información útil para ayudarles a dar el mejor paso. Habrá tiempo para preguntas y respuestas durante la reunión.
Esta sesión cubrirá UMEZ Arts Engagement y Creative Engagement. La sesión será en inglés y español.
Si tiene dificultades registrándose, por favor comuníquese con Lina Alfonso a través de UMAE@lmcc.net, o llamando al 212-219-0536.
Presentado en colaboración con la Northern Manhattan Arts Alliance (NoMAA)