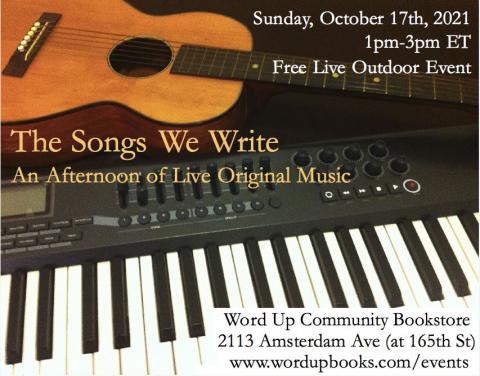 The Songs We Write: An Afternoon of Live Original Music @ Word Up
There's nothing like live music, so come join us! This is a free outdoor event. We will be outside the bookshop.
Featured performers are a mix of local songwriters, composers, and Song A Week members. Each artist will be performing music they have written. Hosted and produced by Tamora Wilson, the show will feature performers: Joanna Parson, Fred Arcoleo, Carl Fortunato, Eric Vetter with Courtney Hill, Kevin Berrey, and more. Admission free, limited seating and donations are welcomed.
To learn more about the Song A Week project visit: www.songaweek.org
Sunday, October 17, 2021 – 1:00pm to 3:00pm
2113 Amsterdam Avenue
New York, NY 10032