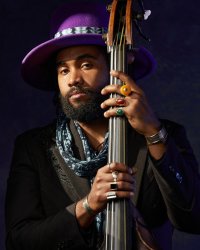 The Porch Presents Di Breddrin Court
The finest assemblage of musicians from across the globe. Led by Russell "Bessie" Hall, this group features sounds that span across genres and bend reality with electrifying exuberance and raging classics such as "Black Caesar" and "Sex Magic". Be prepared to embark on a journey you've never experienced before as the group celebrates the release of their album Skinout!
Russell Hall is an Emmy, Grammy & Golden Globe nominated jazz artist from Kingston, Jamaica.
Doors 7PM / Music 8PM
Reserved Seating $10. RSVP to the tickettailor link at www.theporchnyc.com.
(Limited walk-in seating also available at first-come-first-serve on a suggested donation basis)
In accordance with NYC's vaccine mandate, proof of vaccination is required for this event.