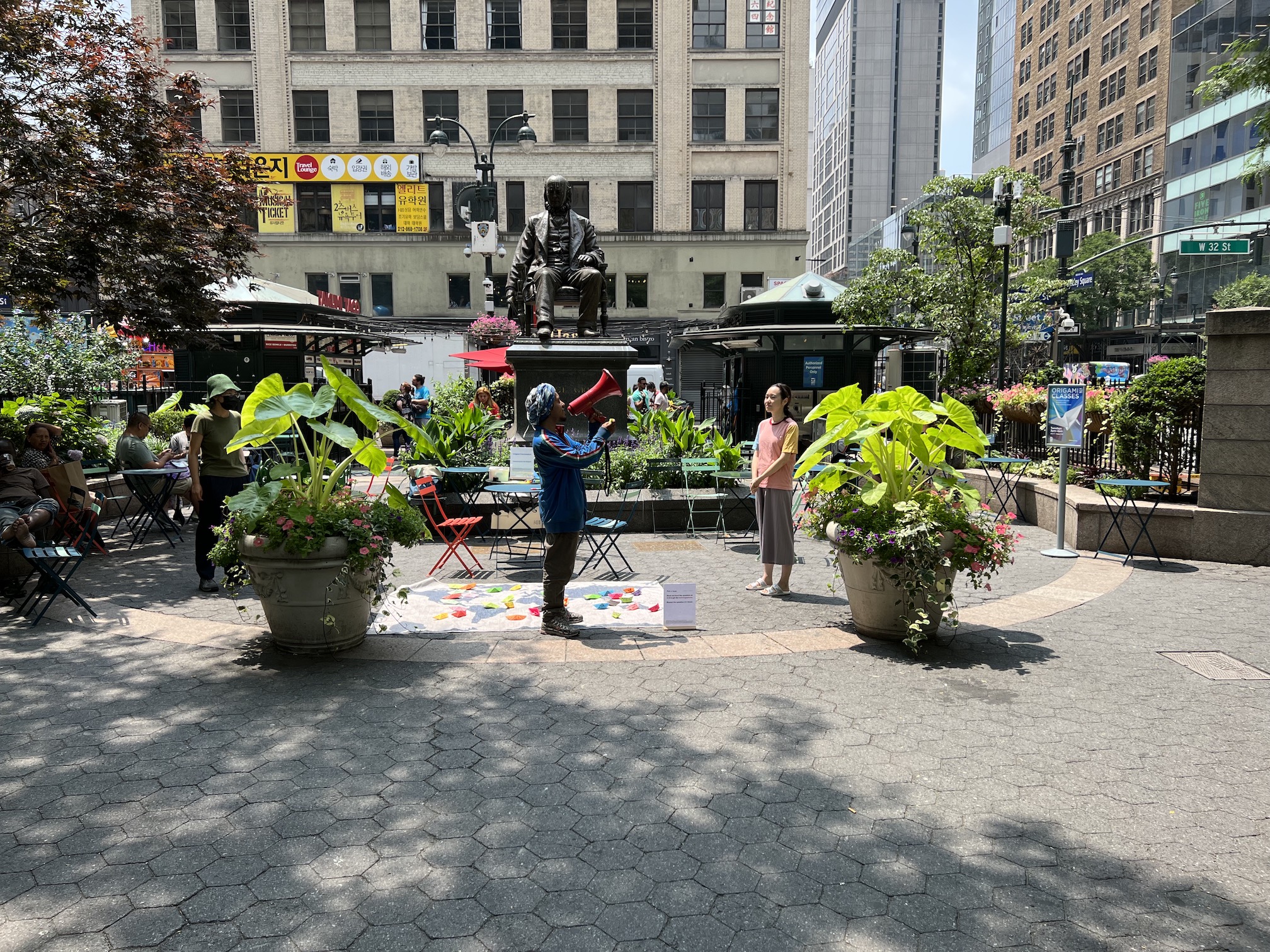 Shared Dialogue, Shared Space: A Virtual Forum
Korea Art Forum (KAF) is delighted to announce an upcoming forum on Zoom scheduled for Saturday, August 19, 2023, from 9:00 am to 11:00 am EST. Join us as we share our reflections on the recent outdoor participatory art event, Shared Dialogue, Shared Space (SDSS), held in Mid Manhattan, and introduce the future iteration of SDSS, which will take place in Mott Haven, the Bronx.
The forum will delve into thought-provoking questions, such as: Do artists need to consider their intended audiences when creating art? How different are the audiences at various event locations, and what does it mean for artists who bring participatory art to these diverse audiences? Does art ultimately embody collective expressions of a community or society at a given time? If so, what does it mean for artists?
During the forum, five art teams will share their experiences of interacting with participants in Mid Manhattan and present their plans for and expectations of the September event in Mott Haven, eagerly seeking feedback from the audience. The artists will explore the impact of audiences on their work, including how they shape the physical appearance and understanding of the artwork.
​The SDSS event series, organized by KAF, offers free interactive and participatory art initiatives in New York City parks and public spaces. Since 2020, SDSS programs have connected immigrant communities and underserved ethnic enclaves in New York City to visual arts and culture, providing translation services in English, Chinese, Korean, and Spanish. The program includes artist-run workshops, performances, and other collaborative artistic productions to engage populations with limited English proficiency, promoting inclusivity and diversity in the art.
For the past three years, Shared Dialogue, Shared Space has fostered meaningful dialogues between artists and the public, expanding public access to the artists' creative work, and exploring a wide range of subjects and the multidimensional role of art in cultural production and social change. KAF believes that SDSS brings together diverse communities in a shared space to celebrate art and culture, encourage dialogue and understanding, and create a positive impact on the art itself and the community.
Interested parties can join this exciting KAF community forum for free via the KAF website. The event is open to all individuals and welcomes anyone with an interest in art and culture to join us in this enriching experience.