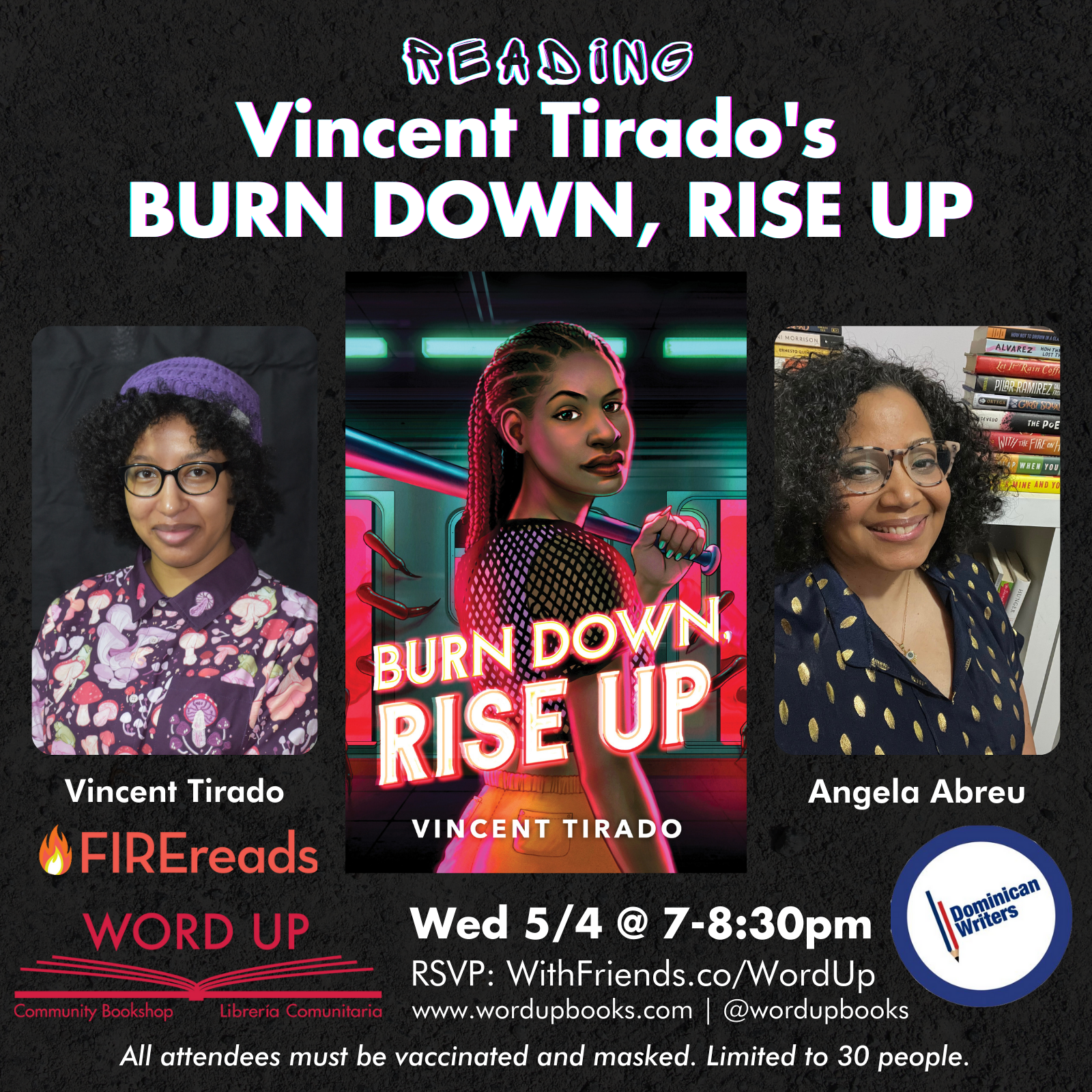 Reading: Vincent Tirado's BURN DOWN, RISE UP
Join us in celebrating the debut of Vincent Tirado's YA novel Burn Down, Rise Up (out 5/3/22)! Tirado will be reading and in conversation with Angela Abreu, founder of Dominican Writers Association. After the conversation, Tirado will be signing their book. Please preorder your copy of Burn Down, Rise Up on WordUpBooks.com (for pickup or shipping). Books will also be sold onsite at the event.
This event is a $5 suggested donation ticket with 30 max attendees. Please register in advance.
In compliance with Word Up Community Safety guidelines, all attendees for this event must show proof of vaccination and I.and must remain masked at all times. Please arrive at least 30 minutes before the event so we can check vaccination cards and ID.
Word Up Community Bookshop is located at 2113 Amsterdam Ave. (& 165th St.) in Washington Heights, NYC. You can take the 1 train to 168th St and the A/C train to 163rd or 168th St.
ABOUT THE BOOK
Mysterious disappearances. An urban legend rumored to be responsible. And one group of friends determined to save their city at any cost. Stranger Things meets Jordan Peele in this utterly original debut from an incredible new voice.
For over a year, the Bronx has been plagued by sudden disappearances that no one can explain. Sixteen-year-old Raquel does her best to ignore it. After all, the police only look for the white kids. But when her crush Charlize's cousin goes missing, Raquel starts to pay attention—especially when her own mom comes down with a mysterious illness that seems linked to the disappearances.
Raquel and Charlize team up to investigate, but they soon discover that everything is tied to a terrifying urban legend called the Echo Game. The game is rumored to trap people in a sinister world underneath the city, and the rules are based on a particularly dark chapter in New York's past. And if the friends want to save their home and everyone they love, they will have to play the game and destroy the evil at its heart—or die trying.
ABOUT THE AUTHOR
Vincent Tirado is a non-binary Afro-Latinx Bronx native. They ventured out to Pennsylvania and Ohio to get their Bachelor's degree in biology and Master's degree in bioethics. They have had short stories published in Desert Rose Lit Mag and FIYAH! Magazine.
---
Word Up Community Safety Guidelines
All children and adults ages 5 and older are required to have proof of vaccination for indoor event venues in NYC, including those hosted by Word Up Community Bookshop. They must show proof they have received two vaccine doses, except for those who have received the one dose of the Johnson & Johnson vaccine.
People 18 and older are also required to show identification along with their proof of vaccination.
All attendees ages 2 and older must wear a mask at all times when indoors at the store and during events at Word Up and Recirculation.
CANCELLATION POLICY: Word Up Community Bookshop reserves the right to cancel events for any reason, including but not limited to safety concerns.
CODE OF CONDUCT: Please note Word Up has a zero tolerance policy for harassment or intimidation of any kind during any event, virtual or in-person. Please read our Safe Space Policy for more information. Anyone violating these rules will be expelled from the event at the discretion of the organizers. Please report all harassment to events@wordupbooks.com immediately.
PHOTOS & RECORDING: Events may be recorded, and video and photos may be posted on our website, social media, and elsewhere. If you would prefer not to be visible, please let a Word Up team member know.
PRIVACY: Registrants will be added to the Word Up mailing list. Your contact information will never be shared or sold. You may unsubscribe or update your subscription at any time.
PHYSICAL ACCESSIBILITY: Word Up Community Bookshop/Librería Comunitaria is a fully wheelchair-accessible space with one ADA-compliant ramp from the street level to the store. Some of our bookcases and tables are on wheels and can be moved to provide additional access. Our visitor bathroom is wheelchair accessible and gender neutral. Our events are mic'd for sound. Free ASL interpretation is available for most programs upon request; please email events@wordupbooks.com to request interpretation as early as possible. The space is not scent or chemical free but we do our best to minimize the use of chemicals and scents throughout the space and use nontoxic materials whenever possible. If you have specific questions about the space or how an event can be made more accessible to you, please do not hesitate to contact us at info@wordupbooks.com.