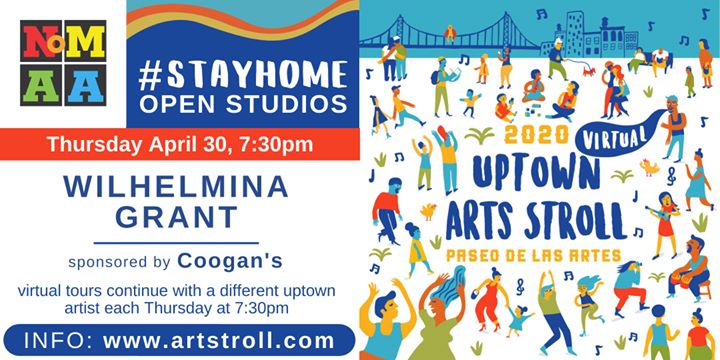 NoMAA's #StayHomeOpenStudios with Wilhelmina Grant
NoMAA presents the first in a series of studio tours with Uptown artists each Thursday at 7:30pm. If you have a question for the artists, email info@nomaanyc.org or post on social media using #StayHomeOpenStudios
Click HERE to join NoMAA and Wilhelmina Grant on Zoom Thursday, April 30 at 7:30
This week's #StayHomeOpenStudios is sponsored in part by Coogan's.
Wilhelmina Grant is a native New Yorker, Harlem resident and self-taught artist who creates collages and assemblages using mixed-media and found objects. From the time that she began her art journey in 2008, she has been collecting and rescuing lost, discarded, outdated, and castoff objects to upcycle or repurpose into visual art. Her source of materials includes thrift stores, basements, garage sales, flea markets, dumpsters and streets. Wilhelmina believes that items that are no longer considered useful, desirable, or functional can sometimes take on new meanings. Her re-evaluation of the life cycle of everyday items in a throwaway society has resulted in the transformation of outdated, rusty, or broken objects and serves as a metaphor for personal renewal and boundless possibilities. This transformative process mirrors her life as a two-time survivor of breast cancer – 24 years and counting.
Wilhelmina Grant was a 2016 Uptown Arts Stroll Honoree
Please Share and Like this!