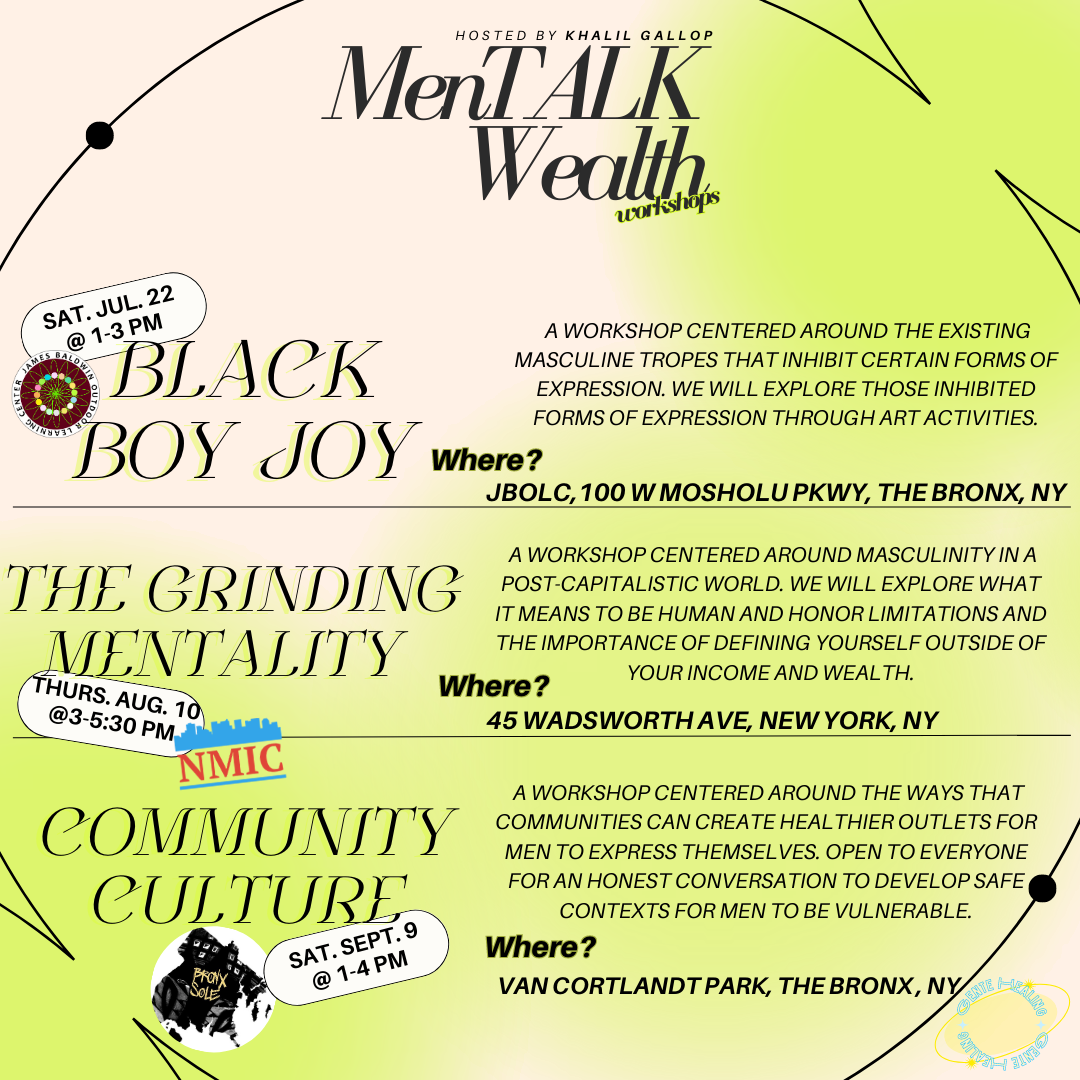 MenTalk Wealth (Workshop 3)
Gente Healing presents a series of mini-workshops meant to promote healthy wellness habits and routines for men of Uptown. In collaboration with Uptown parks, we are offering the masculine-identifying community of Uptown with FREE workshops meant to both demystify the misconceptions of men's mental health and highlight their wellbeing through simple, familiar forms. This year we're doing it with more interactive activities, where each workshop will feature a new topic and activities or resources catered towards exercising that topic with other like-minded men.
Led by a devoted advocate of men's mental health and Bronx native, Khalil Gallop, this workshop will include a range of activities and exercises meant to emphasize mental health as a critical form of wealthy health, rather than an unnecessary luxury. These workshops intend to show men of Uptown that their mental health is just as important when it comes to their own wellbeing.
These workshops will be happening on different dates and in different locations in the Bronx but both dates will entail the same workshop. Please refer to the dates below for more information.
Saturday, Jul. 22nd from 1:00 – 3:00 PM EST at the James Baldwin Outdoor Learning Center (100 W Mosholu Pkwy, The Bronx, NY)
Saturday, Aug. 9th from 3:00 – 6:00 PM EST at the NMIC Headquarters in Washington Heights
Saturday, Sept. 9th from 1:00 – 4:00 PM EST at Van Cordlandt Park
*RAIN DATES AND HOW TO PREPARE FOR THE EVENT WILL BE SENT AFTER REGISTERING FOR ONE OF THE DATES.*
Please feel free to sign up for one of these three dates listed above, and come prepared to pour out yourselves in community with like-minded men!