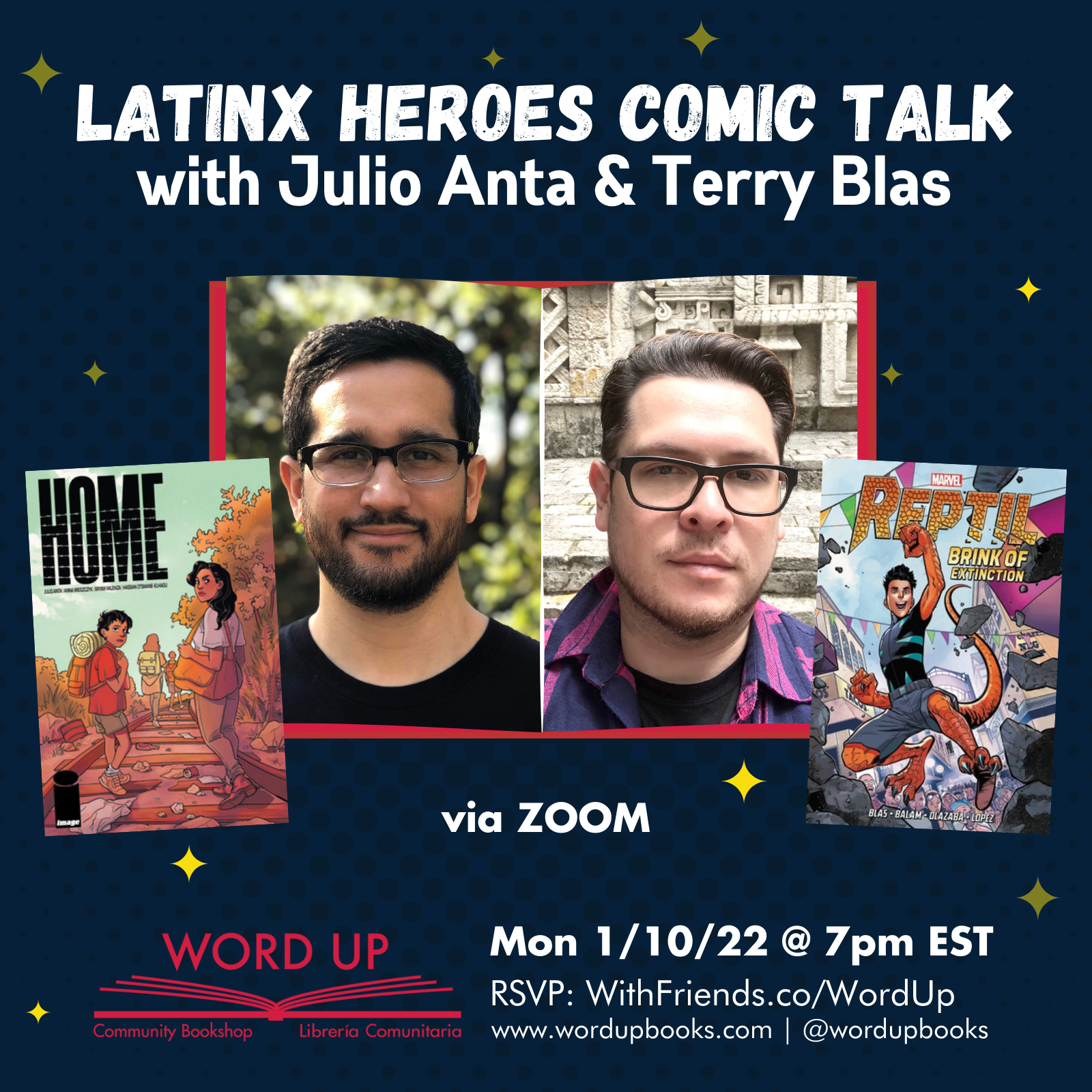 Latinx Heroes Comic Talk with Julio Anta & Terry Blas
Julia Anta and Terry Blas, two Latinx comic writers, will discuss Latinx heroes and empowerment through representation as they share their experiences and celebrate Anta's new series HOME and Blas's series Marvel's Reptil & Who Was the Voice of the People?: Cesar Chavez: A Who HQ Graphic Novel (out 1/11/22).
ABOUT HOME
After being separated from his mother at the US border, a young Guatemalan immigrant must learn to harness emerging superhuman abilities while being hunted by the Federal Government.
ABOUT REPTIL
Reptil — the dinosaur-powered graduate of Avengers Academy — is on the brink of extinction! In the wake of his grandfather's worsening health, Humberto Lopez has taken a step back from crimefighting to focus on his family. Perhaps it's a sign that he should give up on becoming a hero and finally come to terms with his parents' mysterious disappearance…or perhaps not! When a mysterious figure ambushes Humberto, what unravels will shake the core of everything that Reptil thought he knew about his past. And it will either change the course of his future — or end it forever! Plus, relive Humberto's sensational debut! When Stegron the Dinosaur Man launches a campaign of destruction across America, the Avengers Initiative needs a new recruit — and Reptil is just the hero for the job!
ABOUT WHO WAS THE VOICE OF THE PEOPLE?: CESAR CHAVEZ
Follow Cesar Chavez and the National Farmworkers Association as they set out on a difficult 300-mile protest march in support of farm workers' rights. A story of hope, solidarity, and perseverance, this graphic novel invites readers to immerse themselves in the life of the famous Latino American Civil Rights leader — brought to life by gripping narrative and vivid full-color illustrations that jump off the page.
ABOUT THE PANELISTS
Julio Anta is a writer based in New York City. Raised in Miami, in a Cuban and Colombian family, Julio strives to tell narratively rich stories about diverse and empowered Latinx characters for Adult, Young Adult, and Middle Grade readers. His debut comic book series HOME began publication in 2021, courtesy of Image Comics. Forthcoming work includes FRONTERA, a YA graphic novel from HarperAlley, and SI SE PUEDE, a non-fiction graphic novel from Ten Speed Press.
Terry Blas is the illustrator and writer behind the viral web comics You Say Latino and You Say Latinx. He has written comics for Ariana Grande and the series Steven Universe, and Rick and Morty. His original graphic novels are Dead Weight: Murder at Camp Bloom, Hotel Dare, and Lifetime Passes. He is the writer for the Marvel series Reptil and has contributed stories to Marvel Voices Pride and Marvel Voices Comunidades.
Monday, January 10, 2022 –

7:00pm

to

8:00pm EST