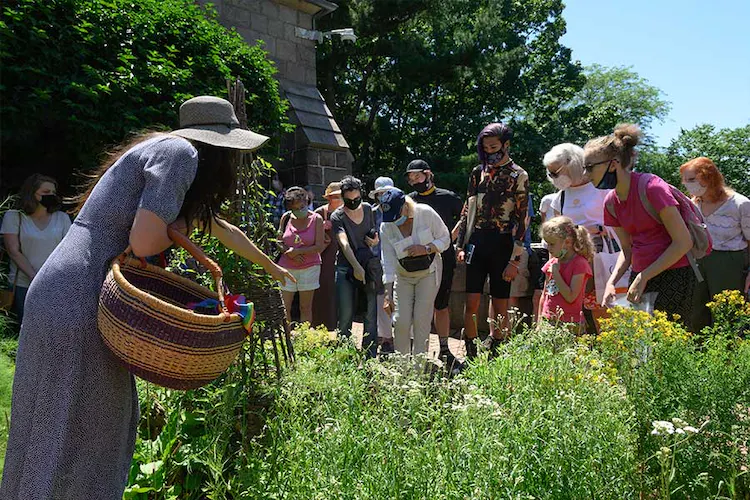 Garden Day at The Met Cloisters
Explore medieval herbs and plants in the gardens at The Met Cloisters through tours, demonstrations, and family-friendly art-making activities.
Check back for the full schedule. It will be available in English and Spanish. The schedule is subject to change.
Free with Museum admission; admission is free for children under 12 with an adult.
Masks are strongly recommended. See our visitor guidelines.
Stop by the welcome table in Gallery 7, the Cuxa Cloister to request an assistive listening device, an American Sign Language interpreter, a sighted guide, and a large-print and Braille schedule of events, or to learn more about access accommodations, programs, and resources at The Met. You can also access The Met's sensory-friendly resources online and take a break in the quiet galleries.
Accessibility at The Met Cloisters is somewhat limited for wheelchair users and others who need step-free access due to the building's landmark status. From the main entrance to the admissions desk there are approximately 60 stairs as well as smaller staircases and cobblestones when exiting the Museum. Visitors requiring step-free access can be dropped off at an alternate entrance. Please contact the Museum in advance or see a security officer at the main entrance for details.
A free shuttle service is available to visitors requiring step-free access. The pick-up stop is located near the Postern entrance (see map) and will transport visitors to and from an accessible entrance inside the Museum's courtyard. The service is available between 10 am–5 pm. For questions concerning the shuttle, please contact CloistersAdmissions@metmuseum.org or call 212-731-1127.