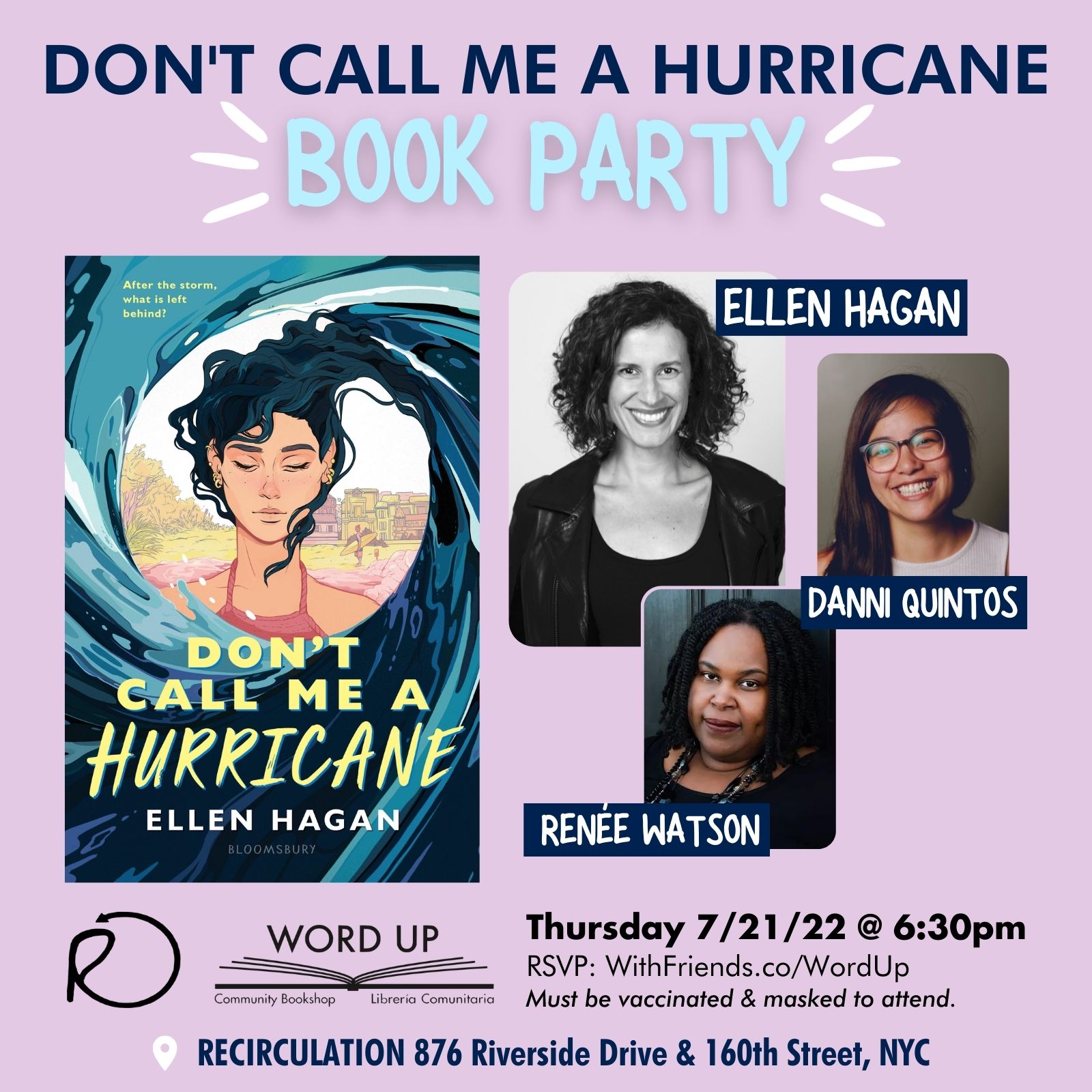 DON'T CALL ME A HURRICANE Book Party with Ellen Hagan, Danni Quintos, and Renée Watson
Join us in celebrating local author Ellen Hagan's new young adult novel Don't Call Me a Hurricane with special guests Danni Quintos and Renée Watson.
"When I read Don't Call Me a Hurricane with my niece she said: 'a climate change activist love story in verse?! Yes, please.' We both loved taking this journey with Eliza Marino. It is a salve and good company for all of us grappling with uncertainty as we traverse these challenging times." —Angie Cruz, award-winning author of DOMINICANA
This event is a $5 suggested donation ticket. Please register in advance.
In compliance with Word Up Community Safety guidelines, all attendees for this event must show proof of vaccination and must remain masked at all times. Please arrive at least 30 minutes before the event so we can check vaccination cards and ID.
Recirculation, a project of Word Up Community Bookshop, is located at 876 Riverside Drive (near 160th St.) in Washington Heights, NYC. You can take the 1 train to 157th St., A/C train to 163rd St., and the M4 and M5 to Broadway and 159/160th.
ABOUT THE BOOK
An affecting and resonant YA novel in verse that explores family, community, the changing ocean tides, and what it means to fall in love with someone who sees the world in a different way.
It's been five years since a hurricane ravaged Eliza Marino's life and home in her quiet town on the Jersey shore. Now a senior in high school, Eliza is passionate about fighting climate change-starting with saving Clam Cove Reserve, an area of marshland that is scheduled to be turned into buildable lots. Protecting the island helps Eliza deal with her lingering trauma from the storm, but she still can't shake the fear that something will come along and wash out her life once again.
When Eliza meets Milo Harris at a party, she tries to hate him. Milo is one of the rich tourists who flock to the island every summer. But after Eliza reluctantly agrees to give Milo surfing lessons, she can't help falling for him. Still, Eliza's not sure if she's ready to risk letting an outsider into the life she's rebuilt. Especially once she discovers that Milo is keeping a devastating secret.
Told in stunning verse, Don't Call Me a Hurricane is a love story for the people and places we come from, and a journey to preserve what we love most about home.
ABOUT THE AUTHORS
Ellen Hagan is a writer, performer, and educator. Her books include: Hemisphere, Crowned, Reckless, Glorious, Girl and Watch Us Rise, co-written with Renée Watson. Her work can be found in ESPN Magazine, She Walks in Beauty and Southern Sin. She is the recipient of a NoMAA Creative Arts Grant and received grants from the Kentucky Foundation for Women and the Kentucky Governor's School for the Arts. National arts residencies include The Hopscotch House and Louisiana Arts Works. Ellen is the Director of the Poetry & Theatre Departments at the DreamYard Project and directs their International Poetry Exchange Program with Japan, South Korea and the Philippines. She co-leads the Alice Hoffman Young Writer's Retreat at Adelphi University.www.ellenhagan.com; @ellenhagan
Danni Quintos is the author of Two Brown Dots (BOA, 2022), which won the 20th annual A. Poulin, Jr. Poetry Prize. She is also the author of PYTHON (Argus House, 2017), an ekphrastic chapbook featuring photography by her sister, Shelli Quintos. Her work has appeared in Best New Poets 2015, Cream City Review, Day One, Pluck!, Salon, and elsewhere. Her knitting has appeared on the shoulders and heads of many writers and artists, who are also friends and teachers. She received her MFA in Poetry from Indiana University. A Kentuckian, a mom, an educator, and an Affrilachian Poet, Quintos lives in Lexington, KY
Renée Watson is a #1 New York Times bestselling author, educator, and community activist. Her books have sold over one million copies. Her young adult novel, Piecing Me Together received a Coretta Scott King Award and Newbery Honor. Her children's picture books and novels for teens have received several awards and international recognition. Renée's poetry and fiction centers around the experiences of Black girls and women, and explores themes of home, identity, and the intersections of race, class, and gender. Her books include young adult novels, Love is a Revolution, Piecing Me Together, and Watch Us Rise, co-written with Ellen Hagan. Her middle grade novels include the Ryan Hart series: Ways to Make Sunshine and Ways to Grow Love. Her most recent book is the 1619 Project Born on the Water co-authored with Nikole Hannah Jones. Renée grew up in Portland, Oregon, and splits her time between Portland and New York City.
Word Up Community Safety Guidelines
All children and adults ages 5 and older are required to have proof of vaccination for indoor events hosted by Word Up Community Bookshop. They must show proof they have received two vaccine doses, except for those who have received the one dose of the Johnson & Johnson vaccine.

People 18 and older are also required to show identification along with their proof of vaccination.

All attendees ages 2 and older must wear a mask at all times when indoors at the store and during events at Word Up and Recirculation.
CANCELLATION POLICY: Word Up Community Bookshop reserves the right to cancel events for any reason, including but not limited to safety concerns.
CODE OF CONDUCT: Please note Word Up has a zero tolerance policy for harassment or intimidation of any kind during any event, virtual or in-person. Please read our Safe Space Policy for more information. Anyone violating these rules will be expelled from the event at the discretion of the organizers.
PHOTOS & RECORDING: Events may be recorded, and video and photos may be posted on our website, social media, and elsewhere. If you would prefer not to be visible, please let a Word Up team member know.
PRIVACY: Registrants will be added to the Word Up mailing list. Your contact information will never be shared or sold. You may unsubscribe or update your subscription at any time.
PHYSICAL ACCESSIBILITY: Recirculation is a wheelchair-accessible space with one ramp from the street level down to the store. Most of the shelves are on wheels and can be moved to provide additional access. The bathrooms are not yet ADA compliant and do not yet have a changing table but are gender neutral. The events are mic'd for sound and videos are captioned when possible. Free ASL interpretation is available for most programs upon request. Please email events@wordupbooks.com to request interpretation as early as possible. If you have specific questions about the space or how an event can be made more accessible to you, please do not hesitate to contact us at info@wordupbooks.com.