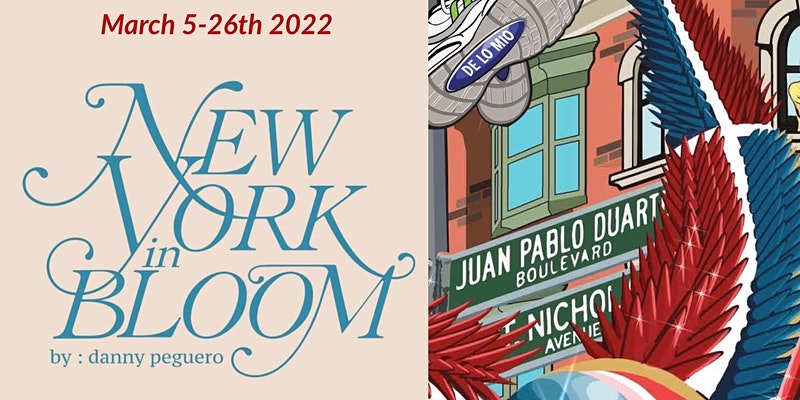 Danny Peguero "New York in Bloom"
New York In Bloom
Photography/Post-Photography CGI, and paintings that celebrate New York City's resilience amid the 2020 lockdown. The series is called New York in Bloom. Floral blowing in the wind is a constant element through-out and serves as a symbolism of revival and transformation.
My hope is that the fun,whimsical, and colorful imagery strikes the viewer and leaves them hopeful for better days to come.
The Rio III Gallery 9th Floor
898 St. Nicolas Ave @ 155th Street New York, NY 10032
Sunday-Monday CLOSED
Saturdays 2:00pm-5:00pm
Tuesday-Friday BY APPOINTMENT ONLY RSVP
Bio: Danny Peguero is a multidisciplinary artist and designer of Dominican descent, born and raised in NYC's Washington Heights.
From early on, it was evident that Danny had a passion for the arts which, to no surprise, led to him studying digital imaging, UX design, and textile print in college. His technical skills coupled with his unwavering appreciation for all art forms gave rise to his entry into the corporate design space. Over a 12 year span, Danny designed for several brands at the forefront of the culture like Coogi, Kappa, and Drunknmunky, before venturing off to start his own footwear and apparel brand, Psyberia.
Not one to limit himself, Danny deviated from apparel design and began producing large-scale murals, often times using his neighborhood and culture as his subject matter. His affinity for large-scale murals quickly evolved into a full-fledged career as a multidisciplinary visual artist and has afforded him the opportunity to act as a panelist and/or honoree in his work with HBO, Warner Brothers, Foot Locker, The Hispanic Society Museum, and CNN.
His newfound career path has created the opportunity to work with the likes of HBO, Warner Brothers, Foot Locker, The Hispanic Society Museum, and CNN.
As an active member of his community, Danny has worked with a multitude of small businesses to visually transform their space, and has positively impacted the neighborhood youth by conceptualizing, designing, and curating a library project with P.S.132 through The Department of Education.
Location:
**Ages 5+ must show proof of vaccination upon arrival.**
The Rio III Gallery | 898 St. Nicolas Ave @ 155th St., New York, NY, 10031