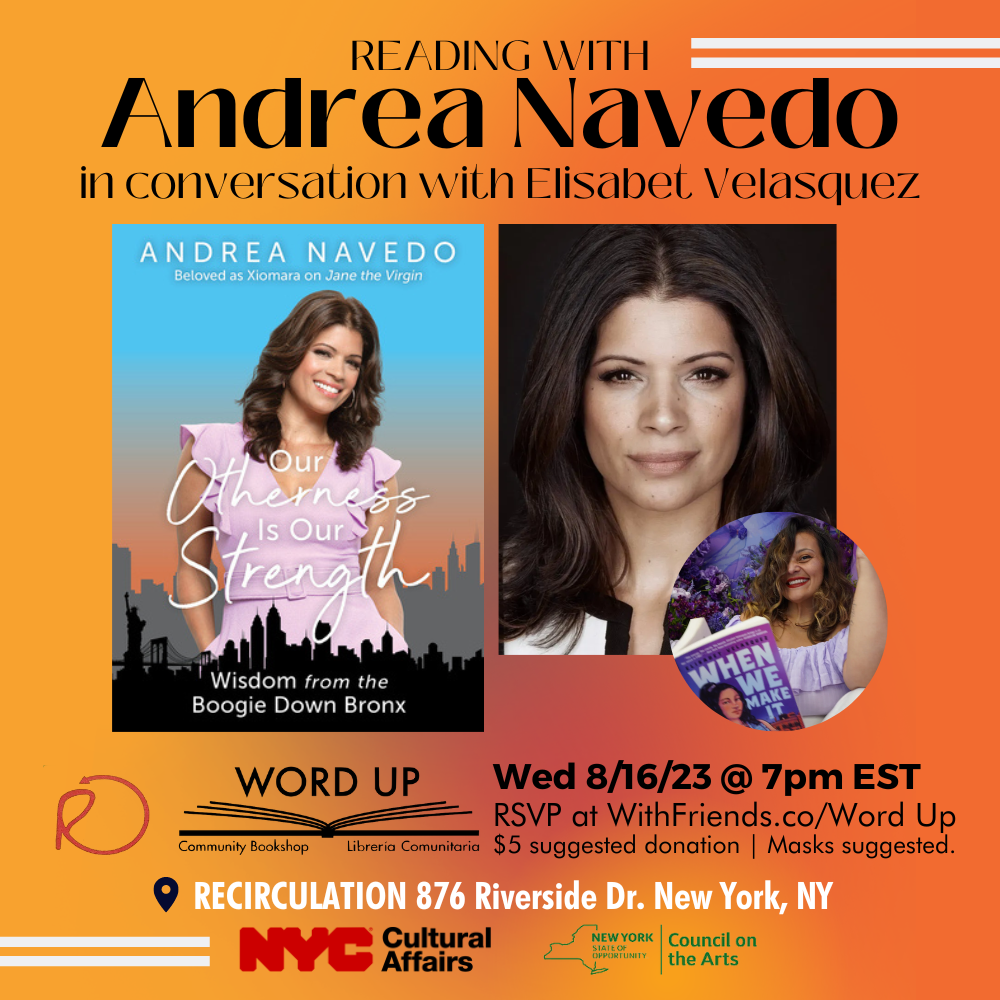 Andrea Navedo's "Our Otherness Is Our Strength" in conversation with Elisabet Velasquez
Andrea Navedo is coming uptown to Recirculation, a project of Word Up, to read & sign her new memoir "Our Otherness Is Our Strength: Wisdom from the Boogie Down Bronx." In the book, Navedo shares her story of growing up in "da South Bronx—boogie down, burning"—in order to inspire young people who grew up like she did and who, after being counted out, were still determined to succeed. In conversation with Navedo will be Elisabet Velasquez, author of "When We Make It: A Nuyorican Novel."
This event is a $5 suggested donation ticket with 50 max attendees. Please register in advance. 
Recirculation, a project of Word Up Community Bookshop, is located at 876 Riverside Drive (near 160th St.) in Washington Heights, NYC. You can take the 1 train to 157th St., A/C train to 163rd St., and the M4 and M5 to Broadway and 159/160th.
ABOUT THE BOOK
Actress Andrea Navedo, best known for her role as Xiomara, Jane's mother, on The CW's Jane the Virgin shares hard-earned wisdom from the boogie down Bronx.
Andrea Navedo didn't get to see many positive portrayals of Latinas in the media growing up. So when she had the chance to play a starring role on Jane the Virgin, a role that cast her as a complex, flawed, and genuine Latina single mother, she jumped all over the opportunity.
Now, she shares bits of her story of growing up in "da South Bronx–boogie down, burning"–to inspire young people who grew up like she did and who, after being counted out, still strive to succeed.
Expanding on her beloved commencement address to DeWitt Clinton High School and other speeches, Navedo offers the pithy, ghetto-honest, and at times laugh-out-loud funny lessons she learned from surviving abusive relationships, dealing with repeated rejection, and eventually triumphing in the entertainment industry. From how to listen compassionately to your own internal dialogue, to why fame and validation may not make you feel better about yourself, to how to never play the victim, she provides notes from life's trenches, the trenches of the South Bronx. She shows how the outer and inner challenges of what popular culture deems the horrors of places like the Bronx can instead be the very factors that bring out our superpowers.
For all who wish to take the reins on their own lives, especially in the face of hardship, trauma, discrimination, and inner doubts, Navedo's reflections, confessions, memories, and, most of all, hard-earned lessons help us realize our "ghetto" is the breeding ground for our self-actualization–our otherness is our strength.
ABOUT THE AUTHOR
Andrea Navedo, the Bronx-born-and-raised Puerto Rican American actress, is out to inspire young people, particularly Latinx readers who, like her, have faced adversity and still managed to succeed. Best known for her role of Xiomara, the mother in The CW's series Jane the Virgin, Navedo has written "Our Otherness is Our Strength: Wisdom from the Boogie Down Bronx" (Broadleaf, July).
Elisabet Velasquez is a Boricua writer born in Bushwick, Brooklyn. Her work is featured in Muzzle Magazine, Winter Tangerine, Centro Voces, Latina Magazine, Longreads, We Are Mitú, Tidal, and Martín Espada's anthology "What Saves Us: Poems of Empathy and Outrage in the Age of Trump." "When We Make It" is her debut novel. Elisabet lives in Jersey City, New Jersey.
This program is supported, in part, by public funds from the New York City Department of Cultural Affairs in partnership with the City Council. Word Up Community Bookshop's programs are made possible by the New York State Council on the Arts with the support of the Office of the Governor and the New York State Legislature.
——————————————————————————-
WORD UP COMMUNITY SAFETY GUIDELINES
MASKING POLICY: All attendees ages 2 and older are
encouraged to wear a mask during events at Word Up and Recirculation.
CANCELLATION POLICY: Word Up Community Bookshop reserves the right to cancel events for any reason, including but not limited to safety concerns.
CODE OF CONDUCT: Please note Word Up has a zero tolerance policy for harassment or intimidation of any kind during any event, virtual or in-person. Please read our Safe Space Policy for more information. Anyone violating these rules will be expelled from the event at the discretion of the organizers. Please report all harassment to events@wordupbooks.com immediately.
PHOTOS & RECORDING: Events may be recorded, and video and photos may be posted on our website, social media, and elsewhere. If you would prefer not to be visible, please let a Word Up team member know.
PRIVACY: Registrants will be added to the Word Up mailing list. Your contact information will never be shared or sold. You may unsubscribe or update your subscription at any time.
ACCESSIBILITY: Recirculation is a wheelchair-accessible space with one ramp from the street level down to the store. Most of the shelves are on wheels and can be moved to provide additional access. The bathrooms are not yet ADA compliant and do not yet have a changing table but are gender neutral. The events are mic'd for sound and videos are captioned when possible. Free ASL interpretation is available for most programs upon request. Please email events@wordupbooks.com to request interpretation as early as possible. If you have specific questions about the space or how an event can be made more accessible to you, please do not hesitate to contact us at info@wordupbooks.com.