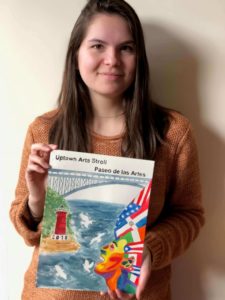 Miranda Spencer, born and raised in Inwood, and currently an undergraduate student at the University of Bristol, United Kingdom, has won the 2018 Uptown Arts Stroll poster contest. Ms. Spencer's submission depicted the waterways that contribute to the unique northern Manhattan landscape and the elements of uptown's inclusive and diverse cultural scene. "I have enjoyed the Uptown Arts Stroll for as long as I can remember," said the winner, who will receive a $1,000 honorarium and exclusive graphic representation on Uptown Arts Stroll publications. "It's an honor and pleasure to be able to contribute," added Ms. Spencer, who loves to explore Inwood Hill Park with her puppy Ajax when she's not in school.
Read the Manhattan Times article.
Please Share and Like this!