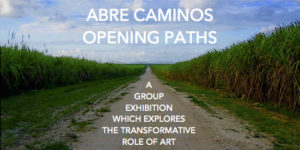 Northern Manhattan Arts Alliance (NoMAA), in partnership with Broadway Housing Communities and The Sugar Hill Children's Museum of Art and Storytelling, is pleased to announce an open call for submissions from uptown artists for the upcoming exhibition, "Abre Caminos/Opening Paths."
Guest curator: Esperanza Cortés
Exhibition location: Rio II Gallery, 583 Riverside Drive, 7th Floor Penthouse, New York, NY 10031
We are living in a remarkably difficult time that is dividing the United States. Artist have the unique ability, as they have had for centuries, to translate this moment into an image, a song, a poem or performance. With that act, they can create a way to translate, connect and make a path for coming together. Art can impact social justice, bring attention and create sustaining change.
Submission guidelines
Eligibility: Open to artists working or residing in El Barrio, Inwood, Washington Heights or Harlem.
Visual artists: Submit four (4) images of two-dimensional artwork no more than 36" x 36", ready to hang.
Writers/spoken word artists: Submit text to be printed and displayed at the gallery.
All artists: submit a brief artist statement, image list and resume/CV.
Submission deadline: 24 September 2017
Timeline
September 24: Submission deadline
September 27: Notification
October 3 and 4: Drop off artwork
October 6: Opening
October 27: Closing, artist talk and workshop, "Making a Social Media Impact"
If you have any questions, call (212) 567-4394 or email Esperanza Cortés.
Listing expiration: September 24, 2017.