Deadline May 31, 2022 11:59 pm
The Hispanic Society Museum & Library and the Northern Manhattan Arts Alliance (NoMAA) are pleased to request submissions for a summer outdoor installation on Audubon Terrace (Broadway between 155th and 156th streets).
The Hispanic Society is committed to expanding the discourse of the art and culture of the Spanish and Portuguese speaking countries. The Northern Manhattan Arts Alliance's mission is to cultivate, support, and promote the work of emerging and established artists and arts organizations in upper Manhattan. Together, the Hispanic Society and NoMAA invite local artists to submit an original work to be installed on the Hispanic Society's public Audubon Terrace. The selected work will be on view beginning in early June 2023– coinciding with NoMAA's annual Uptown Arts Stroll — through the end of the summer 2023
Submission Deadline: May 31, 2022 at 11:59PM EST
If you have any questions, email info@nomaanyc.org
Subject: "Question about Art on the Terrace call"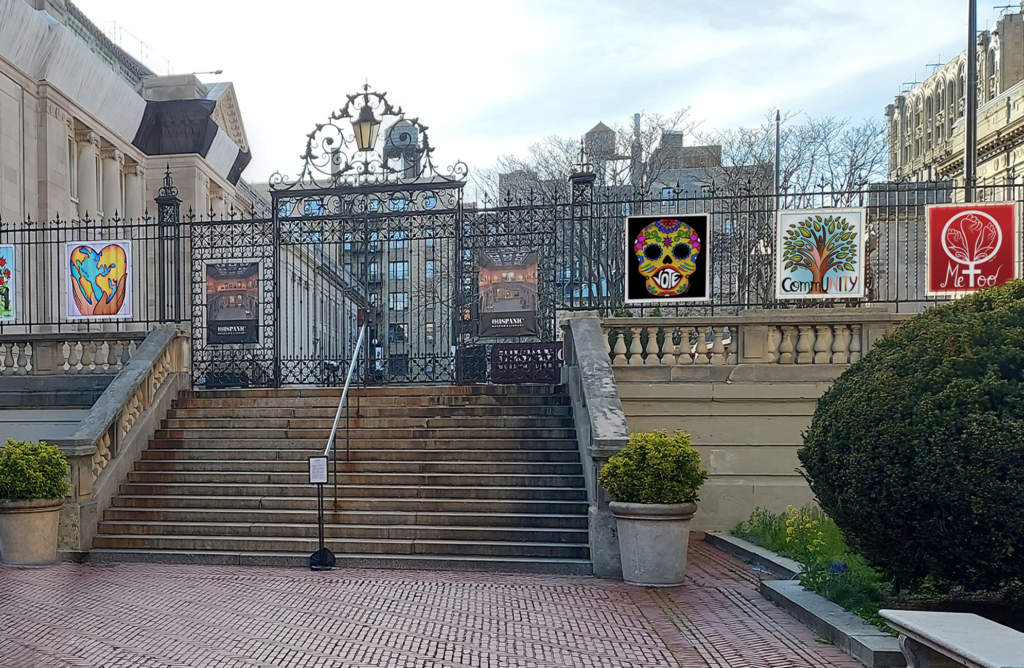 Requirement/Eligibility:
1. The work will be installed either on the pavers or grassy knoll in front of the East Building of the Hispanic Society Museum & Library on the Audubon Terrace.
2. Applicants must live or work in Upper Manhattan, above West 135 to West 155 St. from St. Nicholas/Edgecombe Ave west to the Hudson River, OR West 155 to West 220 river-to-river, in order to be considered.
3. All interested applicants are invited to attend an information session Tuesday, May 3 at 7pm via Zoom. VIEW THE RECORDING ON YOUTUBE
4. The Hispanic Society will provide the selected artist with the necessary engineering specifications to ensure that the work is safely installed and stabilized, such as being able to resist winds at 70 miles per hour without being anchored to pavers or walls. The work must be free-standing or anchored into the grass. Nothing may be attached to the building or pavers. Works should not exceed a 10 x 15 area nor a height of 10 feet. Artist must adhere to alterations specified by the Hispanic Society Museum & Library engineer evaluation in order to safeguard the public, property, and the artwork itself.
5. The accepted design will be featured on the Terrace for a period for approximately 10-12 weeks as well as online via the Hispanic Society and NoMAA websites.
6. Artists will also have an opportunity to participate in a public presentation/artist talk, to be determined.
7. Artist selection will be announced mid-June 2022.
Application Instructions:
1. Artist Statement (250 words max.).
2. Artist CV noting past exhibitions.
3. Brief statement explaining the relationship between your project and the Hispanic Society's mission and collection (250 words max.). https://hispanicsociety.org/about-us/mission-statement/
4. Discuss the value of your project as a public work (250 words max.).
5. Please provide six (6) images (sketches, plans, designs, maquettes) of your proposed project.
6. Please provide the following information: title, medium, dimensions (height x width x depth), weight, installation method and anchoring procedure. Works should not exceed a 10 x 15 area nor a height of 10 feet.
7. Provide brief descriptions of similar past outdoor projects you've presented and their outcomes. Hyperlinks may be included to augment your narrative (250 words max.).
8. Please provide six (6) images of past projects.
9. For each image please include the following information: title, year, medium, dimension (height, width, depth, weight), and a brief description (one to two sentences).
10. Contact information for one (1) to three (3) references who can attest to your past project successes.
Compensation:
Artist(s) whose installation is selected for the exhibition will receive an honorarium of $10,000. The artist is responsible for all costs associated with the materials, production, fabrication, and delivery/removal to/from the Hispanic Society. The artist must also agree to restore the site to its previous condition.
Listing expiration: June 1, 2022.