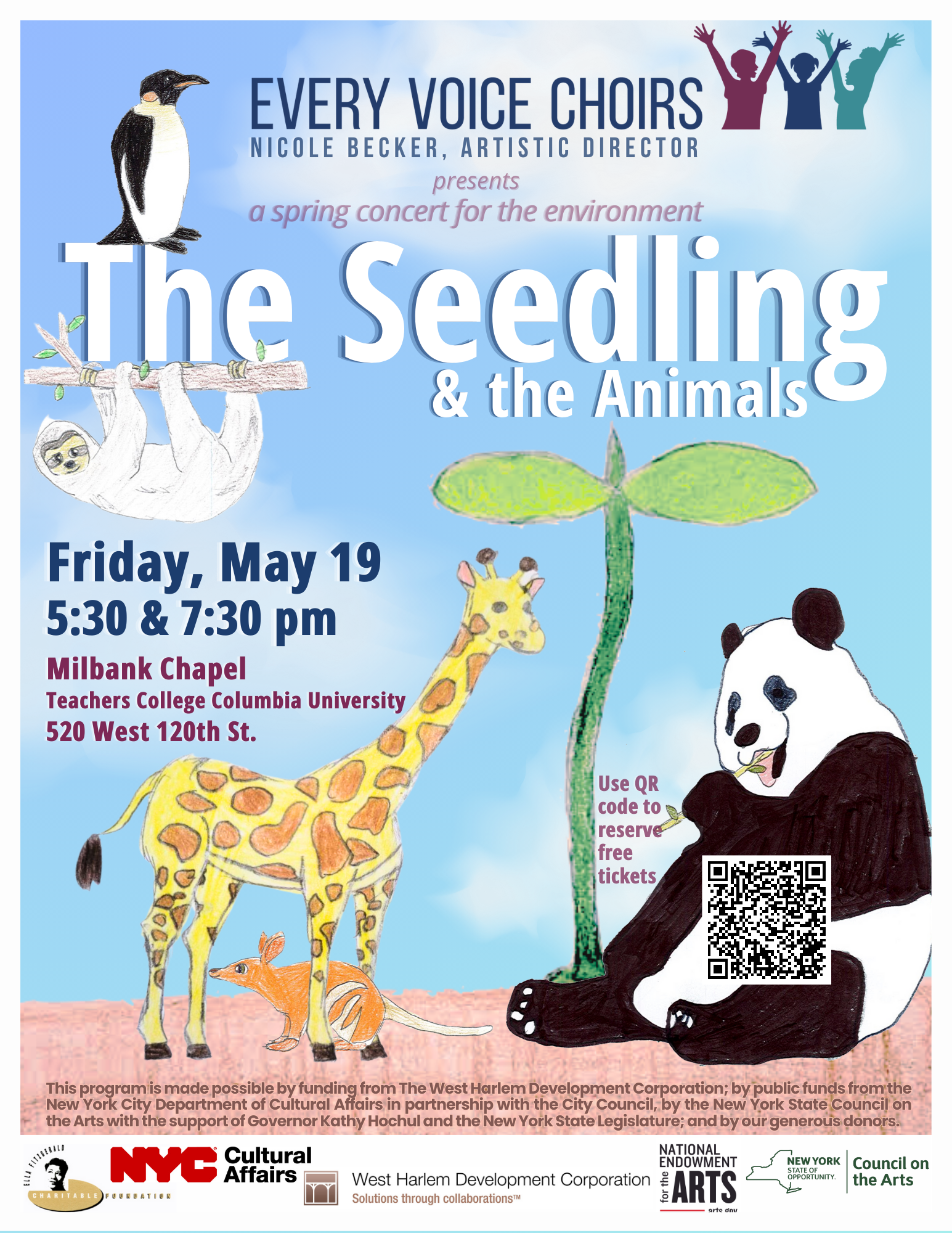 The Seedling & The Animals: Every Voice Choirs' Annual Spring Concert
Join Every Voice Choirs for our annual end-of-year concert celebrating spring with songs about nature and the environment!
Friday, May 19th, 2023 @ 5:30 & 7:30 PM

Milbank Chapel at Teachers College (525 W 120th St.)
EVC presents "The Seedling & the Animals," featuring the voices of Every Voice Kids Choir, Youth Choir, Concert Choir, VoiceAbility, Vocal Technique Across Genres, Hunter Elementary Singers, and Cornerstone Intergenerational Choir. There will be two performances: 5:30 PM and 7:30 PM. Both performances will take place in Milbank Chapel Teachers College (525 W 120th St). This event is open to the public. Seating is limited. Reserve tickets here: https://www.eventbrite.com/e/the-seedling-the-animals-every-voice-choirs-annual-spring-concert-tickets-615668229247.
Please consider donating to help support our production costs. All donations for this concert will be applied toward EVC's spring fundraiser match. Thank you for helping us to continue in our mission of uplifting children's voices.
***
Every Voice Choirs (EVC) is an independent children's choir program based at Columbia University Teachers College. Founded in 2012 by Artistic & Executive Director Nicole Becker and Jeanne Goffi-Fynn, EVC helps children discover their voices and share them with pride. EVC works with singers ages 7-17 in four after-school choirs, providing accessible high-quality choral training to all children who want to sing. EVC's choirs have performed at premier New York City venues including Carnegie Hall, Madison Square Garden, and CitiField, as well as having sung for film and television productions. Learn more at www.everyvoicechoirs.org.