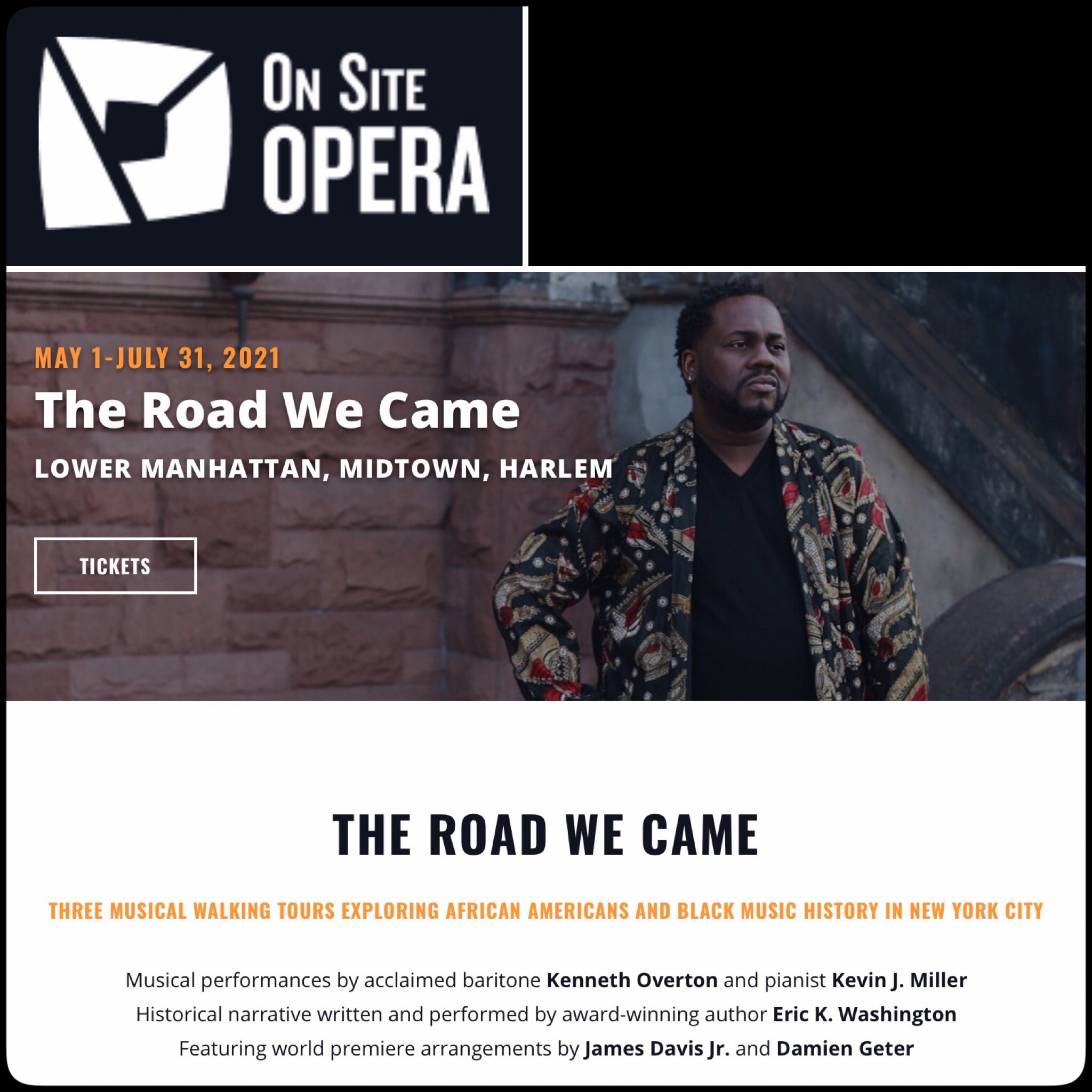 The Road We Came
On Site Opera once again re-defines the immersive and site-specific experience in Spring 2021 with The Road We Came, a new opera- and song-based project that explores the composers, musicians and places that define the rich Black history of New York City through a series of self-guided, musical walking tours. Celebrating a collection of never-recorded and seemingly lost classical compositions by Black composers, The Road We Came will use filmed musical performances and spoken narration to connect audiences to the musical timeline of Harlem, Midtown/Hell's Kitchen and lower Manhattan. From the home and texts of the prolific poet Langston Hughes, to Lincoln Center, to the African Burial Ground National Monument, and beyond, The Road We Came will open windows to the past and re-frame the present. The Road We Came is a multi-media collaboration between On Site Opera, Ryan & Tonya McKinny's Keep the Music Going Productions, award-winning biographer and Harlem historian Eric K. Washington, and critically acclaimed baritone, Kenneth Overton, who will be the featured soloist of the tours.
Each self-guided tour will be approximately a 90-to-120-minute immersive musical experience that patrons can access via a walking tour app and undertake at their own pace. The app will allow audiences to experience the tours in person and virtually. More info to come.
While we believe that the arc of all three tours in the suggested order tells a riveting and impactful story, each tour is designed to be enjoyed singularly or in any order.
THE HARLEM TOUR BRINGS THE ROAD WE CAME UPTOWN DURING THE HARLEM RENAISSANCE. THIS TOUR WILL RADIATE OUT FROM THE SCHOMBURG CENTER FOR RESEARCH IN BLACK CULTURE AND COVERS THE HALLOWED GROUND TROD BY THE SEMINAL FIGURES OF MID-20TH CENTURY BLACK ARTS AND CULTURE IN AMERICA.
This tour features music and texts by
Leslie Adams, Margaret Bonds, Julia Johnson Davis, Langston Hughes, Florence Price, J. Rosamond Johnson, James Weldon Johnson, William Grant Still
, and
John W. Work
STARTS: Schomburg Center for Research in Black Culture at 515 Malcolm X Blvd
ENDS: James Williams House at 226 W 138th St
Distance Walked: 2.5 Miles
Full Experience with Musical Performances: Approximately 90 minutes