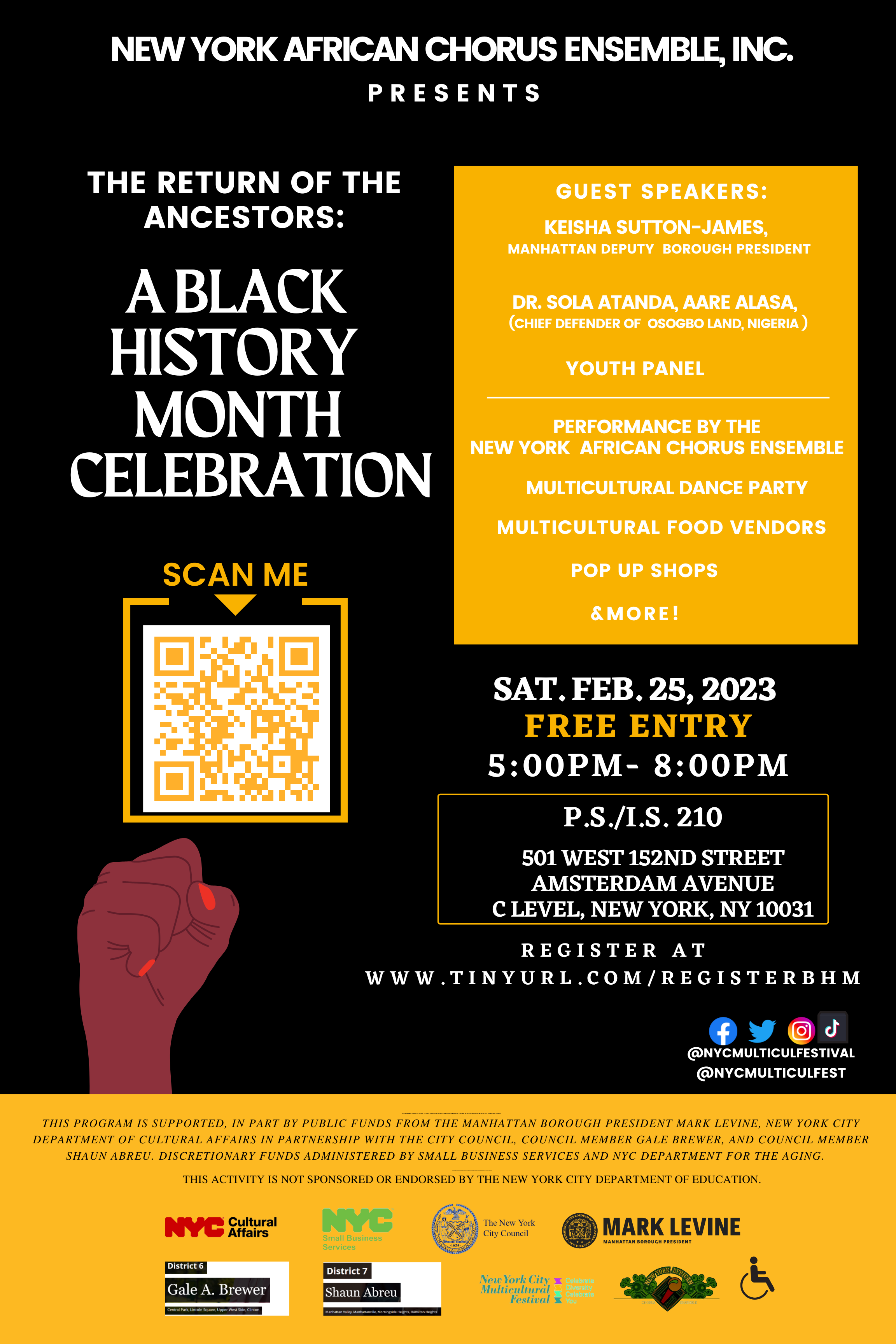 The Return Of The Ancestors: A Celebration of Black History Month
Dear Friends and Family,
I hope this email finds you and your family well.
The New York African Chorus Ensemble, Inc., will host a unique event in celebration of Black History Month, titled, The Return of The Ancestors: a celebration of Black History Month, on Saturday, February 25, 2023. This event will take a deep dive into Black History Month as a celebration worthy of all and sundry while lifting up the role that our ancestors played so that we may all enjoy the freedom that we have today. The event will also look into future possibilities as we listen to the aspirations of our young people.
Our guest speakers include Keisha Sutton-James, Manhattan Deputy Borough President and Dr. Sola Atanda, Aare Alasa, Chief Defender of Osogbo Land, Nigeria. There will also be a live performance by the New York African Chorus Ensemble, and a multicultural dance party. To support our small businesses, Food and Retail vendors will be on site to add more sparkle and cheer to the multicultural gathering.
Our goal is to foster greater understanding between our multicultural communities in New York City and increase the pride in our collective achievements.
The event will begin at 5pm and end at 8pm. The location is P.S./I.S. 210 Twenty-First Century Academy, For Community Leadership, 501 West 152nd Street, Amsterdam Avenue, C Level, New York, NY 10031.
We welcome all to this celebration. Join us as we celebrate our culture and beauty. Let's have fun! Wear something that represents what black history month means to you.
*ADMISSION: FREE*