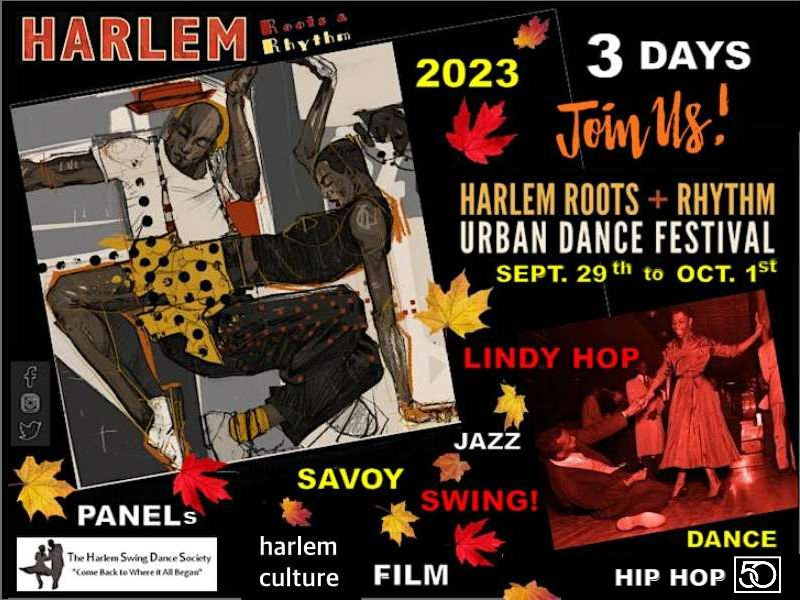 The Harlem Roots and Rhythm Urban Dance Festival
September 29th – October 1st
The Harlem Roots and Rhythm Urban Dance Festival
This Special annual Harlem event gives you room to explore and get a Great Taste of Harlem's famed Jazz and Lindy Hop Culture!
This year we also explore the Roots and Connection to Hip Hop on its 50th Anniversary!
___________________________________
PROGRAM
FRIDAY September 29th
Celebrating and Keeping Harlem's Jazz & Lindy Hop Legacy Alive! 6pm – 11pm
​6PM — Film: The Savoy King (60m)
7PM — Panel Discussion: Keeping Harlem's Jazz and Lindy Hop Culture in its Harlem Home (also Vintage Harlem Lindy Hop clips!) Panelists – TBA
8PM — Social Dance with the Jazzy Sounds of the Savoy Ballroom Legacy! (Billie, Cab, Chick, Count, Duke, Ella and more!)
​Harlem School of the Arts – 645 St Nicholas Ave (W. 140 St & St. Nicholas Ave)
____________________________
SATURDAY September 30th
Multiple Harlem Cultural Events for ALL ages to enjoy!
1PM– Harlem's Legacy: Links bet Lindy Hop & Hip Hop Film, Discussion & Demos
Harlem Library – 9 W 124th Street
4PM — Lindy Hop! Harvest Moon Ball Reenactment
Performance with Harlem Dance Club / MOTHERSHIP 5 event (3pm – 7pm) https://www.eventbrite.com/e/mothership-five-dance-music-festival-tickets-682461610047

Richard Rodgers Amphitheater at Marcus Garvey Park
6PM – 9PM — Retro Dance Party ! Dine and Dance DJ'd Jazz, R&B, SOUL and more!
Harlem Shake 124th St and Lenox Ave Indoor/Outdoor
​9PM – 12AM — LATE NIGHT Juke Joint
The American Legion Post – 248 W 132nd St. Basement level door – Squeeze on in for R&B and more!
_______________________________
SUNDAY October 1st
Pick one of two Great Harlem Morning Experiences!
9AM – Harlem Gospel and Brunch Tour $$
Discover Harlem's rich and diverse community, and experience the hand-clapping, foot-stomping, soulful rhythms of black gospel music filling the air.
Please go to Welcome to Harlem site for payment options.
welcometoharlem.com
9AM — Harlem's Swinging Lindy Hop & Jazz Tour $$
3 Hour Walking tour exploring Harlem's Jazz, Famed Dance of the Lindy Hop and overall Harlem Renaissance Legacy
$40pp Groups of 5 or more can be discounted – Email for details
https://www.paypal.com/cgi-bin/webscr?cmd=_s-xclick&hosted_button_id=ZRF4XYTMCTUEY
Use the email – theharlemswingdancesociety@gmail.com
MUST BOOK BY SEPTEMBER 28th – AFTER THAT DATE PRICE GOES TO $45
PLEASE NOTE – NO REFUNDS
BOTH TOUR GROUPS will be meeting by the Apollo Theater's outside ticket booth on
W. 125th St bet 7th and 8th Aves

A SAVOY Sunday Afternoon
Theme: Keeping Harlem Legacies Alive and Thriving
3PM — Syncopated Sistas: Jazz Ladies discuss preserving Harlem's famed Jazz culture
4pm — DJ'd Jazz Classics
4:30PM — Battle of the Jazz Divas 2023 Edition!
Two Harlem canaries go at it – Be there for the Social dancing and Songbirds
Early Bird $15pp till 9/27/23
Afterwards $20pp online and at the Door
https://www.paypal.com/cgi-bin/webscr?cmd=_s-xclick&hosted_button_id=WQLXD853BFZ8U
Use the email theharlemswingdancesociety@gmail.com
Lt. Joseph P Kennedy Center 34 W 134th St bet 5th and Lenox Aves
________________________
Schedule subject to change