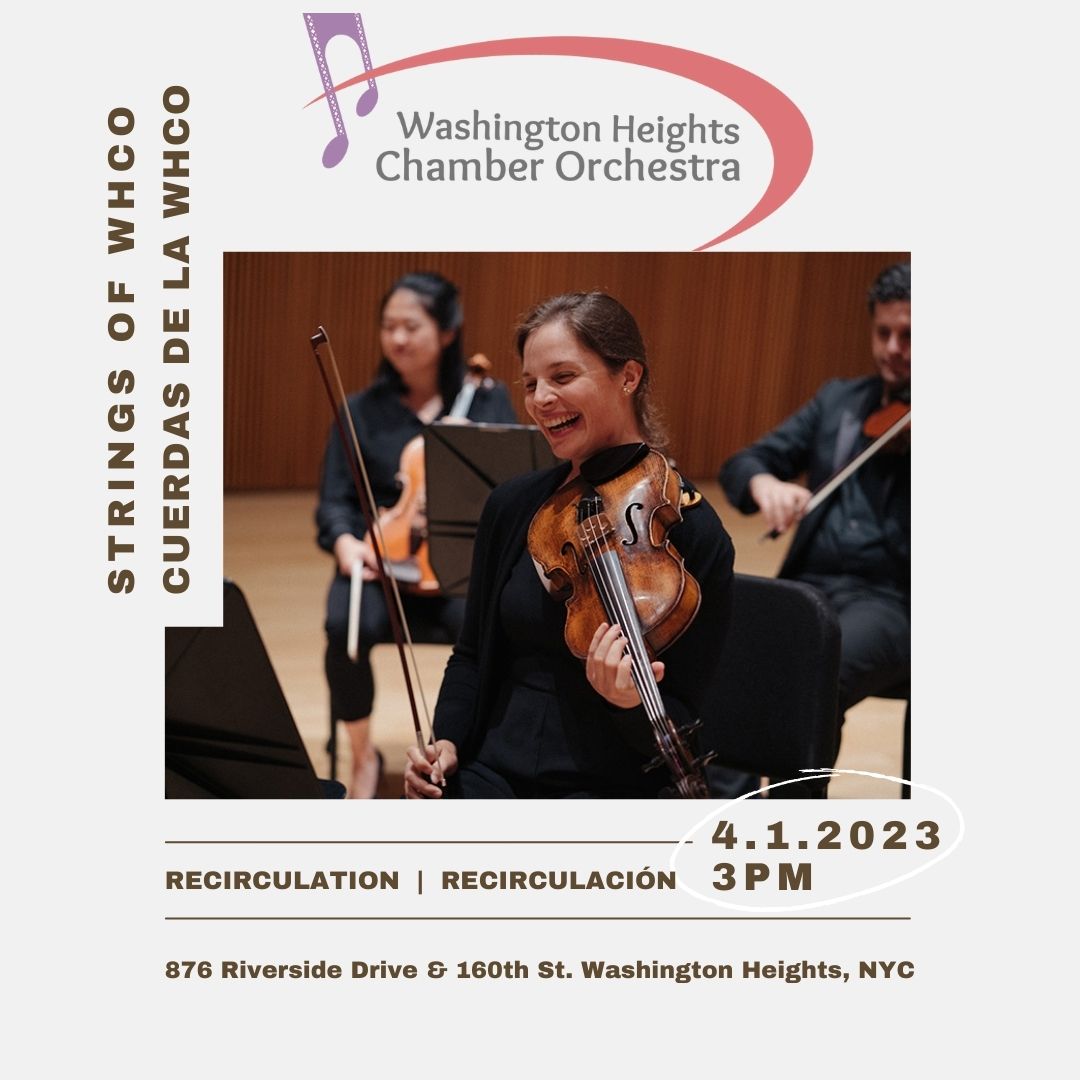 Strings of WHCO @ Recirculation
Enjoy an hour-long performance by principal string players of WHCO and browse the bookshelves at Word Up's Recirculation for "pay what you can" books and records. Spoken remarks in Spanish and English. Suggested donation: $5
Featuring string players from WHCO:
Mark Chien, Concertmaster
Ashley Windle, Assistant Concertmaster
Marta Lambert, Principal Viola
Rocío Díaz de Cossío, Cello
Selections from:
Ludwig van Beethoven: Opus 18, No. 1
Joseph Haydn: Op 3, No. 5
George Walker: Lyric for Strings
Teresa Carreña: String Quartet in B Minor
Antonín Dvořák: String Quartet in F Major "American"
Recirculation is located at 876 Riverside Drive (near 160th St.) in Washington Heights, NYC. You can take the 1 train to 157th St., A/C train to 163rd St., and the M4 and M5 to Broadway and 159/160th.
WORD UP COMMUNITY SAFETY GUIDELINES
MASKING: All attendees ages 2 and older must wear a mask at all times when indoors at the store and during events at Word Up and Recirculation.
CANCELLATION POLICY: Word Up Community Bookshop reserves the right to cancel events for any reason, including but not limited to safety concerns.
CODE OF CONDUCT: Please note Word Up has a zero-tolerance policy for harassment or intimidation of any kind during any event, virtual or in-person. Please read our Safe Space Policy for more information. Anyone violating these rules will be expelled from the event at the discretion of the organizers. Please report all harassment to events@wordupbooks.com immediately.
PHOTOS & RECORDING: Events may be recorded, and videos and photos may be posted on our website, social media, and elsewhere. If you would prefer not to be visible, please let a Word Up team member know.
PRIVACY: Registrants will be added to the Word Up mailing list. Your contact information will never be shared or sold. You may unsubscribe or update your subscription at any time.
ACCESSIBILITY: Recirculation is a wheelchair-accessible space with one ramp from the street level down to the store. Most of the shelves are on wheels and can be moved to provide additional access. The bathrooms are not yet ADA compliant and do not yet have a changing table but are gender neutral. The events are mic'd for sound and videos are captioned when possible. Free ASL interpretation is available for most programs upon request. Please email events@wordupbooks.com to request interpretation as early as possible. If you have specific questions about the space or how an event can be made more accessible to you, please do not hesitate to contact us at info@wordupbooks.com.