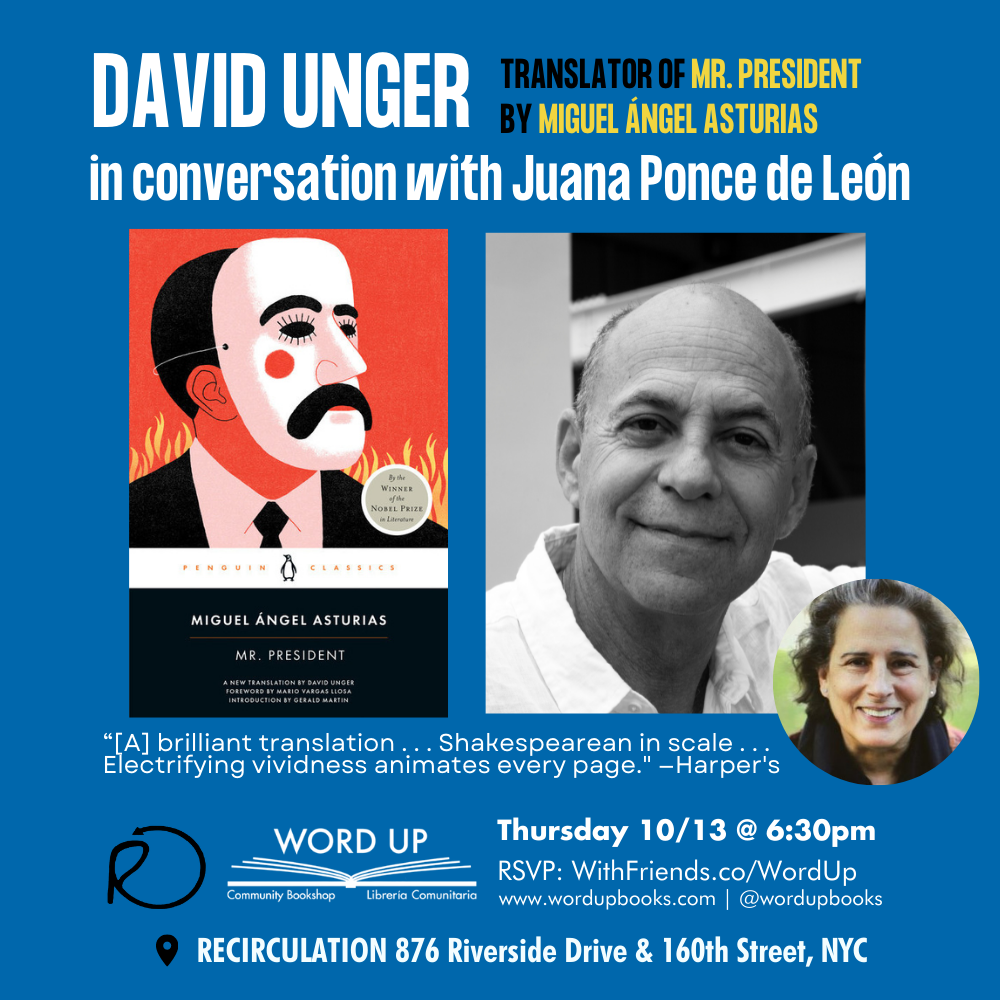 Reading by DAVID UNGER—translator of Miguel Ángel Asturias's Mr. President—& conversation with JUANA PONCE DE LEÓN
"[A] brilliant translation . . . Electrifying vividness animates every page." ―Claire Messud, Harper's Magazine
Join us for a reading with David Unger, translator of Nobel Prize–winning Guatemalan author Miguel Ángel Asturias's masterpiece, Mr. President—the original Latin American dictator novel and pioneering work of magical realism. Afterward, David will be in conversation with editor, writer, and translator Juana Ponce de León.
This event is a $5 suggested donation ticket. Please register in advance.
In compliance with Word Up Community Safety guidelines, all attendees for this event must remain masked at all times. 
Recirculation, a project of Word Up Community Bookshop, is located at 876 Riverside Drive (near 160th St.) in Washington Heights, NYC. You can take the 1 train to 157th St., A/C train to 163rd St., and the M4 and M5 to Broadway and 159/160th.
ABOUT THE BOOK
In an unnamed country, an egomaniacal dictator schemes to dispose of a political adversary and maintain his grip on power. As tyranny takes hold, everyone is forced to choose between compromise and death. Inspired by life under the regime of President Manuel Estrada Cabrera of Guatemala, where it was banned for many years, and infused with exuberant lyricism, Mayan symbolism, and Guatemalan vernacular, Nobel Prize winner Miguel Ángel Asturias's magnum opus is at once a surrealist masterpiece, a blade-sharp satire of totalitarianism, and a gripping portrait of psychological terror.
ABOUT THE AUTHOR & INTERLOCUTOR
Guatemalan-born David Unger received his country's Miguel Angel Asturias National Literature Prize for lifetime achievement in 2014 though he writes exclusively in English and lives in the U.S. He is the author of the books The Mastermind; The Price of Escape; Para Mi, Eres Divina; Ni chicha, ni limonada; and Life in the Damn Tropics. His short stories and essays have appeared in the Paris Review, Delta de las arenas: cuentos árabes, cuentos judíos, Puertos Abiertos, and Guernica Magazine. In addition to Mr. President, he has translated 15 titles including Folktales for Fearless Girls, The Popol Vuh, and the work of Rigoberta Menchú (Guatemala), Enrique Lihn (Chile), Silvia Molina (Mexico), Nicanor Parra (Chile), Ana Maria Machado (Brazil) Teresa Cárdenas (Cuba), Mario Benedetti (Uruguay), Denise Phe-Funchal (Guatemala), Ernesto Cardenal (Nicaragua), Sergio Ramirez Mercado (Nicaragua), among others. Among his children's book publications are Moley Mole/Topo Pecoso, Sleeping With the Light On, and La Casita. He is presently translating Chilean Carlos Franz's If You Saw Yourself With My Eyes on speculation and is writing a short children's book on World Kitchen chef José Andrés.
Juana Ponce de León has worked many years in publishing, the nonprofit arena, and government, dedicated to ensuring a cultural conversation inclusive of the myriad voices representing the diversity of the Americas. Editing, writing, and translation have been at the center of that work. She was founding editor of Siete Cuentos Editorial, the first US Spanish-language imprint launched by Seven Stories Press. She is an award-winning editor of Voices That Must Be Heard, the first online publication disseminating coverage in the ethnic media translated into English, to local government, academia, foundations and advocacy groups. She is former executive director at New York Community Media Alliance and served as Director of Media Diversity Relations for NY City Council Speaker Melissa Mark-Viverito. Currently she works with the Women's Media Center as translator and editor of the Spanish-language edition of I/Dare, an online publication that serves as a platform for Latin American and Latina writers. She is the editor of Our Word is Our Weapon: Selected Writings of Subcomandante Marcos, and Dream with No Name: Contemporary Fiction from Cuba.