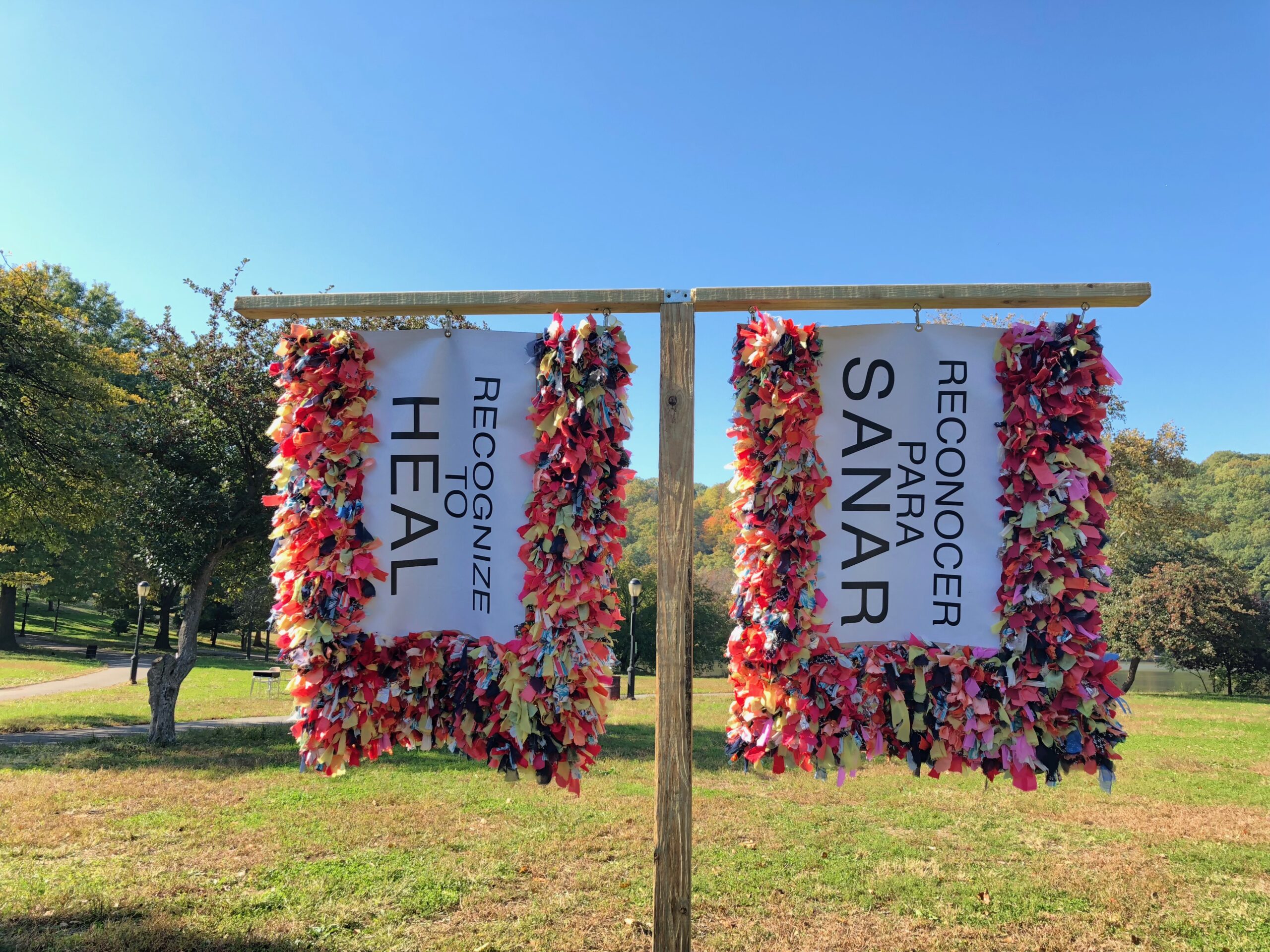 Persuasive Visions
The 5th edition of Northern Manhattan Arts Alliance (NoMAA)'s public art initiative.
Guest curator Stephanie Lindquist
Northern end of Inwood Hill Park (enter at Indian Road and 218th Street)
ON VIEW UNTIL MARCH 2019
Inspired by W. E. B. Du Bois's conviction that propaganda through the arts can create social change, Persuasive Visions presents the work of two local artists, Gina Goico and Nick Kozak, who respond to today's constant deluge of (mis)information.
Gina Goico www.ginagoico.com
Sanar
As we are inundated daily with media Gina Goico reminds us of the power of cleansing ourselves and holding space for our community. In this case, she invited neighbors to reconnect through conversation and collaboration creating traditional Dominican pellizas that read "reconocer para sanar"/ "recognize to heal" in her installation Sanar.
Nick Kozak www.kozakartclass.com
Opposition Position
Nick Kozak's installation Opposition Position challenges us to examine our education system and to stage our own educational interactions in this classroom in the park.
All are welcome to attend free workshops led by local students on the first Saturday of the month through March of 2019 FINAL WORKSHOP will be Saturday March 9. RSVP HERE
This holiday season we were shocked to find the social sculpture Opposition Position uprooted in Inwood Hill Park. Created by artist Nick Kozak, this public art work is activated by local high school students every month through dialogue around topics that matter most to youth and the community: health, safety, education, communication, technology, and identity.
In the days after we were also heartened to see neighbors take ownership of this social sculpture by carefully arranging the chairs and desk of this classroom in the park back to its original layout.
Opposition Position will continue to be on view at the northern entrance of Inwood Hill Park through March 2019./span>

Made possible with support from NYC Department of Small Business Services N360 Grant, Con Edison and New York City Department of Parks & Recreation. This program is supported, in part, by public funds from the New York City Department of Cultural Affairs, in partnership with the City Council