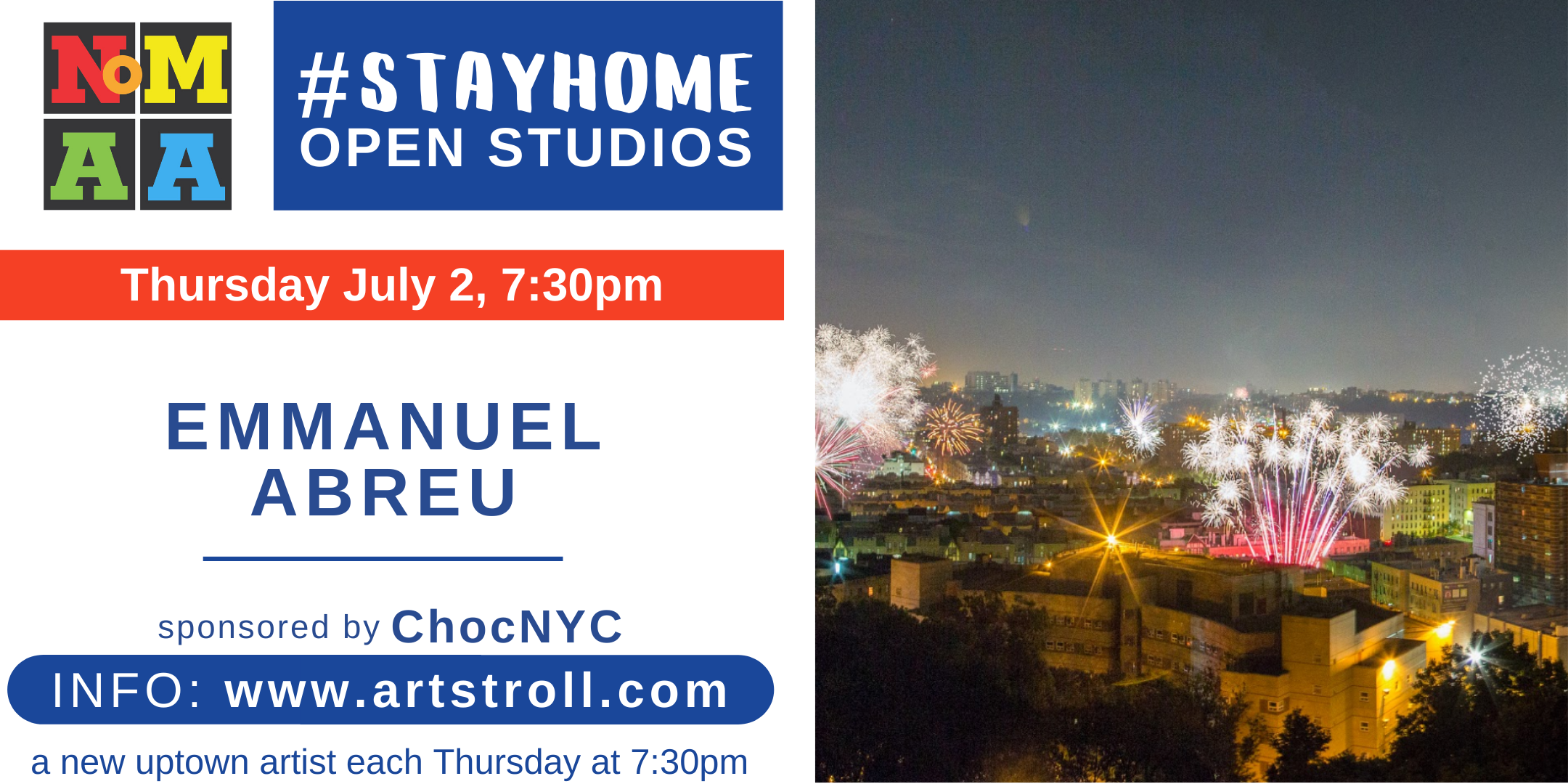 NoMAA's #StayHomeOpenStudios with Emmanuel Abreu
NoMAA presents a series of studio tours with Uptown artists each Thursday at 7:30pm.
Open Studios are a much anticipated part of the Uptown Arts Stroll. NoMAA is continuing that tradition with our series of virtual tours.
Join NoMAA live on Zoom each Thursday at 7:30pm at this link:
https://us02web.zoom.us/j/92784165292?pwd=c3dTbEwxenhOaFJKS09mQXczUkYwdz09
Watch archived talks on NoMAA's YouTube Channel https://bit.ly/nomaa_youtube
RSVP on Eventbrite to get a reminder to join us live on Zoom https://nomaanyc.eventbrite.com
Emmanuel Abreu is a New York City based photographer who has been collaborating with his Uptown community of Washington Heights/Inwood since the start of his career. His images tend to capture the raw joy in almost any situation, and this is why his work led him to become a professional wedding photographer. His travel photography focuses on landscape, street, and sometimes portraiture, just like in his neighborhood. Some of his work has been featured on media outlets like the local Manhattan Times, New York Times, and Local Blogs, as well as sites like HuffPost and Gothamist. He hopes to continue capturing the love and beauty of his community for years to come.
Instagram: @eabreuvisuals
Website: www.eabreuvisuals.com
UPCOMING ARTISTS
July 9 – Rosa Naparstek
July 16 – Cornerstone Studios
July 23 – Laurence Elle Groux
July 30 – Rafaela Luna
This program is supported, in part, by public funds from the New York City Department of Cultural Affairs
This edition of #StayHomeOpenStudios is also made possible by CHOCnyc
Support provided by NYC Department of Small Business Services