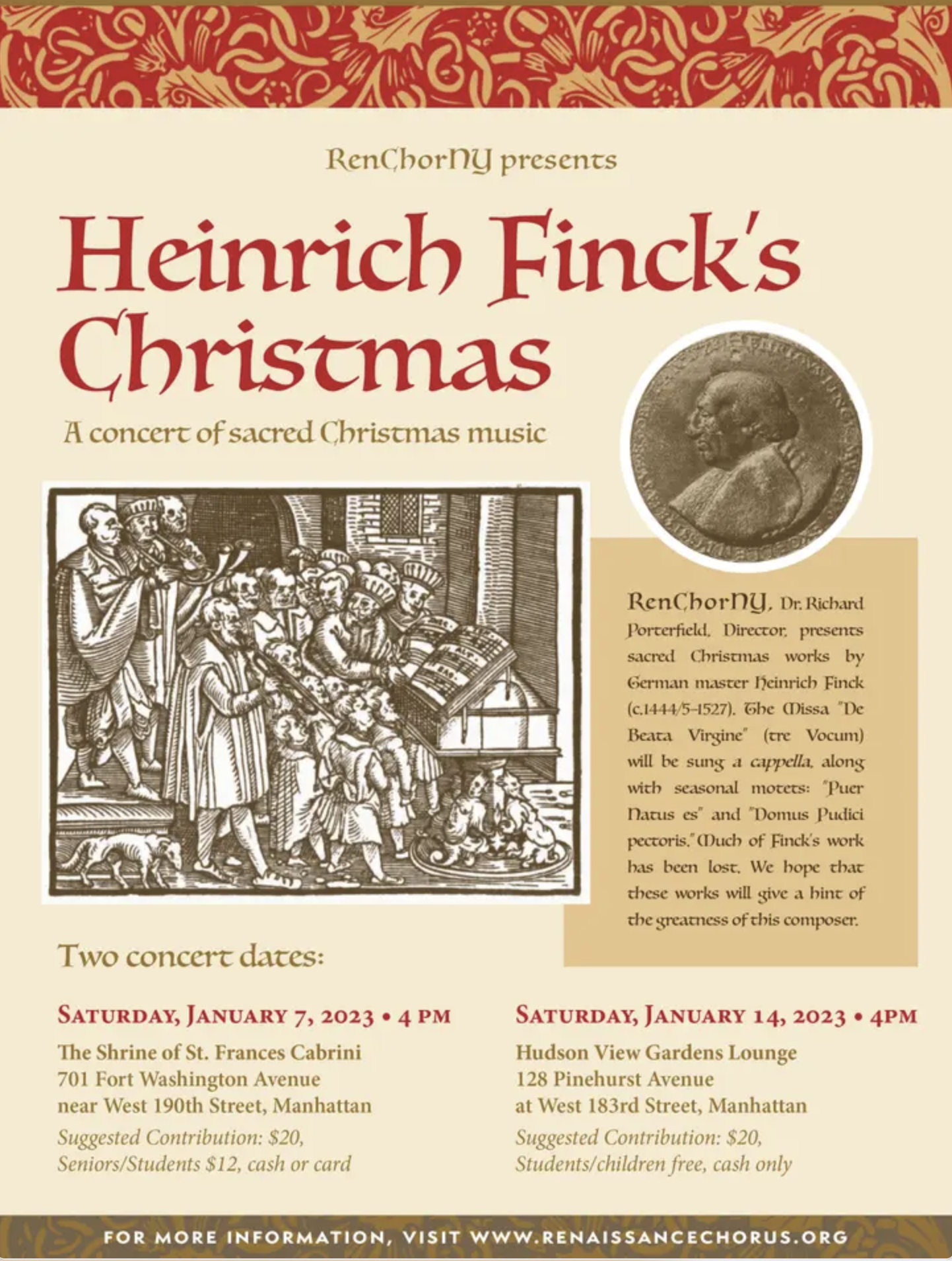 Heinrich Finck's Christmas
Saturday January 7, 2023, 4 pm
The Shrine of St. Frances Cabrini
701 Fort Washington Avenue
near West 190th Street, Manhattan
Suggested donation $20, Seniors/Students $12, cash or card
Saturday January 14, 2023, 4pm
Hudson View Gardens Lounge
128 Pinehurst Avenue
at West 183rd Street, Manhattan
Suggested donation $20, cash only. Students/children free
RenChorNY, directed by Dr. Richard Porterfield, presents sacred Christmas works by German master Heinrich Finck (c.1444/5-1527), on a day which was Christmas in the Julian Calendar. The Missa "De Beata Virgine" (tre Vocum) will be sung a cappella, along with seasonal motets: "Puer Natus es", and "Domus Pudici pectoris"
About Heinrich Finck, German bandmaster and composer: .
From around 1460 he was a singer of the royal band in Cracow (the capital of Poland); from 1482 in Leipzig, 1489-1491 again in Cracow. From 1498 to 1501 he was a singer, and then a cantor at the court of Polish prince Alexander Jagiellon in Vilnius, and then after Alexander's coronation as King of Poland in the court orchestra in Cracow until 1505. From 1510 to 1514 he was bandmaster in Stuttgart, from 1519? in Salzburg, and in 1527 he became bandmaster of the Archduke and later Emperor Ferdinand I Habsburg in Vienna. He was probably the teacher of Sebastian of Felsztyn, Polish composer and music theorist of the Renaissance period.
His great-nephew Hermann Finck described him as one of the musicians active about 1480 who were better composers than the representatives of the older art such as Du Fay and Busnoys. Grove Music Online says about the Missa De Beata Virgine to be performed in this concert: "His mass for three voices, much of which is composed without a cantus firmus, is an early work. Its difficult contrapuntal lines, frequent melismas and canon and sequence technique make great demands on singers."
Much of Finck's work has been lost. We hope that the works presented in this concert give a hint of the greatness of this composer.