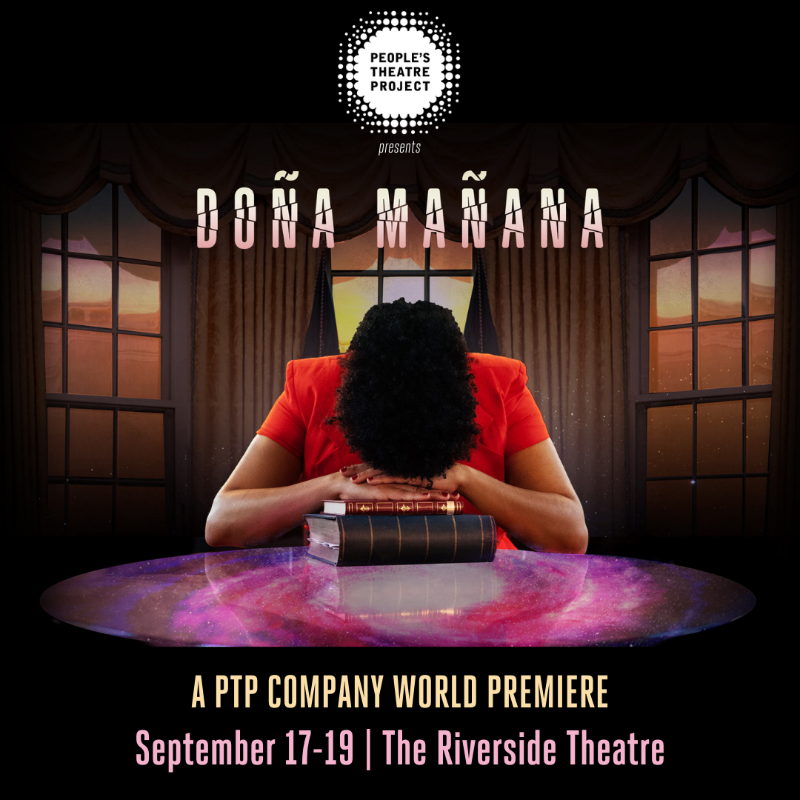 Doña Mañana – People's Theatre Project
The year is 3050. A group of immigrants have sparked revolution in the Nation, a dystopia where assimilation was forced. Hearing the collective voice of the people, Doña Mañana—one of the revolutionaries and now the first female, Afro-Latina president—and her team set out on a quest to dismantle the system and bring full liberation to the people.
September 17 – 19, 2021
Friday at 8:00 P.M.
Saturday at 7:00 P.M.
Sunday at 2:00 P.M. & 7:00 P.M.
Tickets at www.PTP.nyc
$25– General Admission
$10– Students & Seniors
Proof of Full Vaccination Required (Ages 12+) | Masks Required at All Times
Devised and Performed by the PTP Company:
Reyna Bonaparte, Mayelin Annet Geraldino, Eunji Lim, Chuk Obasi, Vida Tayebati
Understudies: Cynthia Lizardo, Travis Raeburn
Original Music Created & Performed by: Darian Donovan Thomas
Directed by: Zafi Dimitropoulou Del Angel, Artistic Director
Assistant Director: Joshwald Martínez-Peralta, Artistic Manager
Stage Manager: Alyssa Rios
Costume Designer: Gylanni Carrington
Lighting Designer: Duncan Davies
Scenic Designer: José Noel
---
The Riverside Theatre
(at The Riverside Church)
91 Claremont Avenue
New York, NY 10027
Take the 1 Train to 125th Street
---
COVID NOTIFICATION: We are allowing fully vaccinated patrons or patrons who have received a Rapid Test 72 hours before performance only. Patrons must be show proof of vaccination or test results at the door. Without proof of vaccination or test results, patrons will not be allowed into facility. We accept all vaccination cards or virtual cards from the Excelsior App. In order to enter the theater for this event, final dose of vaccination deadline for this performance is Friday September 3, 2021. For patrons providing Test Results, test must be taken by Wednesday September 15, 2021. Children 12 and under are exempt from this mandate and will be allowed in facility with vaccinated adult. Thank you for your support. Patrons Must Keep Mask On During Performance and Roaming Facility.