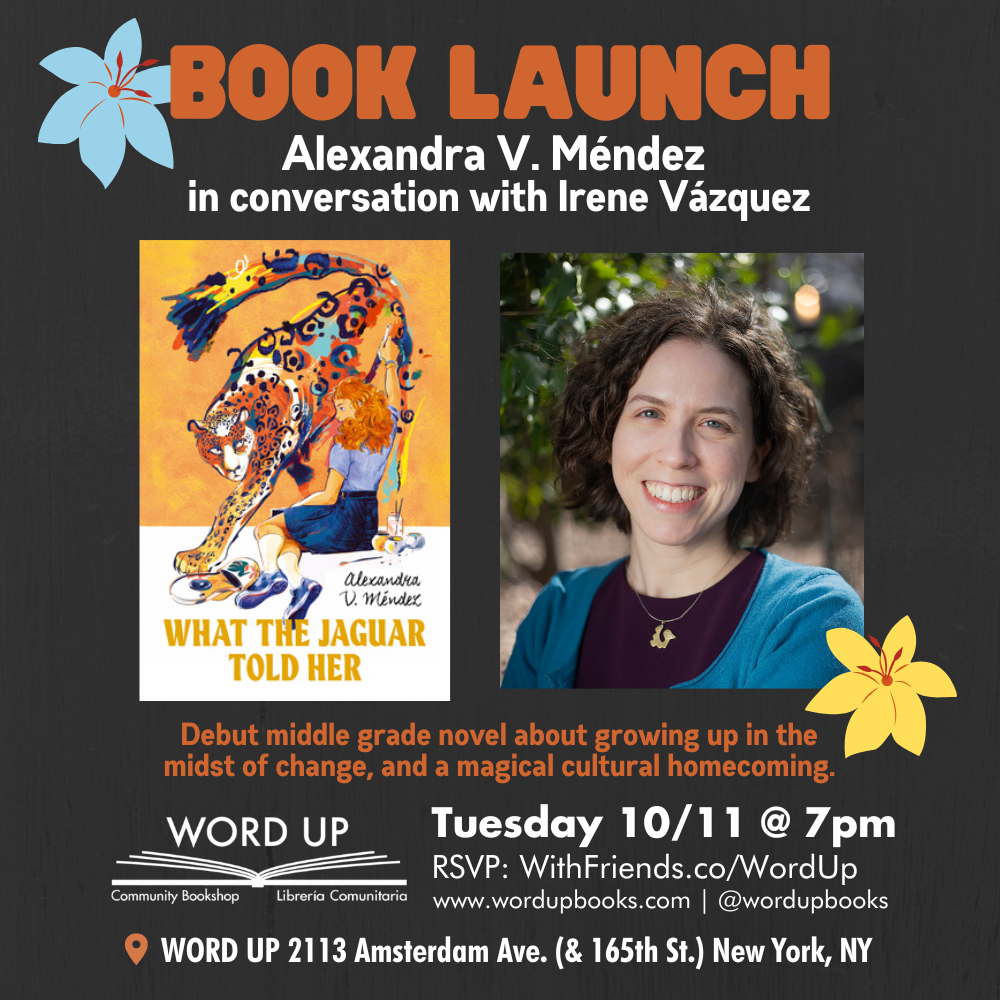 Book Launch: Alexandra V. Méndez's WHAT THE JAGUAR TOLD HER
Join us for the book launch of Alexandra V. Méndez's debut middle-grade novel What the Jaguar Told Her, a lyrical debut about growing up in the midst of change, and a magical cultural homecoming.
"The novel explores themes of identity, friendship, crushes, loss, and looking for answers to life's toughest questions in sumptuous detail. A coming-of-age story with parallels to Judy Blume's classic Are You There God? It's Me, Margaret., this work captures the complexities of being a tween girl seeking to find her place in the world and connections to ancestors through a Latine cultural lens. A thoughtful, richly woven tapestry illuminating the pains and joys of growing up." -Kirkus (starred)
This event is a $5 suggested donation ticket with 30 max attendees. Please register in advance.
In compliance with Word Up Community Safety guidelines, all attendees for this event must wear a mask inside.
Word Up Community Bookshop is located at 2113 Amsterdam Ave. (& 165th St.) in Washington Heights, NYC. You can take the 1 train to 168th St and the A/C train to 163rd or 168th St.
ABOUT THE BOOK
Jade is starting eighth grade in a new city—Atlanta. She just wants to go back to Chicago, where her friends are. Where her Abuela lives.
But Jade does like walking to her new school on the trail that winds through the woods behind her house, where lush flowers bloom and soft leaves rustle beneath her feet. In the forest, Jade feels protected. Sometimes, it's as if it's listening to her.
There, Jade meets Itztli, an elderly storyteller who exists between dreams and reality. In the golden afternoons when Itztli appears, he steps out of the forest as a lithe, agile jaguar. But when he speaks to Jade, he is a wise old man who makes intricate works of art and tells her ancestral stories of Mexico. At first, Itztli's stories feel far removed from Jade's life. But as her Abuela suddenly falls ill, two towers come crashing down in New York City, and Jade becomes someone or something she doesn't yet understand, Itztli's stories take on new meaning. Jade must learn to have patience and strength to become who she was always meant to be, as the stirrings of an ancient power awaken within her.
What the Jaguar Told Her is a lyrical debut about growing up in the midst of change, and a magical cultural homecoming.
ABOUT THE AUTHOR
Alexandra V. Méndez is a writer, teacher, and scholar who grew up bilingual in Decatur, Georgia, with family roots in Mexico and Mississippi. She graduated from Harvard University in History and Literature and has a Ph.D. in Latin American and Iberian Cultures from Columbia University. What the Jaguar Told Her is her debut novel.
---
Word Up Community Safety Guidelines
All attendees ages 2 and older must wear a mask at all times when indoors at the store at Word Up and Recirculation.
CANCELLATION POLICY: Word Up Community Bookshop reserves the right to cancel events for any reason, including but not limited to safety concerns.
CODE OF CONDUCT: Please note Word Up has a zero tolerance policy for harassment or intimidation of any kind during any event, virtual or in-person. Please read our Safe Space Policy for more information. Anyone violating these rules will be expelled from the event at the discretion of the organizers. Please report all harassment to events@wordupbooks.com immediately.
PHOTOS & RECORDING: Events may be recorded, and video and photos may be posted on our website, social media, and elsewhere. If you would prefer not to be visible, please let a Word Up team member know.
PRIVACY: Registrants will be added to the Word Up mailing list. Your contact information will never be shared or sold. You may unsubscribe or update your subscription at any time.
PHYSICAL ACCESSIBILITY: Word Up Community Bookshop/Librería Comunitaria is a fully wheelchair-accessible space with one ADA-compliant ramp from the street level to the store. Some of our bookcases and tables are on wheels and can be moved to provide additional access. Our visitor bathroom is wheelchair accessible and gender neutral. Our events are mic'd for sound. Free ASL interpretation is available for most programs upon request; please email events@wordupbooks.com to request interpretation as early as possible. The space is not scent or chemical free but we do our best to minimize the use of chemicals and scents throughout the space and use nontoxic materials whenever possible. If you have specific questions about the space or how an event can be made more accessible to you, please do not hesitate to contact us at info@wordupbooks.com.