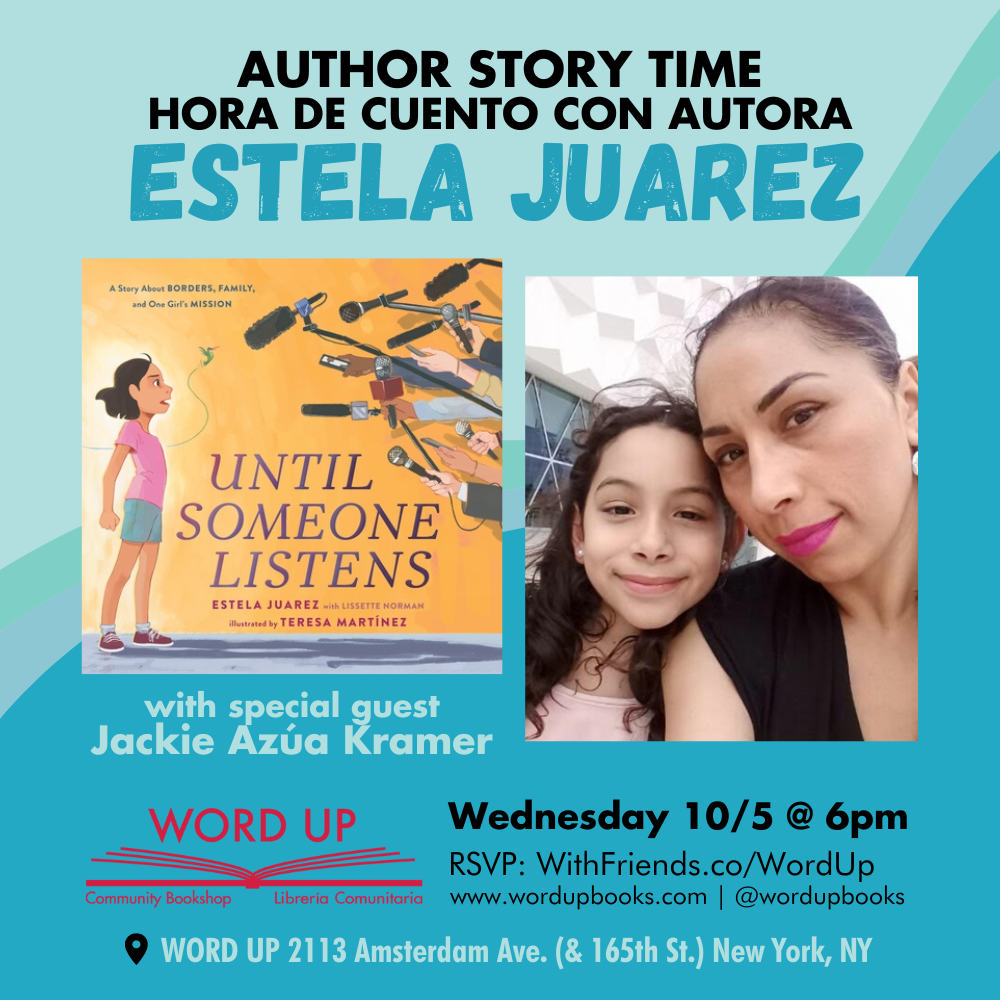 Author Story Time: Estela Juarez's Until Someone Listens with Jackie Azúa Kramer
Join us for a special author story time with Estela Juarez for Until Someone Listens: A Story About Borders, Family, and One Girl's Mission, a story encouraging kids of all ages to speak up for what they believe in – just like she did! Estela Juarez, at 11-years-old read a speech to Donald Trump at the Democratic National Convention following her mom's deportation (video here, have tissues handy…). Joining Estela will be Jackie Azúa Kramer, author of I Wish You Knew.
In this heart-wrenching, autobiographical story, Estela's letters take her from the local news all the way to the national stage, where she discovers the power in her words and pledges to keep using her voice until her family—and others like hers— are together again. Perfect for ages 3-7+.
"An inspirational and heartfelt story that will resonate with young activists." —Kirkus
This event is a $5 suggested donation ticket with 30 max attendees. Please register in advance.
In compliance with Word Up Community Safety guidelines, all attendees for this event are suggested to mask when outside and must wear a mask inside.
Word Up Community Bookshop is located at 2113 Amsterdam Ave. (& 165th St.) in Washington Heights, NYC. You can take the 1 train to 168th St and the A/C train to 163rd or 168th St.
ABOUT THE BOOK
When Estela Juarez's mom is deported to Mexico, Estela knows she has to speak up for her family. Told in Estela's own words, Until Someone Listens is a true story about a young girl finding her voice and using it to make change.
Estela's family lives together in a happy home full of love. Or, at least, they used to… until their home was torn apart.
My mom had to go back,
to the other side of the river,
because she wasn't born in this country.
For years her family fought and fought for permission for her to stay in the U.S. But no one listened. When Estela was eight, her mother was deported to Mexico.
Estela knew she had to do something. So she wrote letters: to local newspapers, Congress, the President, and anyone else who could help. She wrote and wrote and wrote until, finally… someone listened.
In this heart wrenching, autobiographical story, Estela Juarez's letters take her from the local news all the way to the national stage, where she discovers the power in her words and pledges to keep using her voice until her family—and others like hers— are together again.
Also available in Spanish as Hasta que alguien me escuche!
ABOUT THE AUTHORS
When Estela Juarez was 8 years old, her mother, Alejandra, was deported to Mexico. It was then that Estela transformed her love of writing in her diary into writing letters to her local newspaper, to Congress, and to the president. The momentum built, and her Congressman decided to step in to help. Estela's story was featured at the 2020 Democratic National Convention, inspiring the whole country. In 2021, her mother received temporary permission to return to her family. Nowadays, Estela still loves writing in her diary. She also enjoys making her family laugh, reading books from the library, going for long walks with her mom and dad, Cuauhtemoc, near their home in Florida, and hanging out with her big sister Pamela. Estela hopes to one day become an immigration lawyer and a Congresswoman to advocate for the unification of separated families.
Jackie Azúa Kramer earned her MA in Counseling in Education. Jackie's books have been translated into fifteen languages. Her books have received starred reviews in Kirkus, Publishers Weekly, Bulletin of the Center for Children's Books and Canadian Children's Book Centre. Winner of Japan's Kembuchi Bronze Picture Book Award. Twice the recipient of Bank Street College Best Children's Book; Chicago Public Library "Best of the Best Books"; Canadian Children's Book Centre "Best Books". A Junior Library Guild Selection and Parent's Magazine Book Pick. Jackie strives to write books that meet children where they are and reflect what children see in the mirror and out of their windows. Some of her titles are: The Green Umbrella, The Boy and the Gorilla, I Wish You Knew and Dorothy and Herbert.
---
Word Up Community Safety Guidelines
All attendees ages 2 and older must wear a mask at all times when indoors at the store at Word Up and Recirculation.
CANCELLATION POLICY: Word Up Community Bookshop reserves the right to cancel events for any reason, including but not limited to safety concerns.
CODE OF CONDUCT: Please note Word Up has a zero tolerance policy for harassment or intimidation of any kind during any event, virtual or in-person. Please read our Safe Space Policy for more information. Anyone violating these rules will be expelled from the event at the discretion of the organizers. Please report all harassment to events@wordupbooks.com immediately.
PHOTOS & RECORDING: Events may be recorded, and video and photos may be posted on our website, social media, and elsewhere. If you would prefer not to be visible, please let a Word Up team member know.
PRIVACY: Registrants will be added to the Word Up mailing list. Your contact information will never be shared or sold. You may unsubscribe or update your subscription at any time.
PHYSICAL ACCESSIBILITY: Word Up Community Bookshop/Librería Comunitaria is a fully wheelchair-accessible space with one ADA-compliant ramp from the street level to the store. Some of our bookcases and tables are on wheels and can be moved to provide additional access. Our visitor bathroom is wheelchair accessible and gender neutral. Our events are mic'd for sound. Free ASL interpretation is available for most programs upon request; please email events@wordupbooks.com to request interpretation as early as possible. The space is not scent or chemical free but we do our best to minimize the use of chemicals and scents throughout the space and use nontoxic materials whenever possible. If you have specific questions about the space or how an event can be made more accessible to you, please do not hesitate to contact us at info@wordupbooks.com.