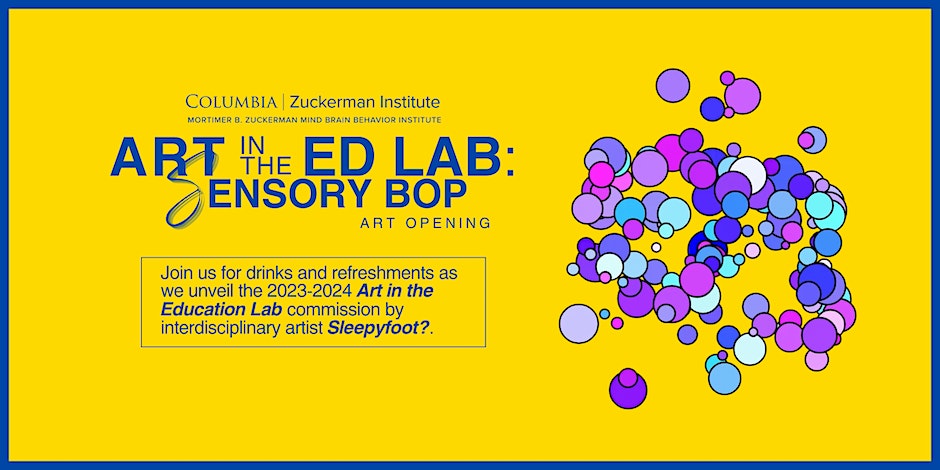 Art in the Education Lab: Sensory Bop
Come join Columbia University's Zuckerman Institute on Thursday, October 19, at 5:30 pm, when we unveil, Sensory Bop, by the interdisciplinary artist Sleepyfoot?, aka Manon Casimir-Sainton.
Sensory Bop, an audiovisual work, is inspired by insightful conversations the artist had with numerous scientists and post-docs, revolving around connectivity in the brain and how senses work together. Sleepyfoot? hopes the work will encourage the public to make more positive connections to the world by stimulating their senses and each other in order to create more salient experiences and, therefore, more happiness.
This event is free and open to the public. Register now to guarantee entrance, but walk-ins are possible.
Photography: On occasion, we photograph or video our events for promotional and archival purposes. When registering for the event at Jerome L. Greene Science Center, you give Columbia University in the City of New York the right to use you and your child's image for said purposes. We will never use your names, age or other identifying factors.
Questions? Email us at programs@zi.columbia.edu.
---
Sleepyfoot?
Sleepyfoot? is New York City based interdisciplinary artist Manon Casimir-Sainton. Her paintings mirror her synesthesia induced by personal multi-genre sound compositions and mental health experiences. She is self-taught and intersects her work from a background of art, education, and technology.
Sleepyfoot? deeply immerses herself in color, sound, and visuals through lens, mixed-media painting, digital, and audio production. Her work explores themes of identity, spirituality, race, and psychology. Her introspective process includes sound layering, creating colorful templates, and rendering her internal state of being to canvas or digital format for viewers to engage with.
Sleepyfoot?'s work has been exhibited nationally. She has shown locally at Site:Brooklyn,The Sheen Center, Plaxall Gallery, and has been commissioned by music and spirituality based organizations in NYC. In addition, her work has exhibited at a number of art centers including the Orange County Center for Contemporary Art (CA), AnnMarie's Sculpture Garden and Art Center (MD), and The Art Center at Highland Park (IL).
Sleepyfoot? has been selected to create the 2023-2024 Art in the Education Lab commission for Columbia's Zuckerman Institute, an original piece with the aim of inspiring the community to explore science through an artistic lens.