NoMAA STUDIOS @4140 are available for rent 9am – 9pm 7 days a week (other times may be available upon request)
PLEASE EMAIL studios@nomaanyc.org TO INQUIRE ABOUT BOOKING
Located at Broadway and West 176th Street, in the second floor annex of the United Palace, the studios range from 600 sf – 1066 sf. Studios 3 & 4 have sprung dance floors and a full wall of windows. Studios 1 & 2 accommodate tap dance. Studios 1, 3 & 4 have built in Bluetooth sound systems.
The studios are on the second floor, and there is no elevator access. Entrance for rentals is located on West 176th Street, just west of Broadway, at the United Palace stage door. Use of the door on Broadway is available with advanced notice, and for an extra security fee.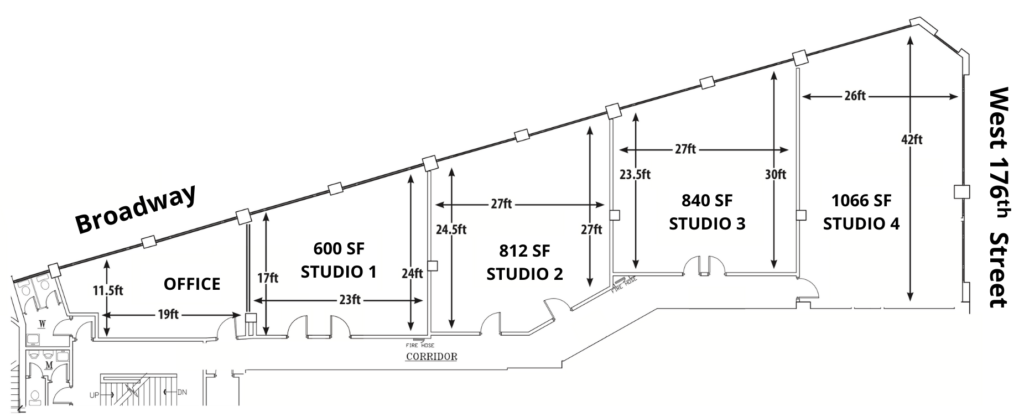 Nonprofit rates and commercial rates are listed below.
STUDIO 4 – 1066 sf sprung dance floor, full wall of mirror, sound system
STUDIO 4 / 1066 sf
nonprofit – $45 / hour or $360 / day
commercial – $75 / hour or $600 / day
---
STUDIO 3 – 840 sf sprung dance floor, full wall of mirrors, sound system
STUDIO 3 / 840 sf
nonprofit – $40 / hour or $320 / day
commercial – $60 / hour or $480 / day
---
STUDIO 2 – 812 sf accommodates tap dance
STUDIO 2 / 812 sf
nonprofit – $35 / hour or $280 / day
commercial – $55 / hour or $440 / day
---
STUDIO 1 – 600 sf sound system, accommodates tap dance
STUDIO 1 / 600 sf
nonprofit – $30 / hour or $240 / day
commercial – $50 / hour or $400 / day