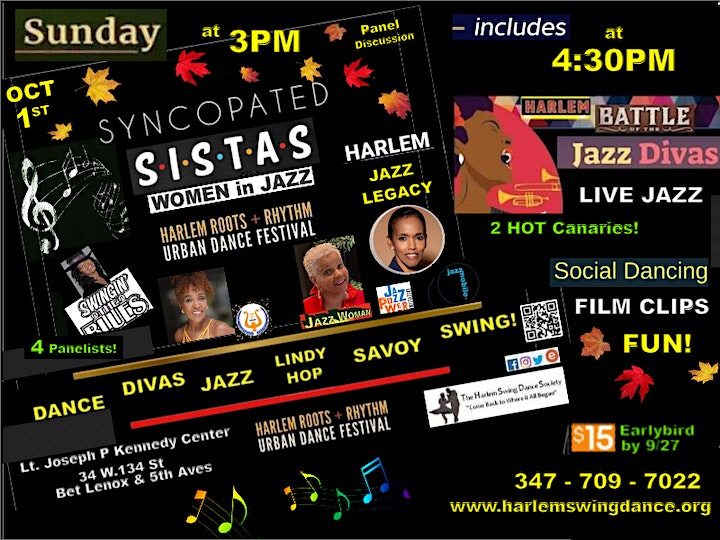 SAVOY SUNDAY: The Jazzy Syncopated Sistas and a Harlem Jazz Diva Battle!
A SAVOY Sunday JAZZ Afternoon $$
Keeping Harlem Legacies Alive and Thriving
Culture… Dance… Jazz… Lindy Hop… Savoy… Swing!
3PM — Syncopated Sistas!
Jazz Ladies discuss preserving Harlem's famed Jazz culture and their means of doing it (includes rare film clips!)
Featuring –
~~ Topsy Durham — Preservationist, Eddie Durham Music Legacy
~~ Kim Austin — NAMA: New Amsterdam Musical Association
~~ Antoinette Montague — Jazz Power Initiative , WHCR
~~ Robin Bell – Stephens — Harlem's Jazzmobile Legacy
4PM — DJ'd Classics Social dancing begins!
4:30PM — Battle of the Harlem Jazz Divas
Live Jazz – The two HOT Canaries go at it!
KIM AUSTIN and the other Dueling Harlem Diva
LEE OLIVE TUCKER! Featuring The Jazz Jewels
______________
Early Bird $15 till 9/27/23
Afterwards $20 online and at the Door
Schedule subject to change