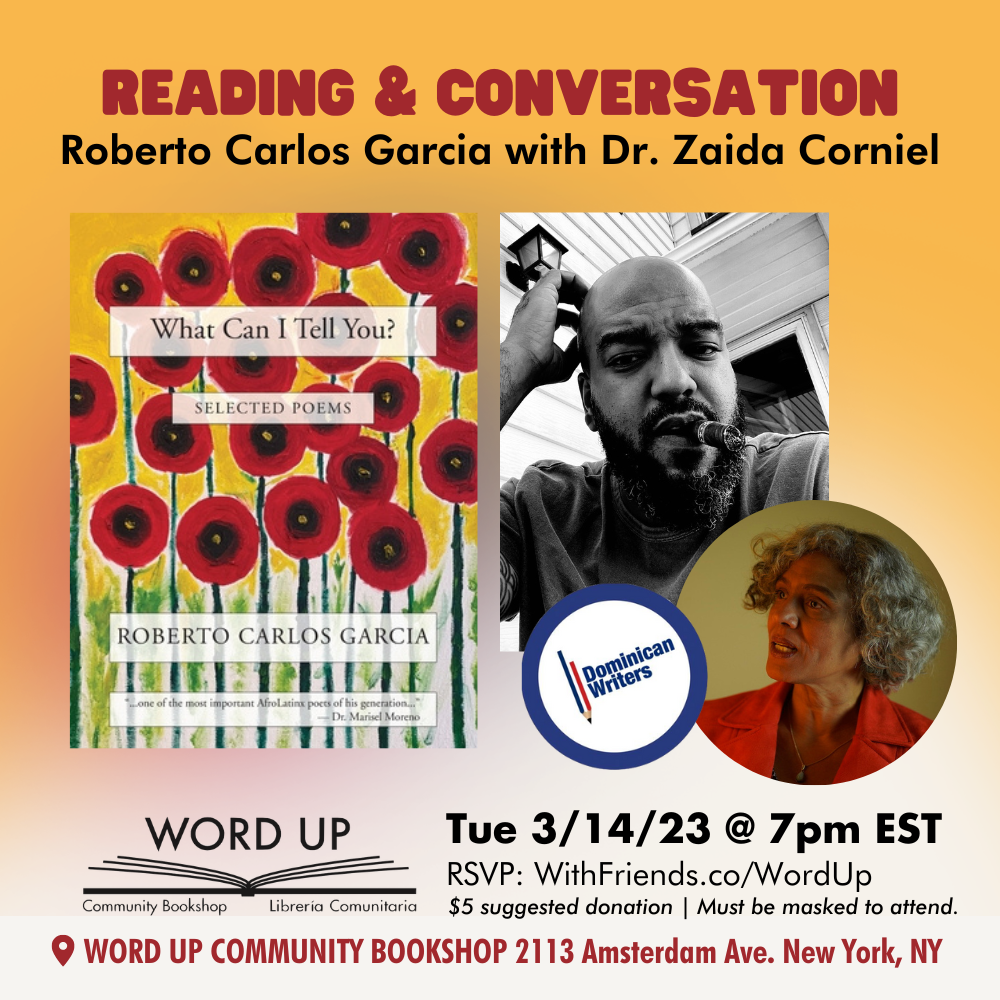 Reading & Conversation: What Can I Tell You? Selected Poems with Roberto Garcia & Dr. Zaida Corniel
Dr. Zaida Corniel and author Roberto Carlos García will intertwine conversation and reading from Garcia´s most recent book, What Can I Tell You? to discuss his literary work, addressing topics such as racial discourses, borders inside the nations, the African diaspora counternarratives, among others.
This event is a $5 suggested donation ticket with 30 max attendees. Please register in advance.
In compliance with Word Up Community Safety guidelines, all attendees for this event must wear a mask inside.
Word Up Community Bookshop is located at 2113 Amsterdam Ave. (& 165th St.) in Washington Heights, NYC. You can take the 1 train to 168th St and the A/C train to 163rd or 168th  St.
This event is sponsored by Dominican Writers Association.
ABOUT THE BOOK
Charting the personal and the political, the lyrical and the prosaic, with an intense interrogation of anti-Blackness that centers Trans-Atlantic and Latinx Blackness in all its vastness, beauty, and pride, this necessary book compiles the best of Garcia's three poetry collections. These selected poems will introduce Garcia's work to a broader audience. Like the poem it takes its title from, What Can I Tell You? conveys a poet wrestling with what it means to make poetry from the bread of life. At times formal and playful, and at others deadly serious, Garcia's full range of themes and obsessions is on full display within its pages.
ABOUT THE AUTHORS
Roberto Carlos Garcia writes about the Afro-Latinx and Afro-Diasporic experience. His work has been published widely in places like Poetry, the Root, the BreakBeat Poets Vol. 4: LatiNEXT, Bettering American Poetry Vol. 3 and others. He is the author of five books, including four poetry collections—Melancolía (Cervena Barva Press, 2016); black / Maybe: An Afro Lyric (Willow Books, 2018); [Elegies] (FlowerSong Press, 2020); and the recently published What Can I Tell You: The Selected Poems of Roberto Carlos Garcia (Flowersong Press, 2022)—and one essay collection, Traveling Freely, forthcoming in 2024 from Northwestern University Press. Roberto is the founder of Get Fresh Books Publishing, a literary nonprofit.
Dr. Zaida Corniel is an academic, actor and writer. She is a lecturer at the Department of Hispanic Languages at Stony Brook University, and teaches also at the Department of Latin America and Latino Studies at Lehman College. Her work focuses on Latinx studies, touristic discourse, and representation of the Caribbean subjectivities in contemporary narratives. She is the author of the short story collection Para adolescentes, premenopáusicas y especialistas de la salud.