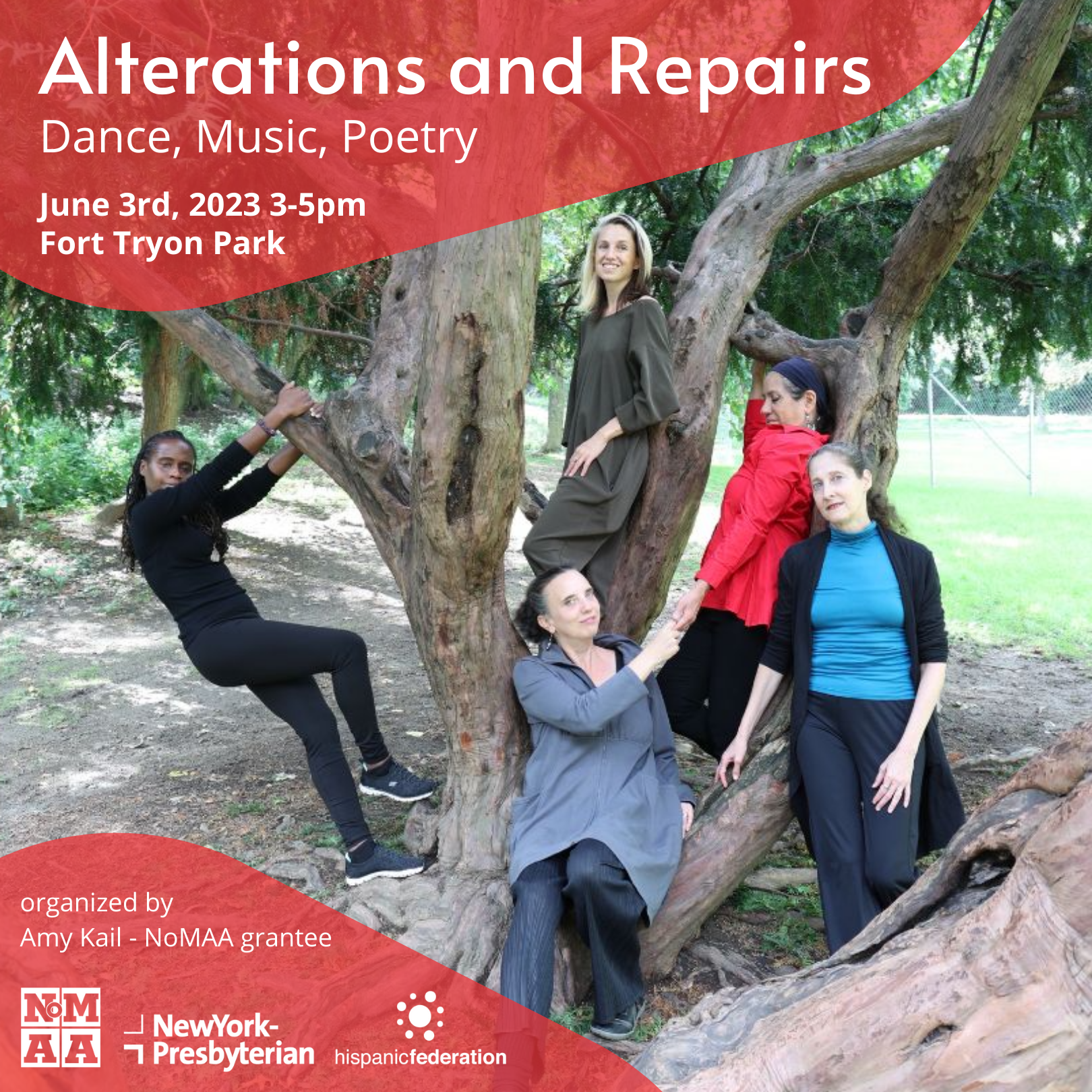 Alterations and Repairs
ALTERATIONS AND REPAIR
Enjoy a walk to performances of Dance, Music, and Poetry throughout Fort Tryon Park
Saturday June 3 from 3 to 5 PM 
(rain date: June 4)
free admission
Starting Point: Cafe Lawn near the entrance of Fort Tryon Park at Margaret Corbin Circle.
Ending Point: Dongan Lawn near the Broadway/Dongan Place entrance to the Park
Put on your most comfortable walking shoes and be led by poet Paul Rabinowitz through Fort Tryon Park to see and hear dance, music, and poetry performed on benches, lawns, stairways, pathways, near rock faces, and under trees.  This impressive ensemble of contemporary artists inspired by nature and the elegance of Fort Tryon Park collectively draw from Modern, Post-Modern, Flamenco, Jazz, Folk, and African lineages and styles.  Choreographer/Dancer/Director Amy Kail received a NoMAA Grant for Individual Artists to make this project possible.
Poet/Performer Guide:
PAUL RABINOWITZ
Choreographers/Dancers:
LISA GREEN, AMY KAIL, SANDRA RIVERA, NAVARRA NOVY-WILLIAMS,
MAXINE STEINMAN
Composers/Musicians:
JOHN EHLIS, JESSICA LURIE
For Updates please leave your name and email here:
https://docs.google.com/forms/d/e/1FAIpQLSd_j93IHOYebQ7_bp469A2xOplkkhQnyzK7elvh5yr3esj6ZQ/viewform?usp=sf_link
ABOUT THE ARTISTS
AMY KAIL (Choreographer/Dancer) has created works for over 20 years.  Her choreography has been shown at NYC performance venues including the 92nd Street Y Harkness Dance Center, The Kitchen, Dixon Place, Joyce SoHo, DIA Art Foundation, Brooklyn Arts Exchange, Merce Cunningham Dance Studio, Alice Tully Hall, and others.  The New York Times reviewed her work as "terse" and "strong".  She strives for each work to have its own integrity and language and looks to discover new ways the human experience can be expressed through dance.  Amy has performed with choreographers Anna Sokolow, Barbara Mahler, Laura Glenn, Jaime Ortega, and others.  She is a Teaching Artist with The Joyce Theater Dance Education Program, and has also taught for Lincoln Center Institute, City Opera and Orchestra of St. Luke's. She directed The Fridays at Noon program at The 92nd Street Y while serving as Arts Associate in the dance program. She holds a BFA in Dance from the Juilliard School, and an MFA in Dance from the University of Wisconsin-Milwaukee. 
LISA GREEN (choreographer/dancer) is a performer, arts administrator, and movement educator based in New York City. With over 20 years of experience with the public school system, working in in-school and out-of-school programs, Lisa has worked closely with teachers, collaborating to integrate arts and social justice pedagogy into the curriculum. She also has extensive experience as a training facilitator, including conducting workshops on literacy through arts, as well as topics that focus on social justice, wellness, youth, and community development. Lisa earned her Bachelor of Arts degree as a Child & Youth Counselor, working with at-risk children and their families. An accomplished performing artist, she is skilled in several dance forms and has performed with many dance companies locally and internationally. The skills she has acquired in the counseling field have informed her work as a dance educator and performing artist, which led her to develop and implement dance programming for children focusing on their social and emotional growth through movement. To add to her credits, Lisa also specializes in many fitness and healing modalities, including certification in Holistic Health Counseling (Ayurveda), Yoga and Pilates Instruction.
NAVARRA NOVY-WILLIAMS (choreographer/dancer) is a New York City based dance artist and educator, and the programming and development director for GALLIM. Professional dance experience includes Les Grands Ballet Canadiens, the Batsheva Ensemble, Cedar Lake Contemporary Ballet, Ballet of Difference, the Metropolitan Opera Ballet, the Arias Company, zoe|juniper, Mark DeChiazza, Romeo Castellucci's Democracy in America, the Francesca Harper Project, and the award-winning short film The First Date, by Mary John Frank.
She is currently collaborating on a VR/360 video project with video artist Carlos Johns-Dávila and has presented her work at the United Palace, the New School, Inwood Hill Park, the Danza Highbridge Festival, Higher Grounds Festival, the Asbury Park Dance Festival, and STUFFED at Judson Church. Navarra teaches Gaga and ballet across the US, including at the Juilliard School, NYU, Sarah Lawrence College, SUNY Purchase, GIBNEY, MOVE|NYC|, Fiasco Theater, New Dialect, and the Performing Arts Proje
SANDRA RIVERA (choreographer/dancer) is a dancer, choreographer, educator, and writer. Her contemporary dances incorporate Latinx folkloric, social and flamenco forms. Drawing on experience as a founding member of Ballet Hispanico and her training from Tina Ramirez, she wrote Spanish Dance in New York City's Puerto Rican Community for the publication Dance Index. The essay is a basis for a lecture and workshop series presented in such venues as the Ballet Hispanico School, Hunter College Dance Department, Latinx Dance Educators Alliance, Martha Graham School of Contemporary Dance, National Dance Education Organization and City Lore. Her piece, Pasodoble was featured in Kiri Avelar's Descubrimiento: Voice, Place, Identity. Her film Zemi 2, Remembering Hurricane Maria was featured in Toward a Latinx Practice. Inspired by her Puerto Rican heritage she has created work for the Julia de Burgos Cultural Center in East Harlem (Barrio Girl, A Life Through Dance and Path of the Artist, An Homage to Julia de Burgos). Since 2018 she has centered her work on older populations as a member of Dances For A Variable Population, performing in six productions of their Revival series. Through their auspices she has been awarded the Creatives Rebuild NY Artist Employment program. Most recently she presented Monserrate for the American Dance Guild 2022 Festival. April she performed Erika Thimey's Pieta, at Riverside Church. Her collaboration with Amy Kail through the Fieldwork has been instrumental in developing her work throughout a 15 year span. She is a recipient of the 2022 NDEO Lifetime Achievement Award.
MAXINE STEINMAN (choreographer/dancer) is a choreographer, performer and teacher, and has presented her choreography in numerous festivals and venues such as Joyce Soho, The 92ndStreet Y Harkness Dance Festival, Westfest Dance Festival, American Dance Guild Festival, Outlet Dance Project, Liberty Hall Dance Festival, Lila Dance Festival, DUMBO Dance Festival, Battery Dance Festival, Making Moves Festival and others. She has traveled to Taiwan, Brazil, Mexico, Spain, France, Germany, Japan, Italy, Lebanon and Cyprus to choreograph, perform and teach. Jack Anderson and Jennifer Dunning of the New York Times have called her choreography "ingenious" and a "jewel" and twice she was awarded grants from the O'Donnell-Green Foundation for Music and Dance. Maxine has created works for Montclair State University, Hofstra University, Marymount Manhattan College, the Fordham Ailey BFA Program, the Ailey School, Alma College, Institut del Teatre, Centro Andaluz de Danza, University of Colima, and more, and was also an Artist-in-Residence at The Church in Mount Vision, NY. Maxine was a soloist with the Eleo Pomare Dance Company for 12 years and also performed with Denishawn Repertory Dancers, Mafata Dance Company, Robin Becker, Regina Larkin, Sue Bernhard, Spiritdance, Danceimprints, and in the LINKs project with the José Limón Dance Company, among others. Maxine holds a BFA in dance (Adelphi University), an MA in Dance Education (Teachers College Columbia University), and an MFA in Dance/Performance (University of Wisconsin-Milwaukee). She is currently Associate Professor of Dance and the Program Coordinator of the BFA Dance Division at Montclair State University. https://www.facebook.com/maxinesteinmananddancers
PAUL RABINOWITZ (poet) is an author, poet, photographer, and founder of ARTS By The People. His works appear in The Sun Magazine, New World Writing, Burningword, Evening Street Press, The Montreal Review, and elsewhere. Rabinowitz was a featured artist in Nailed Magazine in 2020 and Mud Season Review in 2022. He is the author of The Clay Urn, Confluence and Limited Light, a book of prose and portrait photography, which stems from his Limited Light photo series, nominated for Best of the Net in 2021. His poems and fiction inspire 7 award-winning experimental films, including Best Experimental Short at Cannes, Paris, and Oregon Short Film Festival. Rabinowitz has produced mixed media performances and poetry films that have appeared on stages and in theaters in New York City, New Jersey, Tel Aviv, and Paris. His first book of poems, Truth, Love and the Lines in Between (Finishing Line Press), is due in the fall of 2023.
JOHN EHLIS (musician) Drawn to traditional and folk music from around the world, Ehlis blends the sounds of many cultures into his own unique style. As a multi-instrumentalist, he learned the mandolin busking on the streets of Denmark, Germany and Italy and has studied various woodwind instruments and percussion, including the Balinese Gamelan. While in Zimbabwe he met local musicians and performed with Motsi Uruka at the Amakhosi Theatre in Bulawayo. He also performs and studies the music of the Basques. Ehlis has performed with musicians ranging from the avant-garde of jazz including John Tchicai, Oliver Lake, Joseph Jarman, Karl Berger, Perry Robinson, and Francis Wong, to vocalists Marie Afonso, Loire Cotler, the instrument maker Ken Butler, mandolinist Joe Craven, classical guitarist Philip Hii, world music pioneer Sylvain Leroux, frame drum master Glen Velez, Slovakian poet Gabriel Ariel Levicky, Russian painter Andrey Tamarchenko, dancer Charmaine Warren, tap dancer Jon Luks, singer-songwriters Scott E. Moore, Jessica Owen, Argentine guitarists Juan Falu, Quique Sinesi, Basque musicians Kepa Junkera, Tapia & Leturria, Ghanian musician Zorkie Nelson, Danish drummer Kresten Osgood, Finnish saxophonist Mikko Innanen, and Pakistani singer Fawzia Afzal Khan.
JESSICA LURIE (musician) Seattle-born, Brooklyn-based multi-instrumentalist-composer Jessica Lurie has worked with artists such as David Krakauer, Bill Frisell, Chuck D & The Fine Arts Militia, The Indigo Girls, Mark Ribot, Karl Denson, Frank London, Vinicio Caposella, Nels Cline, Kenny Wolleson, Ivan Neville. She has co-created numerous multi-media works with visual artist Danijel Zezelj , and theatre groups Great Small Works and Circus Amok. In addition to freelancing and working with her own Ensemble, Jessica performs and composes for the Tiptons Saxophone Quartet, Living Daylights trio, Ayn Sof Bigger Band, and La Buya. Her new CD Megaphone Heart has been receiving rave reviews internationally. www.jessicalurie.com