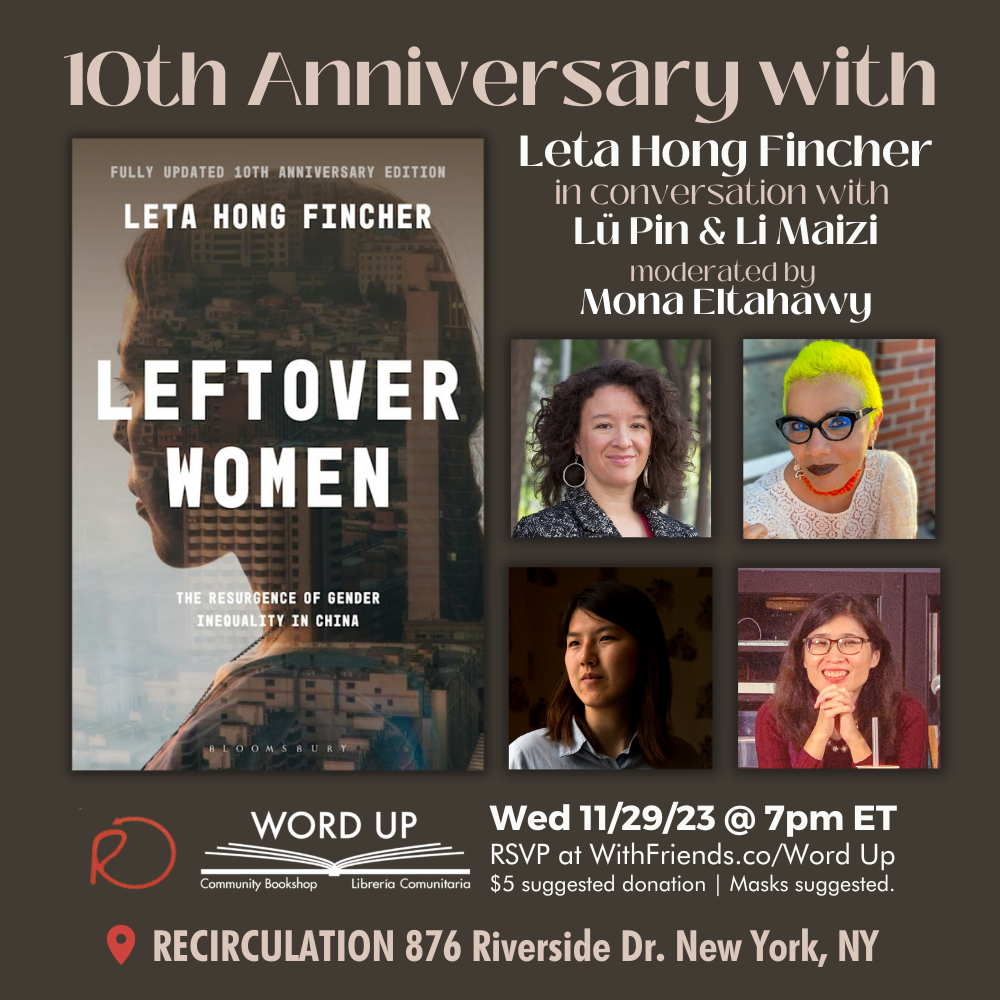 10th Anniversary of Leta Hong Fincher's Leftover Women: The Resurgence of Gender Inequality in China
Leta Hong Fincher's landmark book Leftover Women shone a light on the resurgence of gender inequality in 21st-century China. Ten years on, women in China continue to experience a dramatic rolling back of rights and gains in the increasingly patriarchal political climate of the Xi Jinping era. 
Join us for a discussion of Leftover Women, a book that explores structural discrimination against women and the broader problems with China's economy, politics, and development that lie behind it. In conversation with the author will be Chinese feminist activists Lü Pin and Maizi Li, moderated by Mona Eltahawy.
This updated edition includes a new preface exploring developments in China in the 10 years since the book's original publication, including the new "three child policy", the growth in online feminist and LGBTQ activism and the state's increasingly repressive moves against dissent.
This event is a $5 suggested donation ticket with 50 max attendees. Please register in advance. 
In compliance with Word Up Community Safety guidelines, all attendees are encouraged to stay masked at all times. 
Recirculation, a project of Word Up Community Bookshop, is located at 876 Riverside Drive (near 160th St.) in Washington Heights, NYC. You can take the 1 train to 157th St., A/C train to 163rd St., and the M4 and M5 to Broadway and 159/160th.
ABOUT THE AUTHOR & PRESENTERS
Leta Hong Fincher has written for the New York Times, Washington Post, The Guardian, Dissent Magazine, Harper's Bazaar and others. She won the Society of Professional Journalists Sigma Delta Chi award for her China reporting. Leta is the first American to receive a Ph.D. from Tsinghua University's Department of Sociology in Beijing. She also has a master's degree in East Asian Studies from Stanford University and a bachelor's degree with high honors in East Asian Languages and Civilizations from Harvard University. Leta's previous book, Betraying Big Brother: The Feminist Awakening in China (2018), was named a Best Book of 2018 by Vanity Fair, Newsweek, Foreign Policy Interrupted, Bitch Media and Autostraddle. The New York Public Library named Betraying Big Brother one of its "essential reads on feminism" in 2020. Leta is currently a Research Associate at the Weatherhead East Asian Institute, Columbia University.
Lü Pin is a feminist organizer, thinker, writer, and PhD candidate at Rutgers University. Founding Editor-in-Chief of Feminist Voices, she is the author of the recent article, How the Thwarted Feminist Movement Gave Birth to a New Generation of Blank Paper Revolutionaries.
Li Tingting, also known as Li Maizi, is a Chinese Queer Feminist Activist and a member of the China Feminist Five. She is internationally recognized as one of Foreign Policy's 100 global thinkers and one of the BBC's 100 women in 2015. She is currently based in New York.
Mona Eltahawy is a feminist author, commentator, and Disruptors of patriarchy. She is founder and editor-in-chief of the newsletter FEMINIST GIANT. Her opinion essays have appeared in media across the world. Her first book Headscarves and Hymens: Why the Middle East Needs a Sexual Revolution (2105) targeted patriarchy in the Middle East and North Africa and her second The Seven Necessary Sins for Women and Girls (2019) took that disruption worldwide. She is a contributor to the recent anthology This Arab is Queer and is editing the anthology Bloody Hell! And Other Stories: Adventures in Menopause from Across the Personal and Political Spectrums.
WORD UP COMMUNITY SAFETY GUIDELINES
CANCELLATION POLICY: Word Up Community Bookshop reserves the right to cancel events for any reason, including but not limited to safety concerns.
CODE OF CONDUCT: Please note Word Up has a zero tolerance policy for harassment or intimidation of any kind during any event, virtual or in-person. Please read our Safe Space Policy for more information. Anyone violating these rules will be expelled from the event at the discretion of the organizers. Please report all harassment to events@wordupbooks.com immediately.
PHOTOS & RECORDING: Events may be recorded, and video and photos may be posted on our website, social media, and elsewhere. If you would prefer not to be visible, please let a Word Up team member know.
PRIVACY: Registrants will be added to the Word Up mailing list. Your contact information will never be shared or sold. You may unsubscribe or update your subscription at any time.
ACCESSIBILITY: Recirculation is a wheelchair-accessible space with one ramp from the street level down to the store. Most of the shelves are on wheels and can be moved to provide additional access. The bathrooms are not yet ADA compliant and do not yet have a changing table but are gender neutral. The events are mic'd for sound and videos are captioned when possible. Free ASL interpretation is available for most programs upon request. Please email events@wordupbooks.com to request interpretation as early as possible. If you have specific questions about the space or how an event can be made more accessible to you, please do not hesitate to contact us at info@wordupbooks.com.