The Northern Manhattan Arts Alliance (NoMAA), in collaboration with NewYork–Presbyterian – The Allen Hospital, presents "Utopia," an exhibition curated by Leanne Stella, Director, Art In FLUX, under the Art In FLUX 2017 curatorial theme, "Re-Imagining a City."
Location: NewYork–Presbyterian – The Allen Hospital, Main Administrative Corridor, 501 W 218th St, New York, NY 10034
Dates: 28 February – 3 May 2017
Opening reception: Tuesday, 28 February 2017, 6–8pm EST. RSVP »
The artworks in this exhibition use art and play as catalysts for innovating urban life. Through two-dimensional works and an imaginative lens, the artworks reshape or re-visualize parks, playgrounds, streets, public transportation, architecture, food, urban farms and communal places, re-imagining the city with playfulness and whimsy and encouraging peace, community, and egalitarianism.
Participating artists: Gary Conger, Rene de los Santos, Felipe Galindo and Anna Lambert.
View/download flyer (PDF version) »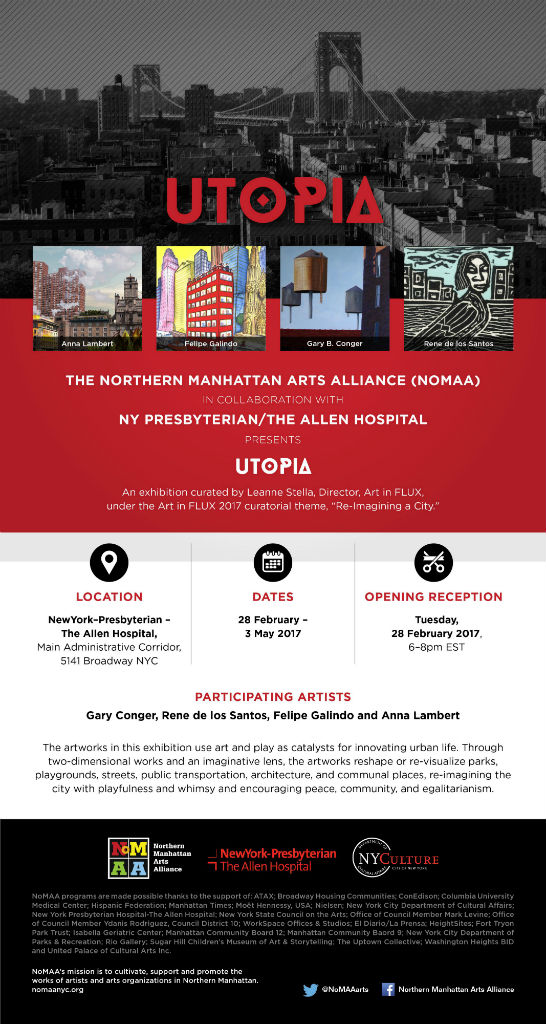 Please Share and Like this!