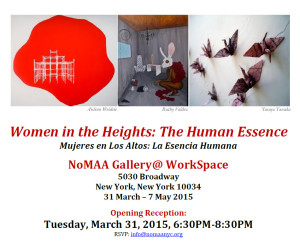 In celebration of Women's History Month, the Northern Manhattan Arts Alliance inaugurates its new gallery space with the exhibition Women in the Heights – The Human Essence, featuring works by women artists of Northern Manhattan, tackling issues affecting humanity. Curated by Andrea Arroyo.
Location: NoMAA Gallery at WorkSpace, 5030 Broadway, New York, NY 10034
Dates: 31 March – 7 May 2015
Gallery hours: Mon–Fri, 11 a.m. – 6 p.m., or by appointment (call +1 212 567-4394)
Opening reception: Tuesday, 31 March 2015, 6:30 – 8:30 p.m.
Artist talk: Monday 20 April 2015, 6–8 p.m., at CUNY in the Heights, 5030 Broadway, New York, NY 10034
RSVP:
Participating artists: Aislinn Weidele; Amara Clark; Atsede Maryam S. Elegba; Celia Inez Tavarez; Charity Kittler; Constanza; Daniela Mullady; Diana Schmertz; Erika Norton; Ferlaisa Gómez; Fiona Sheeran; Janina McCormack; Jill Nelson; Kathleen Granados; Lilia Levin; Lisa A. Turngren; Michelle Melo; Michelle Orsi Gordon; Minerva Roman Urrutia; Nancy Palubniak; Red; Risa Hirsch Ehrlich; Ruthy Valdez; Tuwanda Harmon; Uniqua Simmons; Wilhelmina Obatola Grant; Xóchitl Cristina Gil-Higuchi; Yasuyo Tanaka; Yona Verwer.