By Jheanel Walters. Reprinted with permission from the New York Daily News.
An impressive array of unique and colorful artworks from 26 women artists in Washington Heights and Inwood is now on display at the Northern Manhattan Arts Alliance.
Now in its fourth year, the "Women in the Heights" exhibit honors Women's History Month each March by focusing on women's issues and depicts the diversity of culture and experience among people uptown.
The show, curated by noted uptown artist Andrea Arroyo, had its opening reception on Thursday and runs through April 18.
NoMAA chose "Celebrations" for this year's theme, a bid to emphasize and spotlight the artists' personal experiences.
"There are so many celebrations throughout our lives," said Sandra Garcia-Betancourt, the NOMAA executive director. "We hoped that this theme could encourage local women artists to address their own understanding of celebrations, and how these celebrations inform their creative process and their artistic expressions."
The exhibition is on display at NoMAA's Cornerstone Center Gallery, 178 Bennett Ave. An artist talk will be held on Monday from 6 p.m. to 8 p.m. To RSVP for the talk, please email nomaaprog[at]nomaanyc.org.
Here, we meet several of the artists whose work is included in the show.
Laura Calhoun – "Menina da corda": "This is a celebration of faith," said Calhoun, a painter and videographer from Washington Heights. The video draws on her fond memories of the Cirio de Nazareth, a religious festival with parades that she watched as a child in Brazil.
"This is a celebration of faith," she said. "The whole city comes together, Catholic or not, and the biggest honor is to pull the rope."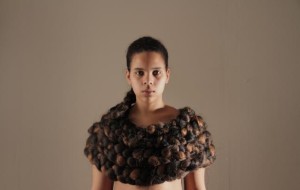 Joiri Minaya – "Trenza": Studying fine arts at Parsons the New School for Design, Minaya focused her video series on contemporary constructions of gender. The video on display portrays men participating in traditionally female activities, but sometimes there's a twist: an attempt to braid the young woman's hair, she said, can be just another attempt to trap her. "The videos are not about taking an ultra-feminist stand," Minaya noted. "It's more about equality and raising more questions."
Nancy Rakoczy – "The Cape": For eight months, the painter and plastic weaver cut blue plastic newspaper delivery bags into strips, then glued their ends together and added 2,000 beads and 50 bells for some "bling."
Rakoczy followed up her plastic series, "Where did I become Invisible?" with this blue plastic cape. "It's a beautiful blue, such a shame to throw those bags out," she said. "We almost never see the plastic that surrounds us, so I wanted to make the invisible visible."
Lynne Koble – "Stack I–Stack IV": Interested in exploring the relationship between people and nature, Koble, a sculptor and installation artist, created these stacks out of rock forms of clay. Koble, a BFA and MFA holder, said this was just an offshoot of a much larger project. "I took actual smooth river rocks and made a mold, and from the mold I made rocks out of the clay," she said. She later added branches that were treated to look silver.
Kathleen Granados – "Making of Memory": "I wanted to try something that challenged my work and pushed it to the next level," the 27-year-old FIT graduate said of her use of negative space in the crochet piece. Granados said there is also a loaded meaning in her work: she said it shows how much the women in the exhibition have to celebrate by pursuing what they want.